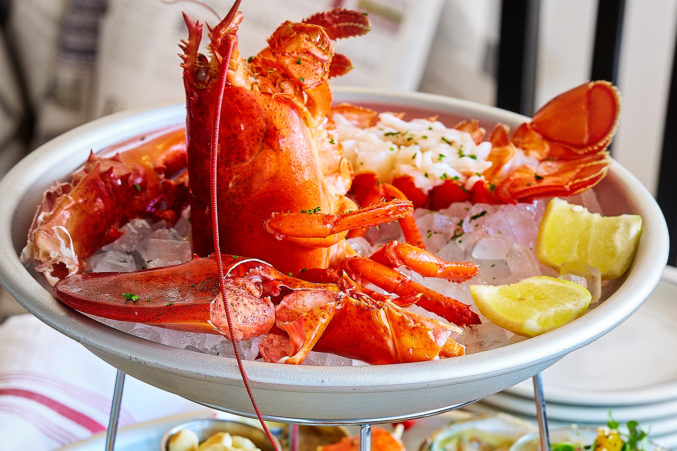 Park Cities Families Have a New Seafood Spot in Hudson House
Be sure to try the American Tuna Tower at the latest venture from the team behind East Hampton Sandwich Co.
Even at 8 p.m. on a Wednesday night, the new Park Cities restaurant from the team behind East Hampton Sandwich Co. is busy. I breeze past the hostess stand and pull up a stool at the clunky wooden bar. The cocktail selection is lively. I'm informed that the Stone Fruit martini, a bright mix of Belvedere Peach Nectar vodka, Combier apricot liqueur, white cranberry juice, and fresh lime, is a crowd-pleaser. I scan the menu of boozy elixirs, draft beers, and wines by the glass and end up ordering a filthy vodka martini, it's murky as dirty dishwater.
I'm seated next to a man working on a laptop who splits his time between typing and shoveling a medium-rare filet into his mouth. Behind me, a family of five is crammed into a booth. This is clearly a neighborhood restaurant. My server is young and doting. He relaxes into the empty stool to my right, grabs a tubular pink packet of Sweet'N Low, and uses it on the menu like a chalkboard pointer to indicate his favorite dishes.
I start with the shrimp cocktail, four enormous shrimp from the Gulf of Mexico on top of a white ceramic bowl filled with crushed ice, along with house-made rémoulade and cocktail sauce. The cocktail sauce is the best component of the dish: a bright mix of Heinz ketchup, fresh grated horseradish, lemon juice, Worcestershire, Tabasco, sea salt, and cracked pepper.
The salmon dip is fun way to start the meal. Smoked Atlantic salmon is combined with cream cheese, cracked pepper, and sea salt. The spread is topped with minced purple onions, capers, and hard boiled eggs, and served with a side of pumpernickel bread. The catch: you have to eat this quick. The small bowl is served on top of another bowl that's piled with crushed ice. If you let the dip sit long enough, the ice will melt, and a pool of water will come spilling over the edges, turning the salmon dip into a murky, watered-down salmon stew that nobody wants to look at, let alone eat. I learned this the hard way.
The American Tuna Tower outshines the shrimp scampi and grilled Idaho trout. The dish, listed as a salad, is a satisfying mix of mashed avocado, cherry tomatoes, arugula and wild green mix, and ahi tuna tossed with wasabi vinaigrette, layered, and topped with sesame oil, tobiko, and microgreens. Make sure to leave room for the key lime pie.
In This Post