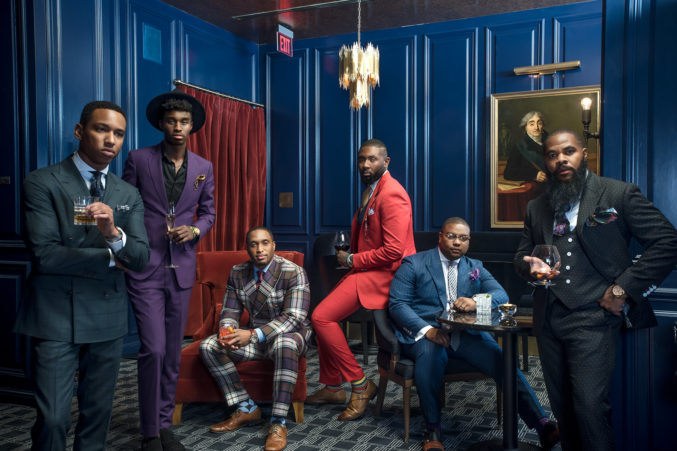 Meet the Black Dandies
Some of the most stylish men in North Texas—and they've got the Instagram pics to prove it.
Franklin Moss didn't know what it meant, years ago, when his friend called him a "black dandy." "No, I'm a Christian," he responded. The young lady explained: the way Moss dressed and carried himself was reminiscent of the centuries-old movement of sartorial-minded black men, those who have defied stereotypes with dynamic suits and stylish flourishes—vibrant pocket squares, showy socks, fearless accessories.
Moss has since embraced the label. After putting a call out on Facebook for fashionable men last year, he assembled a group of dapper gentlemen—a core crew of nine from Dallas to Fort Worth—who now regularly gather for daytime photo shoots (the largest comprised 27 men), host evening socials sponsored by liquor brands, and travel to New York for networking opportunities under the group moniker Black Dandies (Instagram: @blackdandies). "This is not something we coined, but it's something we're continuing to breathe life into," Moss says. "By nurturing style, we hope to inspire people to find a new portrayal of themselves."
But Moss isn't just inspiring men's sartorial style, he's actually dressing them, as well, as the proprietor of Franklin & Anthony, a bespoke suit company with prices ranging from $700 to $3,500. Many of Moss' clients are lawyers and bankers, but some with "street businesses," as he puts it, have sought him out, inspired by Power, a popular Starz series about a drug kingpin who turns to tailored suits in his attempt to go legit. "It's interesting to help them start changing their appearance," says Moss. "I don't know if that's them saying they want to change the direction they're going, but they're saying they want a clean look."
See more from our session with five of the dandies.