Emporium Pies Helps Oak Cliff Get Baked
The new Bishop Street bakery sets up shop in a Victorian bungalow.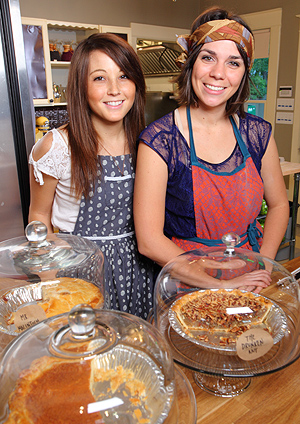 Emporium Pies is located at 314 North Bishop in Oak Cliff—as in 3.14, the decimal approximation of the number pi. Owners Megan Wilkes and Mary Sparks acknowledge the happy, nerdy coincidence with a π symbol in the brick pattern out front, the final step of a three-and-a-half-month renovation overseen by Wilkes (a former interior designer and project manager for construction companies). But it's a perfect location for a pie shop regardless of address. The 1930s Victorian bungalow, redone in bright colors and restored wood paneling, is surrounded by foodie favorites such as Lucia, Eno's, Oddfellows, and Boulevardier, smack in the heart of an area that appreciates Wilkes and Sparks' artisanal approach, with flavors like Drunken Nut (bourbon pecan) and the Smooth Operator (chocolate with a pretzel crust).
The duo was introduced by a mutual friend (Alex Wall, who also works at the shop) and began selling pies wholesale and online last fall, testing the market. They worked out of a number of different kitchens, which meant dealing with the peculiarities of unfamiliar ovens ("We had never cooked in a convection oven before," Wilkes says, "and we burned, I would say, 75 or 80 pies" last Thanksgiving) and odd surroundings ("It's like The Shining of Dallas," Sparks says of the abandoned Ambassador Hotel, whose kitchen they briefly rented). But now they have a permanent home, which they hope will be a little bit like everyone's home. "People who come in here are usually our friends," Wilkes says, "or they become our friends afterward."