From D CEO July 2019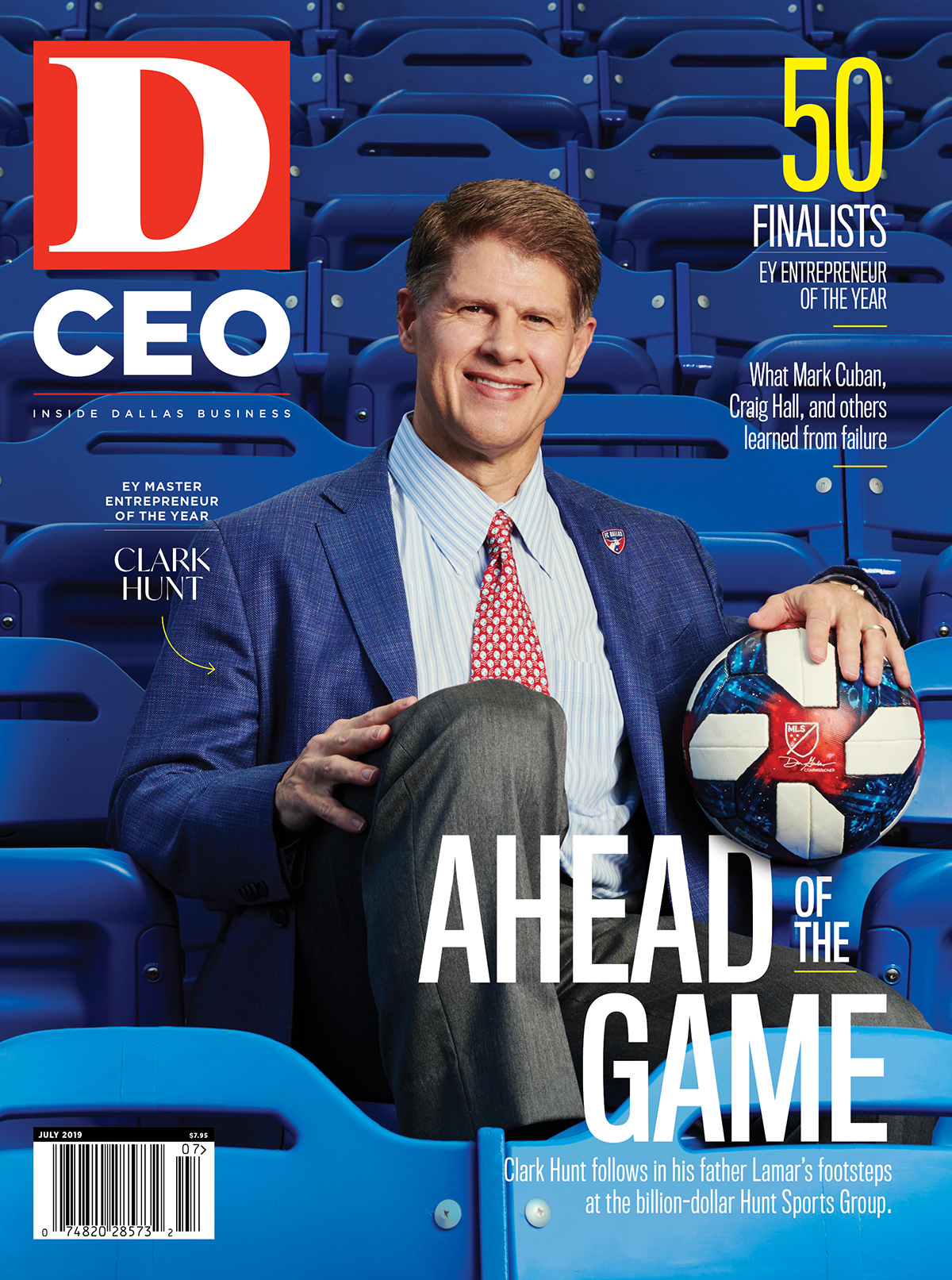 Subscribe
A waiter takes note of
Fred Perpall as he darts into the Flora Street Café, doing his best to avoid getting drenched by the sudden rain. A frequent diner at Stephan Pyles' Arts District restaurant, Perpall is known for favoring chopped fresh jalapeños on whatever he orders, and the waiter gives one of the chefs a heads up.
Flora Street Café is an easy walk from the Ross Avenue headquarters of The Beck Group, where Perpall serves as CEO. Things will change when the company (and its 400 employees) moves further into the urban core in November to occupy three floors of Thanksgiving Tower. "It's part of a bigger commitment to make sure that we have a vibrant downtown," says Perpall, stopping for a bit to order gazpacho soup and a chopped salad, topped, as the waiter suspected, with fresh jalapaños. "We can talk about the suburbs, but Dallas is the straw that stirs the drink, and we've got to make sure that downtown is healthy."
"Dallas is the straw that stirs the drink, and we've got to make sure that downtown is healthy."
A native of The Bahamas, Perpall was named to the top post at Beck in 2013. In the six years since, he has become entrenched in the community, taking leadership in things like the Dallas Regional Chamber and Trinity Forest Golf Club. But it's his role as chairman of the Citizens Council where he could have the most impact. Formed in 1937, the organization has 165 members, all top executives at influential companies, along with a few nonprofit and higher-education leaders. "I think the Citizens Council
has been fairly stigmatized in our minority community," Perpall says. "People feel that we've been sort of stealth. … These are all-star citizens who have tried to serve the city with their actions, but now we need to be more visible and inclusive in how we share that leadership."
That means branching out, with a special emphasis on South Dallas. "We want to make sure that everyone—regardless of their race and background, orientation, ethnicity, creed—feels comfortable in Dallas," Perpall says. "That's why I joined the Dallas Citizens Council. But it's also why I joined the Dallas Country Club."
When he did so about two years ago, some African-American leaders told him flat out, "That's a racist club and a racist group of people, and you shouldn't join." Perpall responded, "How are you ever going to break down barriers, if all of us sit outside the walls?"
It has been more than two years since he became a member. "It has been one of the greatest things that has happened to me," he says. "I feel extremely welcomed and extraordinarily comfortable. But if I had listened to some of the more skeptical voices in town, I would have never joined. Sometimes, you just have to give hope a chance and see the best in people."
In March, the Citizens Council named its first-ever black CEO—Kelvin Walker, a Dallas private equity exec. Going forward, the group will focus on increased and shared prosperity in Dallas, serving the city in times of crisis, and collaboration and relationship-building. "The road to goodness starts in getting to know each other," Perpall says. "We have so much in common. But people who don't know each other never really trust each other. And people who don't trust each other can't work together, and they can't achieve anything."
Get the D CEO Newsletter
Stay up to speed on DFW's fast-moving business community with weekly news reports, interviews, and insights.