Reverchon Park
3505 Maple Ave.
Turtle Creek and the Katy Trail run through this historic, 41-acre park near Oak Lawn, making it a pleasant and popular destination for Dallasites looking for a taste of nature in the heart of the city. Expect a wide variety of amenities, including a baseball field, basketball court, sand volleyball court, tennis court, a pavilion, picnic tables, and a playground–but you may want to bring a blanket and stroll along the walking trail to find an optimal picnicking spot away from the bustle. 
Flippen Park 
4421 N. Versailles Ave.
The ornate gazebo, stately fountain and reflecting pool, and immaculate landscaping make this one of the most elegant and romantic picnic spots in DFW. The Highland Park gem is popular for photoshoots and weddings, but with the gazebo closed due to COVID-19, it
might
be a little quieter this fall. Bring a pretty picnic spread and get ready to stage your next Instagram post–the atmosphere is ripe for photos.
White Rock Lake Parks 
White Rock is an obvious choice, but not all picnicking spots along the reservoir are made equal. This is one of the busiest, most-used greenspaces in North Texas, and what it lacks in privacy it makes up for in scenery.


T&P Hill is a great lakeside park for families thanks to its playground and a covered picnic table area. The surrounding lawns at Winfrey Point, a popular venue for weddings, is a more romantic hilltop spot. The Bath House Cultural Center has a nice location near sailing clubs on the lake's eastern shore, and there are three large-scale public artworks surrounding the facility to peruse after your picnic.


Flag Pole Hill Park is a bit removed from the lakefront, but it offers large expanses of shaded grass, picnic tables, a grill, a public restroom, and playgrounds, including

an inclusive playground

designed for children with special needs. If you're willing to pay an entrance fee, the Dallas Arboretum and Botanical Gardens allow visitors to bring picnic baskets onto its beautiful property overlooking the water. 


Central Square Park 
3000 Swiss Ave.
Just a few blocks from the modern madness of Deep Ellum, there's an odd, historic little neighborhood called the Wilson Historic District. It feels like stepping onto the set of a Victorian period film. The 22-acre district has the largest collection of late nineteenth-century houses in Dallas, as well as modern, Victorian-style buildings. In the middle of the neighborhood are two green spaces, Swiss & Liberty Dog Park, and our suggested picnic spot, Central Square Park. The latter is modest but charming, with a small gazebo at its heart. 
Turtle Creek Park 
3333 Turtle Creek Blvd.
The grand Arlington Hall anchors this sweet park on Turtle Creek, one of the prettiest areas of the waterway, now free of Confederate monuments. On one side of Turtle Creek Blvd., the hall is surrounded by well-manicured lawns, a pavilion with benches, a picnic area, and a charming garden with a stone footbridge. Across the street, the creek is flanked by lush greenery, trees, and walking trails. There are picnic opportunities all around; it's best to follow the paths and explore to find your perfect spot. (Make a day of it. This is just about exactly a mile away from Reverchon Park.)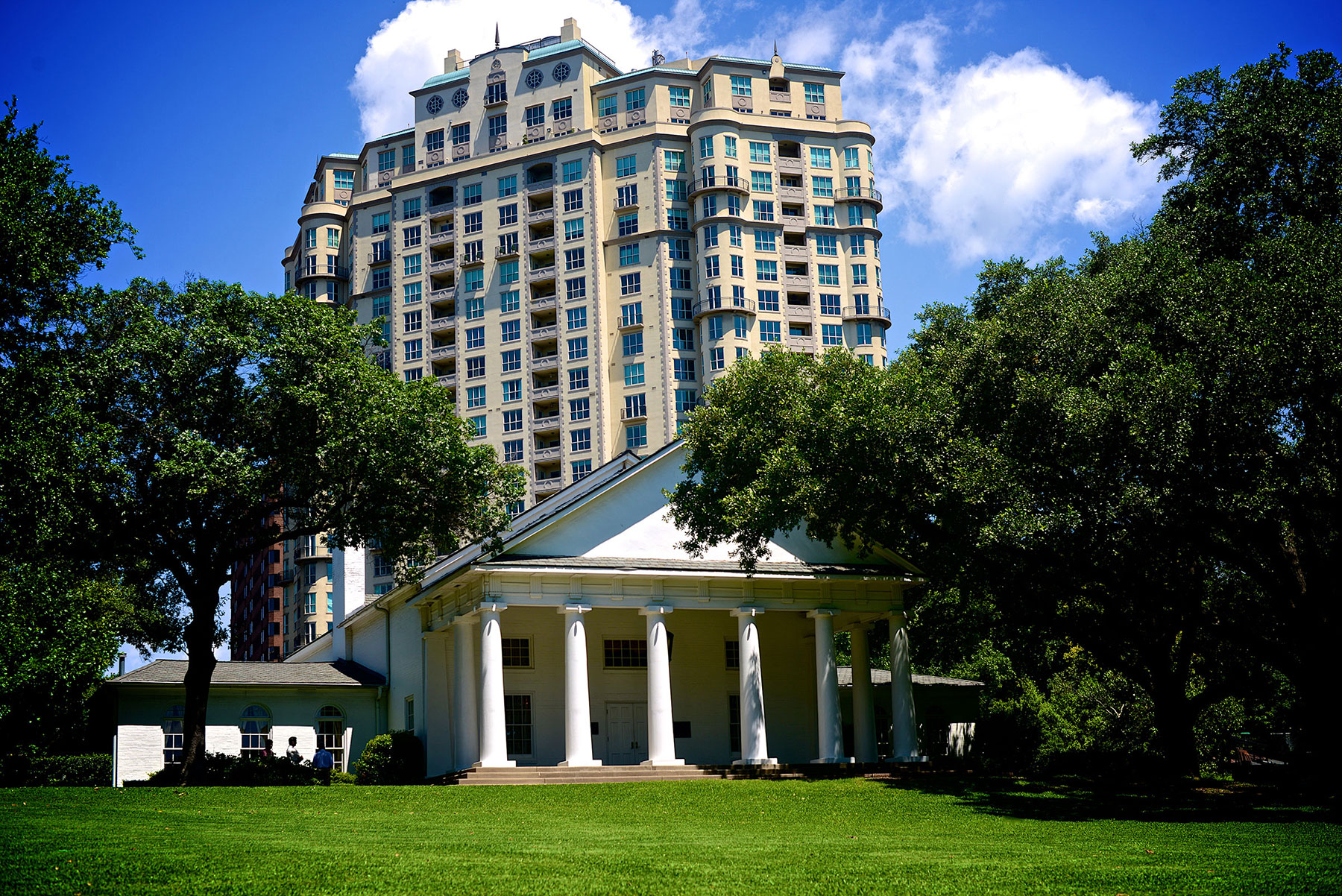 Piedmont Ridge Trail 
2400 N Jim Miller Rd.
If you're looking for a more natural location, take a page from D's
Ultimate Guide to Hiking in Dallas
and check out Piedmont Ridge Trail in Southeast Dallas. It takes a little work to get to this hidden gem, but your reward is one of the best picnic spots in town. The short hiking trail is a great place to see the Texas version of fall foliage, and if you take the path to the right one mile from the trailhead, you'll catch views of downtown. 
Pacific Plaza
401 N Harwood St.
As far as downtown Dallas locations, there aren't a ton of options. Klyde Warren Park has great views, food trucks, and access to the Dallas Arts District, but it's typically crowded. Main Street Garden Park is nice and has some neat kids activities, but I've had negative experiences with men verbally harassing me there on more than one occasion, so I avoid it. The DMA's sculpture garden was my pre-COVID go-to, but the outside entrances have been sealed off to pedestrians. Pacific Plaza and the adjacent James W. Aston Park offer a nice, peaceful corner of downtown to relax in. Have your meal beneath the pavilion, enjoy the kid- and adult-friendly swings, and check out some public art while you're there.
Trinity Overlook Park 
110 W. Commerce St.
While it's only a pocket park leading into the Trinity Skyline Trail, and the grass surrounding the trail tends to be a little muddy, Trinity Overlook Park makes the list based on views alone. It has one of the best vantage points of downtown Dallas and the Margaret Hunt Hill Bridge. I recommend walking or biking away from the pocket park and finding a dry spot on the riverbank to set up shop. 
Griggs Park 
2200 Hugo St.
This 8-acre park in the State Thomas section of Uptown is extremely popular with residents of the neighborhood, but it rarely feels overcrowded because of its interesting layout. There's a large grassy expanse in the center, circled by a small hill, the perfect perch for picnicking with decent downtown views. Behind the hill is a more secluded green space with shady trees and a gazebo. There's also a playground and a basketball court available for use. 
Get the FrontRow Newsletter
Get a front row seat to the best shows, arts, and things to do across North Texas. Never miss a beat.