With its original Art Deco features, the 1930s building at 1508 Commerce Street can turn heads no matter what's inside. A stained glass transom by Georgia Jensen and Roger McIntosh beckons above the front doors. The image of Thor creating electric light is a relic from the building's former tenant, Dallas Power & Light.
Admirers can visit three art shows in the space this month thanks to Ro2 Art. The sometimes-roving gallery began popping up in locations around Dallas in 2010. Ro2 has a home base in the Cedars; at 1500 square feet, it's cozy. The lobby of the 19-story building on Commerce, though, lets a comprehensive exhibition called The Women of Ro2 breathe through Saturday. And a special anniversary show will coincide with Dallas Art Fair April 12-15.
"It'll be like our Art Fair booth on steroids," Ro2 co-owner Jordan Roth says. It'll be the first time in four years Ro2 won't have a booth in the fair at the Fashion Industry Gallery. They'll be back next year after their spot was sold to another vendor, due in part to a miscommunication with the fair's organizers, Roth explains.
The pop-up space on Commerce will also host an after-party following The Joule Hotel's invite-only Eyeball Party on Saturday, April 14, during the fair. "We're going to have champagne and go for a VIP lounge vibe," Roth says.
Roth and his mother Susan Roth Romans launched their gallery during the Dallas Art Fair eight years ago in a downtown spot just a block away, where the clothing store Traffic is now. They named the inaugural exhibition Sideshow for its proximity to the Art Fair's most illustrious gatherings downtown. This year's show on Commerce during the fair will carry the same title.
Sideshow will bring together the work of Yuni Lee, Burmin Kim, Joshua Goode, Charles Clary, Jeff Parrott, Julie Libersat, Erica Stephens and Chuck & George, along with sound installations and a performance by Danielle Georgiou Dance Group.
"All of our artists who were bummed not to be showing in the Art Fair at first, are now super jazzed," Roth says. "We're excited about the opportunity to be located in that space while all these people are in town."
The building at 1508 Commerce is for lease, and Ro2's pop-up presence is an open-ended arrangement between the gallery and Hamilton Properties Corporation, whose liaisons hope foot traffic might entice a viable long-term tenant to move in.
Roth is used to the idea of using a space only until it catches the eye of a lessee. Ro2 has had pop-ups all around downtown and Uptown for the better part of a decade; it's an arrangement he says works quite symbiotically.
"When we didn't have a permanent space, [getting kicked out] was definitely a fear," Roth says, "but now it's an acceptable risk, we get so much out of it."
The transient set-up attracts downtown dwellers and travelers staying at The Joule across the street. Pop-up shows bring more artists into the gallery's rotation, who then show their work more quickly via the additional space.
"We had been looking for a venue large enough to do a broad survey. It's such a big beautiful space and my mom really enjoys putting group shows together," Roth says.
Her love of group shows is how the current women's exhibition came about, Roth says.
"It's been on her mind since the first Women's March," Roth explains. "About the time the elections went a certain way, she immediately said, 'We need to do a show for women; it's time.'"
The Women of Ro2 provides a beautiful cross-section of more than 30 female artists of all media who are represented by the gallery, including Los Angeles-based Hayley Quentin who renders figurative paintings and portraits in bold red tones that have a way of disarming the viewer, and Bumin Kim, who meticulously strings colorful thread across canvases to create multi-dimensional and textural color gradients.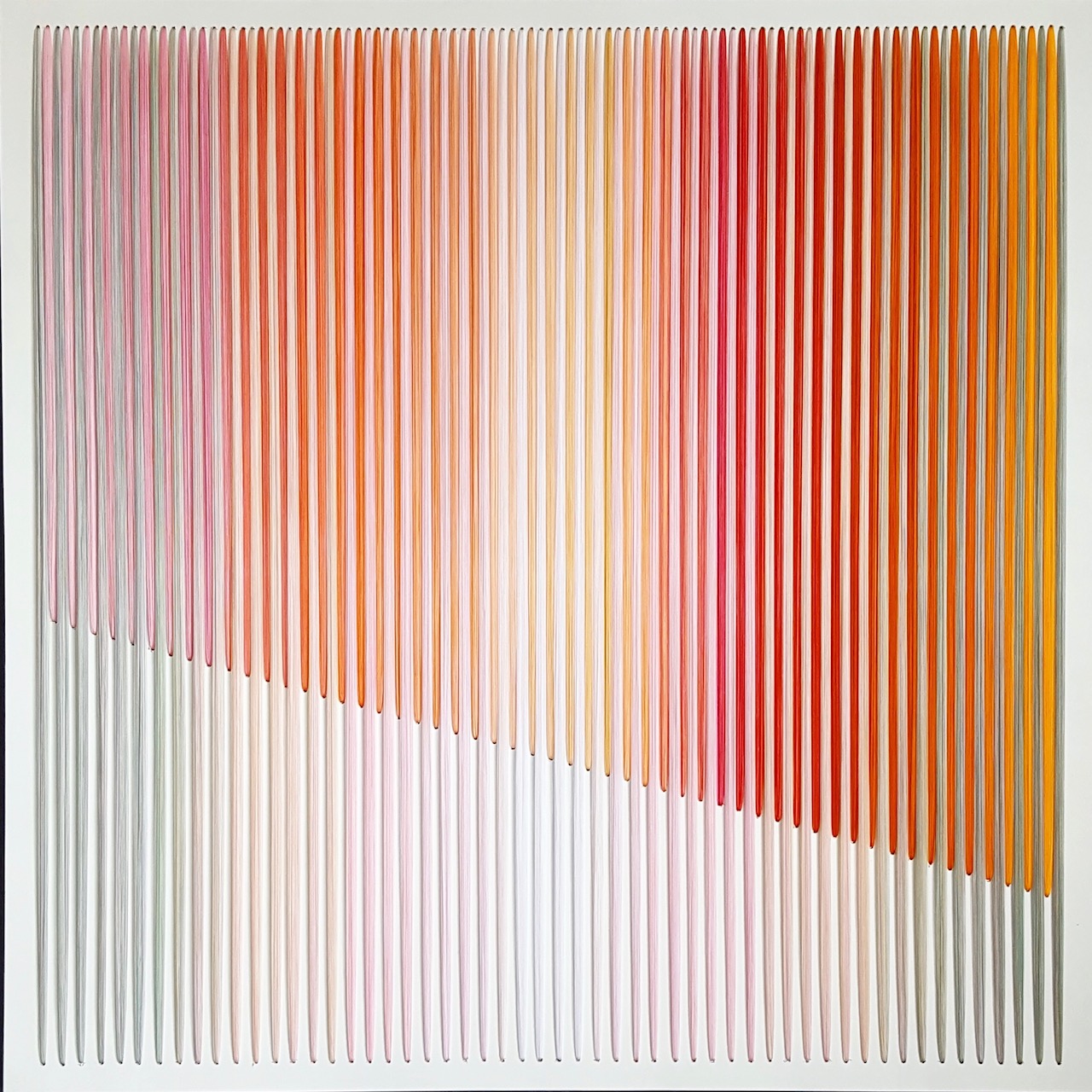 "[They're] considered landscapes, containing all the visual information she chooses to depict from a scene. It's with a minimalist sensibility, but they're not abstract," Roth says.
While typical gallery shows like the women's exhibition may last a month or six weeks, Sideshow is on for three days only during the Art Fair and will give way to Chroma Chameleon April 21. That's a four-person show featuring Rachel Fischer, Betsey Gravatt, Austin Sparks, and Adam Palmer, whose installation pieces and drawings are gaining notice at Fort Works Art.
"All of the artists in Chroma Chameleon are kind of hot," Roth says. "It'll be really colorful and super fun."
The pop-up space is open Tuesday through Saturday, noon to 5 p.m., and on Saturday it will host a closing reception for The Women of Ro2 from 7 to 10 p.m.  During the Dallas Art Fair, April 12 through 15, Sideshow has special hours: 11 a.m. to 9 p.m. and 10 p.m. to whenever on Saturday, April 14, for the Eyeball Party after-party.
Get the FrontRow Newsletter
Get a front row seat to the best shows, arts, and things to do across North Texas. Never miss a beat.