Dwell With Dignity's Thrift Studio Pop-Up Shop Goes Digital
Thrift Studio has been postponed, but you can browse (and bid on) the discounted designer finds from home.
Dwell with Dignity's annual Thrift Studio is one of our city's most anticipated design events. Donated furniture, housewares, artwork, and other high-end finds are sold at significant discounts. The thrill of the hunt is part of the draw: pieces are arranged artfully into browsable vignettes, much like an upscale flea market. Each space is conceptualized and staged by leading Dallas designers, showrooms, and retailers.
All proceeds from the monthlong pop-up go to Dwell with Dignity, which creates dignified living spaces for individuals overcoming homelessness and poverty. This event alone accounts for 40 percent of the nonprofit's annual funding.
The pop-up was set to launch last week but has been postponed indefinitely. To ensure Dwell with Dignity still receives the funding it needs, Thrift Studio has created a digital retail experience, Thrift Studio LIVE, which launched this morning.
The online auction site will feature a fresh selection of home décor items (like lamps, sofas, bedding, and artwork) each Monday in April. Pieces will be introduced via Dwell with Dignity's  Facebook and Instagram pages before being added to the Thrift Studio LIVE site.
Some pieces will be open to bids, while others will have a 'Buy it Now' price.
First up: furniture from Bungalow 5 and DEDON, wall art by Janie Stidham and Brandon E. Harris, and 500-piece puzzles featuring vintage rug patterns.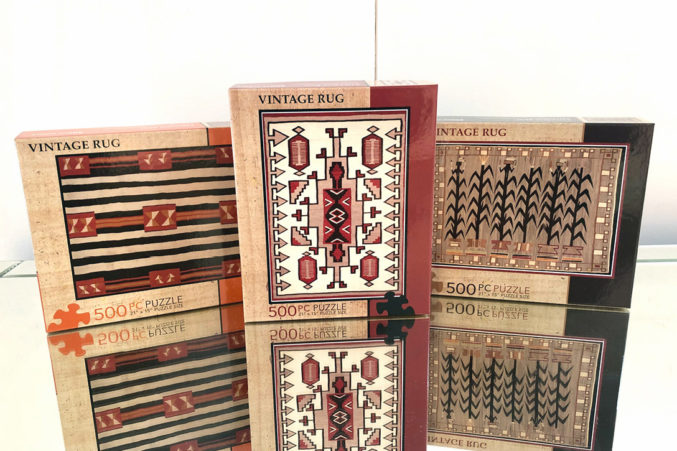 If nothing catches your eye or you get outbid, consider supporting Dwell with Dignity by donating to its COVID-19 Relief Fund, which helps finance current, ongoing, and upcoming projects.
Says Dwell with Dignity Executive Director Ashley Sharp, "Our mission is more significant now than ever before. Everyone deserves a beautiful, functional, comfortable home, especially in a time when you can't leave your dwelling."
Shop Thrift Studio LIVE here and check back weekly for new additions.