For fans of
The Bachelor
franchise,
Connor Saeli is a familiar face
. The Dallasite graced our TVs twice in 2019–first to win Hannah Brown's heart on
The Bachelorette,
then for another chance at love on
Bachelor in Paradise
. Though the 25-year-old was cool and collected on camera, Saeli says he was anxious as millions of viewers tuned in each Monday. When he started having trouble sleeping, he searched for medication to help.
"I tried different products; some worked, some didn't," says Saeli. "A lot of them are filled with ingredients [I don't recognize]. And it's not fun too feel like you're taking medicine." As he researched, he realized he wasn't alone, that
1 in 3 adults
are not getting enough sleep. That's when the former investment analyst decided to form
Sael Wellness
to create his own solution.
Saeli says he "went into full development mode" on Sael Wellness after Thanksgiving in 2019, and launched the company just four months later on March 3.
"[I] started by trying to solve sleep issues, but my ultimate goal is to help everyone live a healthier and happier lifestyle in all aspects of their lives," said Saeli in a February Instagram post.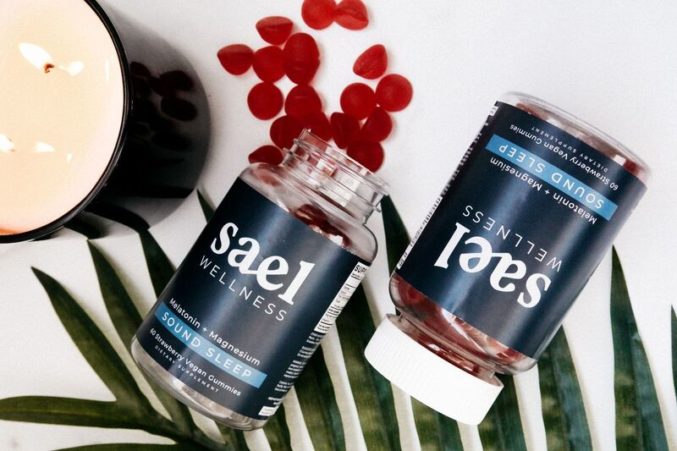 Sael Wellness currently offers Sound Sleep gummies (with melatonin and magnesium) and Happy Apple gummies (with digestive-aiding apple cider vinegar and ginger). The latter was inspired by Saeli's failed attempts to drink apple cider vinegar regularly for digestive health. Its bitter taste was so off-putting he eventually gave up. Sael Wellness's Happy Apple gummies are intended to be a pleasant way to consume the vinegar. One serving boasts 500 mg of apple cider vinegar, the equivalent of two liquid teaspoons.
To formulate both gummies, Sael Wellness enlisted the help of an experienced physician–now the company's chief medical officer–to collaborate with a Florida-based manufacturer. "Our philosophy is that for many health issues, you can solve them pretty simply," says Saeli. Sael Wellness' chief medical officer chose active ingredients that are widely accepted by scientists and physicians, like melatonin, to keep the formulas straightforward and easy to understand. Both gummies are vegan, non-GMO, and free of gluten, parabens, allergens, artificial colors, and preservatives.
"[I] started by trying to solve sleep issues, but my ultimate goal is to help everyone live a healthier and happier lifestyle in all aspects of their lives."
Several other products are in the works, and though Sael Wellness is keeping the specifics hush-hush, Saeli hinted at formulas to support hydration and immunity.
Saeli says he was excited to launch a nutrition-focused company in Dallas because he sees a gap in the market. He's passionate about healthy eating–Snap Kitchen, True Food, and Flower Child are his local go-to's–but after spending time in California last year, he realized that Dallas is lacking in nutritious options.
"Dallas is similar to the population in California, in terms of mindset," he says. "There's tons of young people moving here. [I'm excited] for restaurants and companies to migrate to Dallas, and [to see] the health and wellness community grow."
See more from Sael Wellness at
Sael.com
.
Get the AtHome Newsletter
Enjoy Dallas' best trends, hot properties, and tips from local designers to help you nest in style delivered weekly.