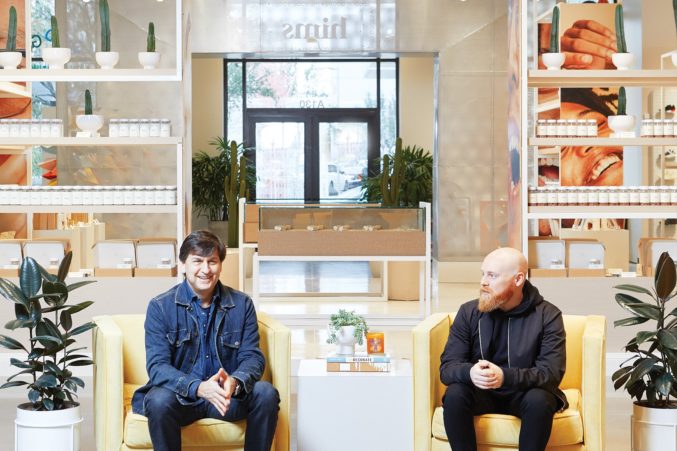 A Breakdown of All the Cool New Brands at Neighborhood Goods
From chic dog accessories to cult-favorite French frames.
Some things are so effortlessly cool that just a simple connection with them is enough to transfer a viable amount of clout points. If Chrissy Teigen tweets about a show, the ratings likely aren't plummeting. If Meghan Markle wears your sustainable fashions, you better believe they're going to sell out. And if you're a direct-to-consumer brand that just "activated" at Neighborhood Goods, a more modern, experiential-focused department store in Plano's Legacy West development (it already made plans to open a second location in New York this year), you're probably pretty interesting.
Here's a brief overview of some new brands joining the ranks of Stadium Goods, The Citizenry, and Sonos. Stay cool.
By Way of Dallas
So, we're not entirely clear if this will be an actual Neighborhood Goods activation, or just a collaboration, but either way, it feels very important and will probably sell out quickly, so stay vigilant. (And check By Way of Dallas' Instagram on April 13 for shopping details.)
Hook & Albert
Nothing beats a quality weekender bag, especially when that bag is as beautiful and well-made as it is functional—and doesn't cost an arm and a leg.
Shop Until: April 29
The Hey Gang
If Set & Co. (rest its beautifully-appointed soul) carried a collection of children's clothes, it probably would have been this Fort Worth-based brand. Staples pieces from the utilitarian line are predominately unisex, and made to be played in. It's all very cute.
Shop Until: April 29
Botanicool
The brand offers gorgeous wooded home goods, from a plethora of planters to book ends and serving boards. The best part: they're all handcrafted with local-sourced materials in Dallas.
Shop Until: May 30
Wild One
Pet accessories have long (and surprisingly) been uninspired. Wild One, with their blush-colored bowls and stylish (truly), eco-friendly poop bags, are changing the game.
Shop Until: May 30
A.N. Other
The clean fragrance house offers just four scents, and they must be good—A.N. Other was the only American brand represented in Cos' At-First concept store in London.
Shop Until: May 30
Pepper
Punchy, hand-painted patterns are the baseline for this textile company, whose products were made to mix and match—and help you refresh without spending a fortune.
Shop Until: May 30
Gardenuity
The Dallas-based company works a bit like Blue Apron, but for herbs. Their goal: to get a garden on every patio, no matter how small. And with the help of their virtual Go Pro team, who send personalized notifications based on your garden's weather, anyone can keep their subscription thriving.
Shop Until: May 30
Taylor and Tessier
The Aspen-based jewelry brand is as effortlessly chic as the town it's handcrafted in. The pieces, made with raw materials such as Tahitian pearl and ethically sourced leather, are designed to be worn every day, and by any gender.
Shop Until: June 29
Le Specs
The cult-favorite, affordable French brand's frames have been worn by Lady Gaga, the Hadids, and Meghan Markle (le swoon). So, basically, you need them.
Shop Until: July 11
Dims
Traditional Shaker, Japanese, and Nordic designs get a contemporary reimagining with Dims, a new ecommerce home furnishings brand, whose ethos also supports offerings that are affordable, sustainable, and long-lasting. Two in-store exclusives at Neighborhood Goods: a sleek side table and a minimalistic cart/trolley—both made of powder coated steel.
Shop Until: July 18
All the Wire
The highly personalized, hand-stamped jewelry by sister-founded All the Wire has only gotten more popular over the years. Now, the Denton-based duo run a full-fledged lifestyle brand.
Shop Until: July 30