Thousands of happy people dressed for golf and got in their Chevy Bel Airs and Ford Skyliners and drove down to southern Dallas for the grand opening of Riverlake Country Club. Flat cotton caps and beltless slacks adorned the men, with the trousers worn high. Knee-length skirts and bobby socks for the women, although some gals pushed golf's conservative fashion edge with Bermudas and sleeveless blouses. Why not? It was warm enough—a high around 80, and not a cloud, as usual—and it was modern times: October 28, 1956. A Sunday. 
The mostly un-air-conditioned cars rolled south through tan, drought-stricken land so dry it crackled when you stepped on it, as if it were Shredded Wheat. The loose-knit caravan slowed. From the raised roadbed of Loop 12, guests beheld the sparkling white walls of the sprawling, single-story clubhouse. It enclosed 52,000 square feet! The arriving crowd could also see splashers in the cool blue L-shaped pool, which had opened in August. In the near distance, Riverlake's two new golf courses looked weirdly verdant in the drought-scape, like green carpet rolled out on a desert floor. 
On the eastern perimeter of the property, through what we now call the Great Trinity Forest, the river trickled beneath bone-dry banks, under the outstretched arms of old-growth hardwood trees. It had hardly rained in six years; the deepest drought since the Dust Bowl had turned the river into a sullen, muddy stream. Although it lacked the water to irrigate the golf courses, the river made Riverlake possible. Centuries of periodic flooding had deposited a thick layer of silt in the bottoms, a lot of it eroded farmland, great soil for growing grass. The floods made building a structure in the vicinity a terrible idea, which also helped, because it provided cheap land for the new playground.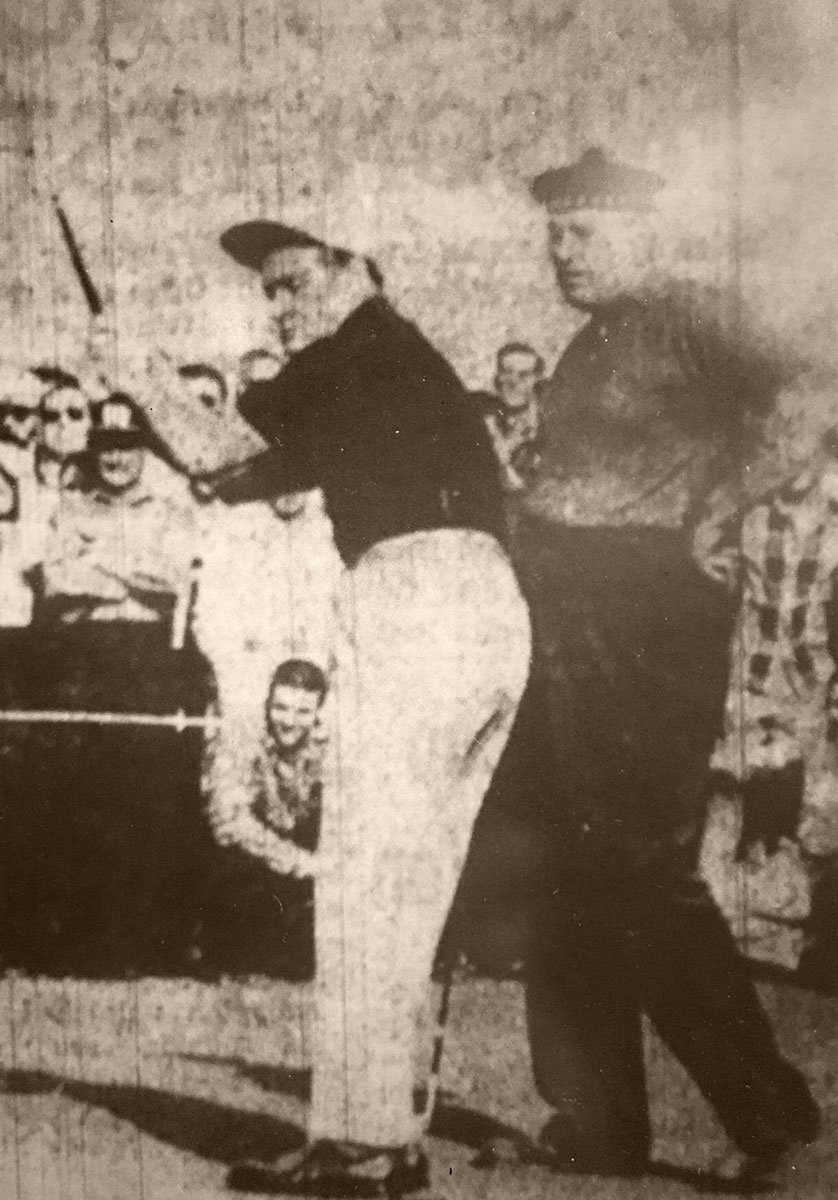 The gallery rushed to the first tee. Back in the days before the Cowboys were invented, getting a crowd after church in Dallas in the fall presented no particular problem, because the big game had been played the day before. And although the red and blue from SMU had sagged a bit from recent heights, the new quarterback, Don Meredith, looked like he could really play. But as everyone said, or thought: let's just hope he's half as good as Doak Walker. 

And there he was: himself, Football Jesus, Ewell "Doak" Walker, winner of the 1948 Heisman Trophy. After leading Highland Park High and SMU to unimaginable glory, and then six years of NFL ball in Detroit, Doak, age 29, now faced his first October since junior high without pads and cleats and bruises. He'd been persuaded to serve as the private club's president and its public face. Doak would be playing—not very well, as it turned out—in the golf exhibition that was de rigueur on such occasions. He was the main reason for the huge crowd, not the other guys. And the other guys were pretty good.

 They stood near Doak, hefting clubs and chatting quietly in golf's timeless first-tee foreplay. "Ladies and gentlemen, Bob Hope!" said the man with the bullhorn. America's most beloved comedian would be joined for a playful competition by Mickey Mantle, probably the best baseball player in the world; arguably the best golfer, Masters champion Dr. Cary Middlecoff, the former Army dentist who would be the "playing professional" at Riverlake; Allan Shivers, governor of the great state of Texas; Baseball Hall of Fame pitcher Dizzy Dean; and charming Harry Todd, Riverlake's head professional, who had been poached from Lakewood Country Club, and Lakewood didn't like it. Among many other things amusing to his members, Todd had almost won the Masters himself once and could, some say, hit a ball 250 yards in the air—with a putter. 

The Hope joke machine rumbled to life. No one recorded his quips that day for posterity's sake, but his standards would have gone something like:"Crosby says my swing looks like Grandma Moses trying to keep warm. … Did you hit it in the bunker again, Mick? Mantle spends more time in the sand than Rommel. … Hey, Doak, I think it's time to punt. … Did anyone notice what a good short game the governor has? Too bad it's off the tee. … But I wanna tell ya, I'd quit this game if I didn't have so many sweaters." And on and on. 

Lots of notables watched. Press Maxwell, the Dallas-based architect who'd designed the course, accepted compliments for the skillful way he'd molded Riverlake's rich, alluvial dirt. Matty Bell, SMU's athletic director, played "Remember when?" with Mustangs fans. Bell had been the head football coach back in the glory years with Doak. And wasn't that Red McClain, another SMU footballer, who'd played for the New York Giants? And is that Lew Perryman of General American Oil Company, one of the biggest independents in the country? Harlan Ray, the oilman and extremely generous supporter of SMU football players? City Councilman Dub Miller, another SMU grad? And that's Robert Dedman, isn't it, that ebullient up-and-comer from the law firm of Shank, Dedman, & Payne?

It was. The day would be a triumph for them all, because Bell, McClain, Perryman, Miller, and Dedman sat on Riverlake's advisory board of directors—along with a handful of other Dallas business titans everyone knew and respected. It seemed plain that the club's concept was genius and its launch flawless. Hundreds of individuals and families had joined before the club even opened, and that number would surely rise in the wake of the grand opening. 

So why haven't you heard of Riverlake?

You haven't heard of Riverlake because it didn't last. Two years and two months after Hope told those jokes, bankruptcy descended on the club like a dark cloud. Scores of people and an act of God were involved in the disaster, so it would be oversimplifying a complicated story to boil it down to only three characters. But Doak, Dedman, and the Trinity River describe the drama pretty well.

•••

The leader of the free world was a golf nut. President Dwight D. Eisenhower maintained an office above the pro shop at Augusta National, where he was a member, and which he visited 29 times as president. Our commander in chief from 1953 to 1961 played about 800 rounds during his two terms, pretty good for a guy who endured a heart attack, a stroke, and abdominal surgery during his time in office.
An early pitch emphasizing the availability of helicopter service from downtown to the club was a misstep; Riverlake wasn't about rich-guy flamboyance.
So people picked up clubs en masse because our popular president played the game, right? "No, no, no," says Herb Durham, 91, a Brook Hollow member. "It was Arnie. Arnie on TV. Arnie winning all those tournaments." Whatever the analysis of the cultural moment—the magnetism of Arnold Palmer in a new medium, the simultaneous rise of recreation and procreation after World War II, Ike—golf boomed in America in the '50s. 
But where to play? Dallas, like other cities, had a few handfuls of municipal courses, and an upper-crusty top tier of country clubs, and little in between. Those who couldn't afford the Dallas Country Club but didn't feel comfortable in the rough-and-tumble of Tenison were stuck.
So what if there were a private club with an affordable price point? If you made it large enough—with two courses instead of one, a pool as big as a lake, and a clubhouse of many thousands of square feet—economy of scale might enable an initiation fee and monthly dues that wouldn't make the check-writer's hand tremble. The idea would have to be skillfully introduced. Which is where Doak Walker came in. 
The full-page ads in the two Dallas dailies began in the summer of '55. An early pitch emphasizing the availability of helicopter service from downtown to the club amounted to a misstep; rich-guy flamboyance was not the point of Riverlake. They found their footing in subsequent ads, which were designed as a letter from SMU's only three-time All-American. Doak just wanted to "thank you for the wonderful reception" and to provide a progress report "to the members and prospective members of Dallas' Newest, Most Exciting Family Country Club." There'd be a teen room and a ballroom and day care and tennis and a track for a little train tracing the edges of the club's 261 acres and lots of live entertainment and movie nights and a pond stocked with bass and a "modern, filtered swimming pool." The come-ons included Riverlake's prices, of course. Which were a steal! Memberships, with tax included, were just $360 ("increasing to $480 when the quota is filled"—which it was), with monthly dues of $9.60. Tax included. Even taking into account half a century of inflation, that was cheap. In today's dollars, the monthly dues were about $85. Ads in the Fort Worth Star-Telegram touted non-resident memberships for $60 and dues of $4.80. Don't wait! Call FO8-4628. (By comparison, Dallas Country Club charged $3,500 just for a social membership.)
Doak symbolized the early, optimistic days of Riverlake. When Edith and Cary Middlecoff flew into Love Field for their initial visit in December '55, Mayor R.L. Thornton gave the golf pro a certificate, then Doak presented the wife with a dozen red roses—and, at the photographers' urgings, a kiss on the cheek. But the just-retired football hero would later take a job with an electrical contracting company and move to Colorado with his wife and kids. A life of being Doak in Dallas—shaking hands, posing for photos, selling insurance, maybe—held no appeal. 
Robert Dedman stuck around a bit longer. Although Dedman makes no such claim in his memoir, Riverlake seems to have given the nascent billionaire the idea of a lifetime. In 1957, the club's first full year, the 31-year-old attorney (SMU Law, '53) formed a company called ClubCorp whose mission would be building and owning and operating golf courses—and making lots of money selling the real estate around them. Dedman had heard that a couple of mere golf pros had scooped up land near Las Vegas for $2,000 per acre, then split those acres into fourths and sold those fourths for $50,000 each. What had increased the value of the lots? They'd be on a new golf course.
"I think Riverlake really did inspire Brookhaven," says Jerry Dickenson, referring to the flagship in ClubCorp's chain of affordable country clubs. Dickenson, who occupies the Dedman Chair in Club Management at the University of North Texas, worked at the top of ClubCorp from 1969 to 1996. 
"My plan was to get rich," wrote Dedman in King of Clubs, and Riverlake showed him a few ways not to do it. When he began scraping the ground for Brookhaven in 1958 (with Press Maxwell as architect and Byron Nelson assisting, and with 900 memberships already sold), Dedman stood in Addison, a sleepy but growing burg north of the city, not in moribund southern Dallas. He pushed the economy of scale idea with three courses, not two. There'd be building lots with golf course views—which were impossible in the Trinity River Bottoms. The only habitable ground close to Riverlake was the wooded hilltops of Joppa, named for a Biblical seaport, an unincorporated community founded by former slaves. Finally, Dedman decided that Brookhaven would not be built near a thing that could wash it away.
When Riverlake opened, North Texas had seen hardly any rain since 1950. It got so bad that Dallas had to pipe in nasty Red River water, which tasted terrible and fouled pipes. They drilled a well in one end zone at the Cotton Bowl to irrigate the pitch. Lawns withered. Trees died. 
The drought broke to our west in January 1957, a day after President Eisenhower toured San Angelo on a disaster-area inspection tour. The surviving farmers and ranchers rejoiced and considered voting Republican. The rain fell in earnest in North Texas beginning on April 18. Empty reservoirs and dry ground absorbed it, but the rain did not stop. In a few days, when the saturated earth could hold no more, an enormous volume of water ran off into the four forks of the Trinity. And the river rose. Crowds on the Commerce, Westmoreland, and Continental bridges peered into the frightening, swirling, hypnotizing rush of brown and gray water. The levees at Sylvan and Westmoreland held, but just barely.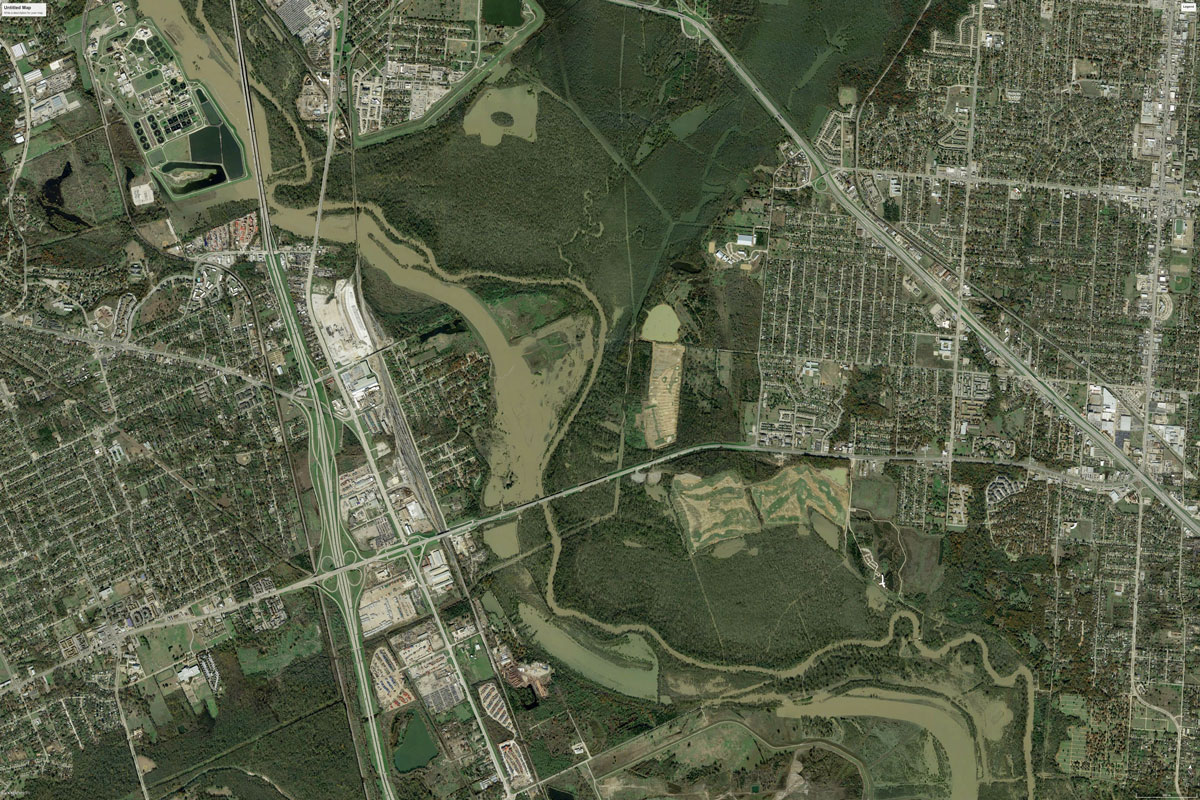 But southern Dallas had no earthen embankments along the Trinity. Southern Dallas had no flood control at all. As the river continued to rise, Riverlake employees and helpful members scurried to roll up the carpets and carry the furniture onto the roof. On April 25, only treetops and the roof of the vast, vaguely X-shaped clubhouse poked above the water. It was the club's sixth month in business.
"Riverlake Country Club took on the appearance of a luxurious showboat with no place to go," read the caption below a newspaper photo, "as the nearby Trinity River surged over its banks and onto the golf course, even submerging an outdoor swimming pool."
The Riverlakers certainly were good sports about it. "Good thing we built our house with concrete walls!" they said. When the water receded, scores of members drove south with mops and buckets. The inundated turf presented a trickier problem. What with the river's usual silt deposit, cleanup required sweeping, shoveling, and high-pressure hosing to get the muck out of the grass. 
The club announced a postdiluvian re-grand opening for Friday, May 10, although they didn't invoke the word "postdiluvian," and they didn't open. Because on the day of the event, an unlucky and unannounced upstream release by Dallas Power & Light Company and the U.S. Army Corps of Engineers flooded Riverlake again. Some members rowed boats from the edge of Loop 12 to the clubhouse, which was kind of fun at first, but the novelty wore off quickly. The muddy water covering the course looked like a sheet of spilled coffee with cream.
Revenue tanked following two floods and the wettest May ever recorded in Dallas. You couldn't play the courses without getting your feet wet when you could play at all. Maintenance crews couldn't mow in the low spots and where the ground was too soft. 
Dallas entrepreneur Jim Ling abandoned his plan for an annual $50,000 golf tournament at Riverlake. An effort by the club to revive and host the city's amateur golf championship was put on hold. The Dallas Morning News published a story about the goings-on at the club as 1957 came to an end. It was headlined "Gala Holiday Social Season Will Open With Gay Parties." But how gay could they be? That damn river had washed away a year's worth of fun. 
And then the river did it again. In late April of the following year, the overflowing Trinity closed Riverlake for a solid month. On December 3, 1958, the club filed for bankruptcy protection.
•••
Two of the main characters have left us, but the third rolls along.
"Games always came easy for me," Doak Walker said late in life. "That can make things harder later, when things don't come so easy."
That's a heartbreaking statement, but Doak exuded grace as he faced the dilemma of peaking too soon. "Doak was the nicest, sweetest, most humble man I ever knew among the immortals," recalls Dan Jenkins, who worked with Doak on a book titled More Than a Hero, which he was, especially in Dallas. Riverlake's spokesman died in September 1998 at age 71, from injuries suffered eight months earlier in a skiing accident on a mountain in Colorado.
After helping bring Riverlake to life and then—possibly—helping put it out of business, Robert Dedman bought the place in 1972. He renamed it Forest Oaks, wisely leaving out any reference to water. Didn't matter. "It was a mess to deal with," says Dickenson. "Cleaning up after floods was expensive, and while we were flooded, we of course had no revenue. The other issue was that the neighborhood got more dangerous. Just compare the mansions and Highland Park Village by Dallas Country Club to what you see at Loop 12 and I-45. People didn't want to go out there at night. We built a high fence with barbed wire on top, but a few criminals climbed over anyway. We decided it wasn't worth the trouble." 
ClubCorp sold the course in 1980, admitting a rare misstep. Dedman, worth $1.2 billion or so, died in 2002, at age 76, after a long illness.
And the Trinity and the golf course in its forested bottoms? The final owner, Remy Tabor, gave the club a third name, Sleepy Hollow. Tabor improved the course and its drainage, not that the river much cared. It continued to spill over its banks and inundate the fairways. The city of Dallas condemned the land for flood mitigation in 2003.
There's nothing much there now but ponds, birds, herbs, feral pigs, Joppa fishermen, and peaks of crumbling concrete cart paths. Golf balls of various vintages pop out of the ground like clams at low tide. Weekend bird watchers and naturalists kick them aside. Yet Riverlake and Forest Oaks and Sleepy Hollow will survive as a golf course in a small way, because some of its dirt has been trucked to the new Trinity Forest Golf Club, part of which occupies land that lies just the other side of the river. The dirt was needed because Trinity Forest's fairways sit atop an old garbage dump, which raises the course's elevation above that of its doomed predecessors. The initiation fee for the private club is $150,000, and it is scheduled to open later this year. The SMU teams will use it as their home course, and the Byron Nelson Championship, with AT&T as its new sponsor, will move there from the Four Seasons before the decade's end. 
There are big plans for that land along the river. But there's something puny about the things we've done on the banks of the Trinity. The river plays a longer, bigger game than we do, and it always seems to prevail.   
Curt Sampson has written 15 books, most recently the forthcoming Furious George, about NBA coach George Karl (Harper Collins). Contact him via curtsampson.com.
Get the ItList Newsletter
Be the first to know about Dallas' best events, contests, giveaways, and happenings each month.