In commercial real estate, timing is everything; it's either the right time or the wrong time. And that's precisely why developer Shawn Todd initially walked away from what has become the largest-ever historical adaptive reuse development in Texas.
It was 2017, a couple of years after he had transformed One Dallas Center, a 30-story, I.M. Pei-designed building, into a vertical mixed-use development. When he was presented with the chance to buy the former First National Bank Tower, a 1.5 million-square-foot building in the core of downtown Dallas, he knew it would be a massive challenge. "You know that saying, 'how do you eat an elephant? One bite at a time,'" Todd says. "This was a whole herd of elephants."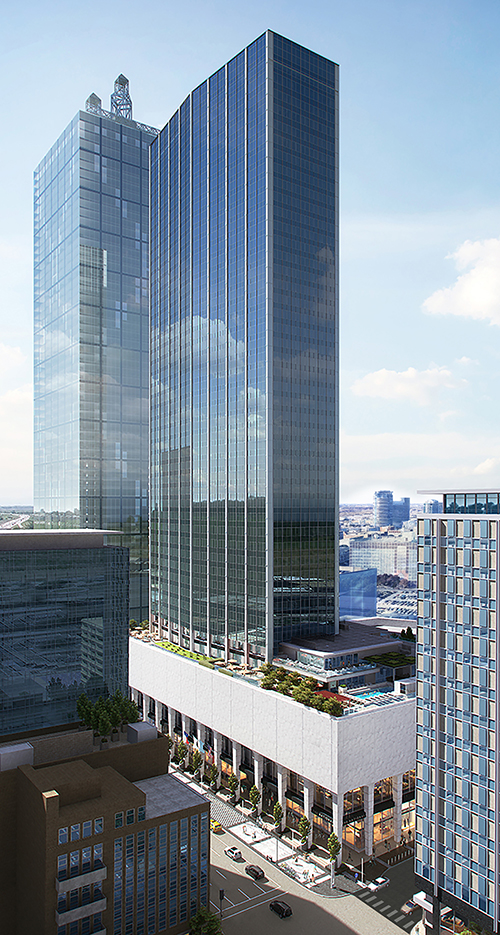 So, despite his grand vision for the iconic, George Dahl-designed tower, Todd decided his firm could not take the risk; the timing wasn't right. "We just stood back and watched and monitored," he says.
By mid-2019, conditions had changed. Todd led a group that acquired the historic building and gave it a $450 million redo. Late last year, he and a small group raised a glass to Dahl and turned on the banker's pinstripe lights of the old tower for the first time in more than a decade. Now named The National, it's setting the standard for amenity-driven real estate in North Texas and attracting market-high rents for luxury residences: $3.85 per square foot. "We wanted a very strong juxtaposition with where the world is today and where Dallas is going," Todd says. "Cultural and business and social titans used to office here, conduct commerce here. And H.L Hunt, the richest man in the world, officed here. This building deserved a statement. Now, you have to do that all in the context of a budget, financial viability. Today, you've got to meet economics."
When considering whether or not to take on a project, Todd says he looks for real estate anomalies, "What I mean by that is that we really focus on that one iteration," he says. The strategy has been proven out; Todd has never lost a single dollar in any of his real estate investments.
As part of its Commercial Real Estate Awards program, D CEO will present Todd with its Pioneer Award for 2020. The event, which takes place on April 28, will recognize 83 finalists, including 32 professionals and 51 projects and deals that defined 2020.
Early Start
He made his way to Texas from Oklahoma by way of Baylor University. He was the first in his family to go to college and says his abilities on the track field solidified his admittance. There, Todd met the love of his life, Cheryl, on the business school's steps and achieved degrees in real estate, entrepreneurship, and finance. He forged his understanding of the industry working under the likes of Bill Foose and George Connell, founder of Connell Development Co., and his son, Mark. "Men of great integrity," Todd says, "and men that today still invest into my life, that their word is their bond. How they conducted themselves in business gave me a tremendous example of what leadership looks like."
Todd says he got his first taste of responsibility at Connell when the then-president gave him plans for a residential subdivision and told him to buy every lot he could—paying no more than $30,000 apiece. That subdivision never developed; today, it's the intersection of Preston Road and President George Bush Turnpike. But it taught Todd how to work with everyone from developers to city council members. "I got to touch, see, taste, and feel everything in that little tour of duty," he says.
After five years at Connell, Todd found his niche focusing on redemptive architecture, buying broken shopping centers and malls in the early 1990s. He still develops across the United States, but he holds a special place in his heart for reviving downtown Dallas.
"People want to celebrate the beautiful architecture that is this urban fabric of our city," he says. "People get this warm feeling in their soul when they can see an accoutrement to the side of a turn-of-the-century building or mid-century modern building that artisans and craftsmen can't build today. And so, with the vibrancy now downtown, what we've been excited about is finding these one-purpose buildings that we're able to transform to a new purpose but still keep that deep, rich architectural soul fabric. That has been intensely gratifying."
Changing Dallas
Along with The National and One Dallas Center, Todd also transformed the historic U.S. Post Office into a marquee residential address at 400 North Ervay. He's also at work on East Quarter with his sons Patrick and Philip. The milestone project is a collection of 18 historic buildings that link downtown Dallas and Deep Ellum. Working on East Quarter while opening The National during a pandemic made for a challenging year, Todd says.
"It has been the best of me, and, quite frankly, some moments have been the worst of me," he continues. "But, when you have those worst-of-me moments, it really compels you to go back. I've had some instances where I've had to go to people and say, 'I need to ask your forgiveness. I didn't conduct myself the best in the midst of this situation.' … But I'm thankful that's not the man I'm known for."
So, what does Todd want to be known for? "I hope what people will know me for is for being a man who was honest, who was trustworthy, and who knew who he was and what he believed in, and that his words were consistent with his actions," he says. "I consider myself very fortunate to have a great team, that through a collaboration of ideas we're able to move forward with confidence in the ideas we have—and then to have financial partners who also believe in those ideas and have been beside us. It has helped us pursue some opportunities that are those anomalies I mentioned earlier. And for that, I'm very grateful." 
Carrying
The Legacy Forward
After framing successful careers of their own, Shawn Todd's children are nestling into the family business. Sons Patrick and Philip first teamed up with their father on the East Quarter project. Todd credits Patrick for the vision to reinvent the neighborhood. "He saw the trees in the forest," Todd says.
Patrick previously worked as a debt and equity analyst for HFF before joining his father at Todd Interests. Philip leads work at The National. He joined his father in 2017 after working as an associate at Lone Star Funds, a $70 billion private equity firm. Todd's daughter Caroline is the creative force behind much of the interior design at The National.
"I think we would all tell you that [working together] requires that you be like-minded," Todd says. "One of the first things is how we view the world; and in that, we are like-minded from a Christian worldview. Second, it's how we process conflict—no passivity, and keep short accounts. There are some days when that family-versus-business separates, and sometimes … it's like The Jerry Springer Show."
Get the D CEO Newsletter
Stay up to speed on DFW's fast-moving business community with weekly news reports, interviews, and insights.