From D CEO May 2018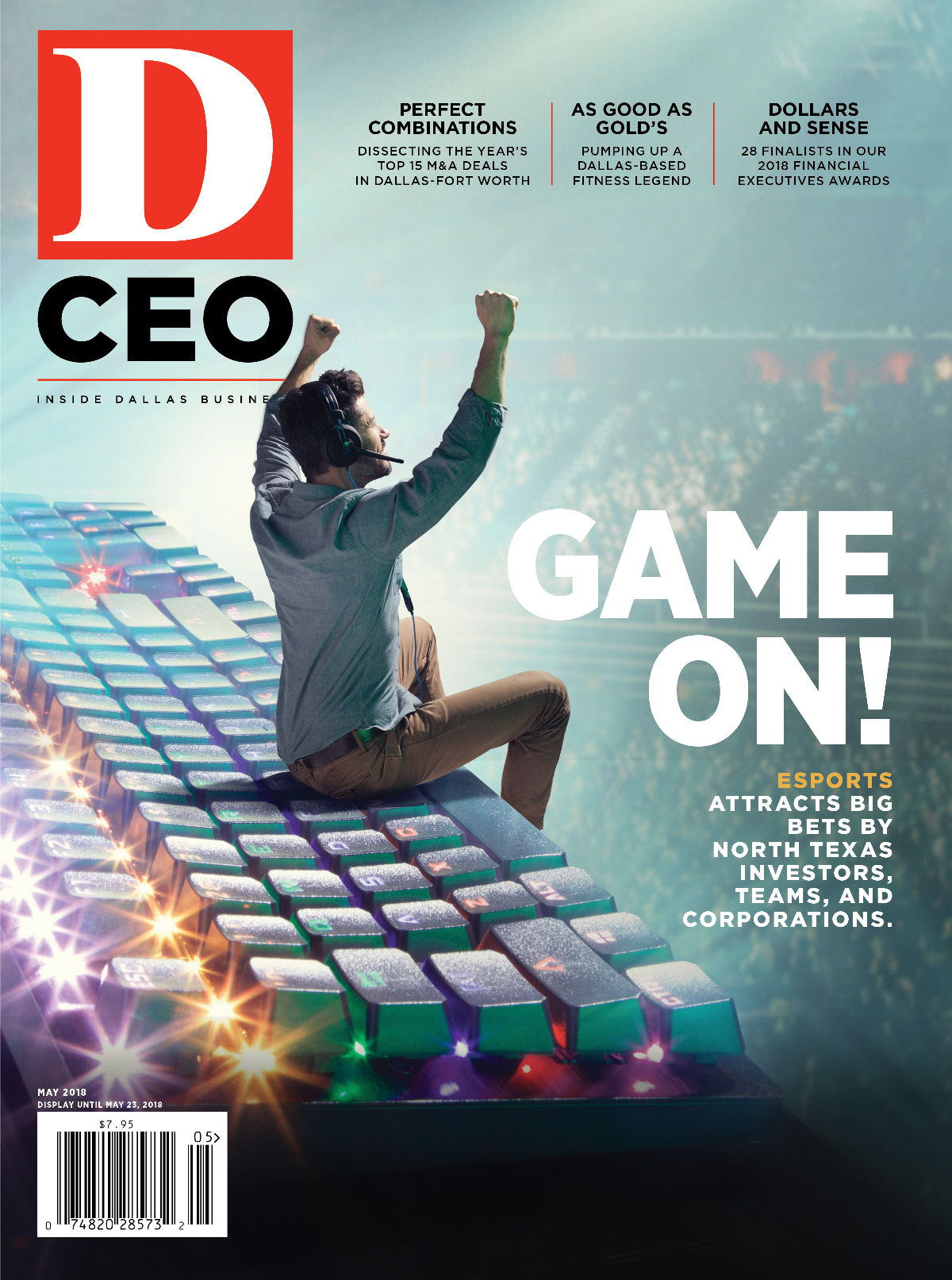 Subscribe
Thousands of people decked out in fan gear await the "battle to the death" they've been promised. They're armed with blow-up thundersticks, cell phone cameras, and poster boards championing their favorite competitors. One woman, screaming at the stage, holds up a sign referring to Alexandre "boddy" Pianaro, one of the players: "Bodyy, you can have my body!" A man shakes another sign above his head. It reads "G2 Army!" Still another fan, dressed all in black and sporting a cape, flexes his bicep to show off a team-logo tattoo.
"Ladies and gentleman, it's time for the finals, baby! How are you doin' Dallas?" an announcer booms into the microphone, his voice thundering across the Verizon Theater in Grand Prairie, eliciting a roar from the crowd.
Heroic music fills the theater, and lights flash across the crowd as two teams of five guys in black hoodies emerge from the rear. Camera crews follow the players, who high-five their fans as they make their way to the stage. The teams—one from Western Europe, the other from Denmark—settle on opposite sides of the stage separated by a bright purple, pentagon-shaped trophy set on a metal base. It's what the competitors have trained all year to win. That—and a $225,000 purse.
"We don't give a flying f*** if you cheer for G2," one of the Danish players says during an on-stage interview. "We're going to crush them and show them who are the best in the world."
With that, the announcer fires up the crowd again with a growling "Are you ready?"… and the two teams take their positions.
It's a scene that fans might expect to see at a boxing, mixed martial arts, or World Wrestling Entertainment match. But while the goal in this contest is to "kill off" the opponent, neither team will actually lay a finger on its rival.
Instead, the two teams will go head-to-head in digital combat, aiming to shoot the other team down in Counter-Strike: Global Offensive, an online video game, during the Electronics Sports Gaming Pro League's season five championship tournament. Or, as the video intro explains: "Now Counter-Strike returns to the city where it all started as a global phenomenon, propelled on the back of the same passion that is responsible for its overwhelming success. Teams meet to battle it out … here in Dallas, the city where legends are made."
The esports phenomenon, which in its early days arguably was fueled by North Texas gaming companies, has picked up even more steam here in recent years, with world-famous teams relocating to the region, new startups servicing the emerging industry, and big-name investors like Mark Cuban, Jerry Jones, Kenneth Hersh, and Neil Leibman pouring in fresh capital. With the local teams rising to new heights, North Texas esports companies are opening training facilities, mapping out blueprints for stadiums, and turning their businesses into marketing and media machines. They're some of the hottest teams in a worldwide competitive sport that's predicted to gain mainstream attention over the next few years.
Local esports companies include a variety of teams across various game titles, all of whom compete in leagues set up like the National Basketball Association or the National Football League. These leagues, though, are built around specific video game titles like Counter-Strike, League of Legends, and Overwatch, some of the most popular games in esports. Each team typically employs a handful of people and boasts a support and marketing system including folks like coaches, operations personnel, and broadcasting staff.
North Texas, there's no doubt, is rapidly becoming an esports hub.
Ramen-Noodle Days
Though video games trace back more than half a century, competitive gaming as a business model is a relatively new development. Perhaps that's because the child gamers of the pioneering first-person shooter games, some of which were developed in Dallas by id Software, have grown up and turned their once passionate hobby into a money-making endeavor. It could also be because game developers have continuously pushed out blockbuster online competitive games. Or maybe it's because investors and corporations started recognizing the grassroots phenomenon as a smart business decision. More than likely, it's a combination of all of these things.
One thing's for sure: esports is proving to be lucrative. Local esports players are earning upwards of six figures in salary, receiving full benefits packages, and competing for purses worth up to $1 million. Meanwhile, the companies that employ them are fueled by millions of dollars in corporate sponsorships, a percentage of team winnings, and millions of dollars in investment cash, which is helping to offset rising player salaries.
"Jerry Jones sent a helicopter to pick me up," Complexity Gaming CEO Jason Lake says, leaning back in his slick red and black gaming chair. "That's one of those moments where you're like, 'Wow, has it really come to this?'"
Before the money started pouring in, though, the pioneers of the industry weathered some rough times. Mike Rufail, CEO of the Dallas Fuel and Team Envy—esports teams that play across various game titles—spent his post-college days in North Carolina gaming purely for fun while staying home and saving money. But then his childhood hobby led him to competitive gaming in 2008.
"[It] was the first year Call of Duty was on the major league gaming stage," Rufail remembers, reflecting on a tournament played at the Hard Rock Café in Las Vegas. "I was playing on the same stage as the Rolling Stones. That was just a really cool experience."
Back then, Rufail was not raking in big money. Rather, he'd train year-round for the chance to take home $2,000, he says. But it was a passion. So much so that it drove him to seek out the most competitive team he could find. The members of that team, Team Envy, were living in a house in Minnesota, practicing together, competing together, and winning together. Rufail had a little money saved from working in the commercial film industry, and Team Envy wasn't "the best at paying all of [its] bills," Rufail says. So he offered to finance a house in North Carolina, if the team would move to him. They agreed.
Soon the five players, all in their 20s, were shacked up in a sparsely furnished home, their mattresses sprawled across the bedroom floors. Their mornings started late, and 10 to 14 hours of their days were spent in the attic, where they kept their most prized possessions.
"On the third level, it was the gaming room with fold-out tables and routers, and rows of computer monitors, Xboxes, and PCs," Rufail remembers. "There were lots of food deliveries, and not much cooking. A lot of Uncle Ben's minute rice and Ramen noodles."
Although the team had corporate sponsorships, it was barely scraping by. It didn't help that the team was led by a bunch of young guys who didn't know much about business. "Sometimes we didn't have money to cover a bill because we were waiting on a sponsorship check and didn't know how to handle invoicing," Rufail says. In the early days, he ran the company through his personal banking account. "Our power would get cut off on a Friday, and we couldn't play in the tournament," Rufail recalls.
Jason Lake, CEO and founder of Frisco-based esports company Complexity Gaming, remembers those days, too. The then-established real estate attorney and gaming hobbyist started his company in 2003 in Atlanta. He funneled about $2 million of profits from his law firm into his esports business to build the brand and the team, some of whose members lived out of his first gaming house in Plano. Recruiting the best players wasn't cheap. He once had to gift a top-end street bike to seal the deal with one of his recruits. "There weren't really any blueprints on how to build an esports team," Lake says. "We are building this plane while we are flying it."
As a result, it's no surprise that several teams and esports startups struggled and crashed during the Great Recession. Lake, who at the time had relocated his family to Los Angeles and shut down his law firm to pursue esports full time, lost it all. "As the economy started to implode, News Corp. shuttered the entire league," he says, referring to the Championship Gaming Series in which his team competed. "I went from a law firm to owning an esports company to being unemployed."
But gaming didn't die, and neither did the gamers who wanted to see esports become a viable industry.
The Resurgence
Fast-forward 10 years, and esports companies have quickly created their own lucrative industry. The industry generated more than $655 million in global revenue in 2017, according to the 2018 Global Esports Market Report published by esports market intelligence provider Newzoo. That figure is expected to grow to $906 million in 2018 and $1.65 billion by 2021, according to the report.
Revenue for esports is driven mostly by sponsorships, with advertising, media rights, game publisher fees, and merchandise and tickets also contributing. The global audience is increasing along with the revenue, with 335 million viewers streaming esports last year, representing a nearly 20 percent increase from 2016, the Newzoo report says. Esports fan interest has grown so much that viewership for some of the most popular tournaments rivals that of Game 7 of the World Series.
"There's this mass migration from traditional sports going into esports," Neil Leibman, chairman of the Texas Rangers ownership committee and an investor in Frisco-based OpTic Gaming, says about general interest in the industry. "A lot of [venture capitalists] are investing in esports related-businesses. … They're investing in ways to merchandise and manage teams. You're going to start seeing esports agents and esports lawyers. It's a phenomenon that's going to be around for a while."
All it took was one visit to a local tournament—and some solid numbers—for Fort Worth real estate billionaire John Goff to understand this. "I took [him] physically to an event at the Verizon Theater," says Travis Goff, vice president of Goff Capital Inc. and John Goff's son. "It's one thing to look at the numbers and viewership … but seeing, feeling, and touching an event is a whole different thing."
With that, John Goff's Goff Capital set out to invest in a team. A contact introduced Travis Goff, who also grew up gaming, to Lake, who had purchased the intellectual property rights and restarted Complexity. "Jason was a diamond in the rough," Goff says. "Not to mention, as he's been quoted before, he's the 'godfather of esports' and carries a lot of weight in the industry."
With a match made, the Goffs knew the best situation would be to partner with someone already well-versed in operating a sports team. Enter John Goff's good friend, Dallas Cowboys owner Jerry Jones. "Mr. Jones sent a helicopter to pick me up," Lake says, leaning back in his slick red and black gaming chair. "That's one of those moments where you're like, 'Wow, has it really come to this?'"
Complexity announced that it would base its operations in Frisco in 2017, after Jones and Goff took a majority stake in the company. It occupies temporary office space while its 40,000-square-foot training facility and headquarters is constructed at Jones' The Star in Frisco, where the players will have access to the amenities enjoyed by the Dallas Cowboys. The headquarters is expected to be one of the largest training facilities in esports, Lake says.
Meantime, Ken Hersh—who's made a name in Dallas by running a successful private equity firm and serving as president and CEO of the George W. Bush Presidential Center—linked up with Rufail to compete for the purchase of Overwatch League's Dallas Fuel franchise. Hersh reportedly invested $35 million in the Dallas Fuel, and the team opened its headquarters next to the American Airlines Center at Victory Park last November. Rufail says he's now talking with the city of Dallas about the possibility of building a Dallas Fuel esports stadium, per the league's goal that all of its franchises have hometown venues.
Leibman teamed up with entrepreneur Chris Chaney to acquire a majority stake in OpTic Gaming, committing to invest $10 million over time and moving the team from Chicago to Frisco. They also formed Infinite Esports & Entertainment, a holding company that comprises complementary divisions like NGAGE, its broadcast and events management company; GG Esports Academy, dedicated to developing esports players; Esports Venues LLC, which will focus on the physical spaces; and No Scope Media, a production and creative studio. It was Infinite that recently cut a deal with the city of Arlington to develop a 100,000-square-foot esports stadium at the Arlington Convention Center, with help from a $10 million investment from Esports Venues LLC. NGAGE will manage the facility.
It should come as no surprise that Dallas Mavericks owner and technology entrepreneur Mark Cuban is also jumping into the esports game. The Mavericks are one of 17 NBA teams that will participate in the inaugural year of the NBA 2K League, which will host tournaments for the game NBA 2K. Each team made a "significant" investment to be a part of the league, Cuban says. He says details on how Mavs Gaming will operate and what divisions it might include are still being finalized. Mavs Gaming is building its own 12,000-square-foot facility in Deep Ellum that will serve as its headquarters and be a venue to host tournaments, broadcasts, and other events. The venue is expected to become operational in Spring.
Powering Up
North Texas esports investors, most of whom already have major investments in traditional sports, say the decision to back the new gaming businesses wasn't hard.
"I noticed about two years ago the emergence of esports in the same breath as traditional sports," says Hersh, who's also an owner of the Texas Rangers. "What we noticed was a few things. One: The ecosystem of professional sports is quickly being transferred item-by-item into the electronic world—leagues, players, salaries, agents, coaches, psychologists, nutritionists, salary caps. … Which begs the question, is it a sport? So I started looking into it, and it is very much a sport."
Hersh says he was surprised to discover how much esports players, just like traditional athletes, had to dedicate themselves to building their skills in order to become professionals. And now a growing ecosystem around them included fans and other gamers who were looking to the pros to learn new gaming techniques.
"I saw how entrenched my son was in playing the games," Leibman says about his now-19-year-old son. "I said, 'I don't really understand what's going on. Why do you want to watch someone playing games?' And he said, 'Dad, you watch baseball and golf.' It clicked instantaneously."
A number of venture capitalists are "investing in ways to merchandise and manage teams. You're going to start seeing esports agents and esports lawyers. It's a phenomenon that's going to be around for a while."

Neil Leibman, esports investor
So investments were viewed as just that—sports investments, which produce returns upon their sales. The only difference? These were investments in the future of a fledgling industry. They also offered opportunities for cross-promotion, leveraging corporate relationships that existed with traditional sports brands. Says Cuban: "I had seen the explosive growth in that market, and believed that it was a natural fit for the Mavs given our history of innovation and how the esports world is going to transform the sports industry as a whole. …It moves the NBA brand even further into conversation as a global powerhouse, and opens up a whole new market."
As esports have gained credibility and popularity, major corporations have taken notice, upping their sponsorships and attracting others. Plano-based Dr Pepper/Snapple Group and Toyota Motor North America are two local companies that have entered the arena. Dr Pepper sponsors a team in California, and Toyota sponsors the Overwatch League. Other companies like Stride Gum, Hot Pockets, and Red Bull have sponsored live events.
Younger millenials "are traditionally 'cord-nevers,'" Travis Goff says, suggesting that they never watched cable TV. "They have ad blockers on all their web browsers. They do everything they can do avoid getting bombarded, so they're extremely difficult to reach, but they're also the most valuable demographic. This is when kids are establishing their brand loyalty. It's their first car, first shave—that's when brands really want to jump in."
Indeed, the merchandising opportunities seem limitless. Beyond the opportunity to have corporate sponsors on merchandise like jerseys—the Dallas Fuel is one of the first esports teams to land a jersey sponsor in Jack in the Box—brand digital awareness opportunities like sponsored avatar jerseys inside the game also exist. "The amount of digital items [fans] want to buy is staggering," Lake says. "A lot of video gaming revenue is being driven digitally."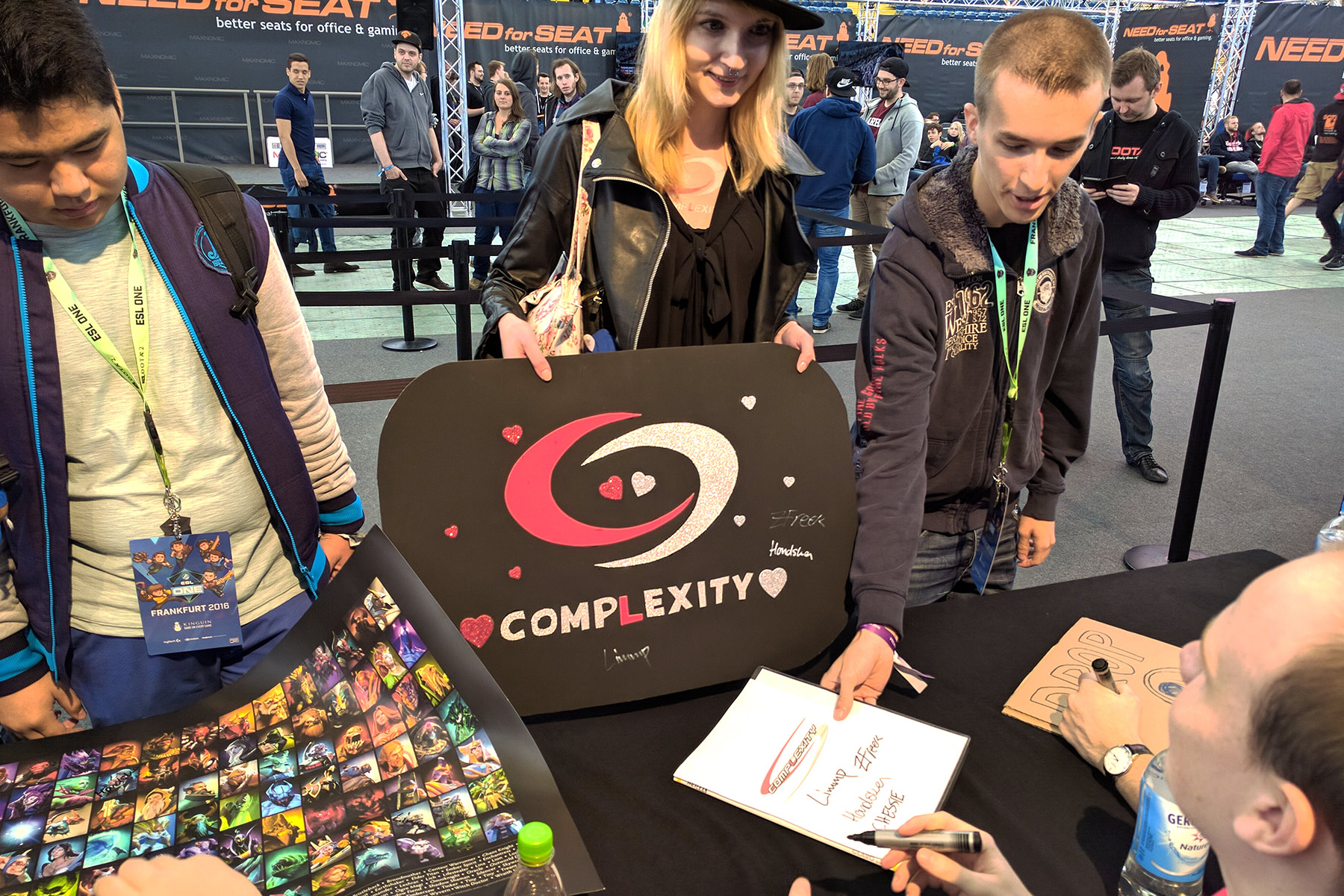 Dallas Fuel celebrates a victory at the Blizzard Arena in Los Angeles. ; Complexity fans get the autographs of some of their favorite players.
As esports continues to flourish, North Texas is in good shape. "I think Dallas is the best esports market in the U.S., because sports are engrained in the culture," Rufail says. "From what we've seen from our watch parties, it's already incredible."
Get the D CEO Newsletter
Stay up to speed on DFW's fast-moving business community with weekly news reports, interviews, and insights.