We live in a world where technology is constantly at our fingertips, with smartphones, tablets, and touchscreens. So, why shouldn't offices work the same way? These North Texas workspaces are proving digital integrations don't have to be sterile and cold. What they do have to be, though, is smart. Small implementations are changing the way people work for the better, making the employee experience more streamlined and efficient.
Hall Group
For real estate developer HALL Group, taking residence in its KPMG Plaza at HALL Arts building on Ross Avenue meant intentionally incorporating technology every step of the way. When the 500,000-square-foot building opened in 2015, small changes helped streamline the office experience for guests and workers alike. For starters, the parking garage entrance is able to automatically scan toll tags for contract monthly parkers, so traffic isn't slowed down. In the lobby, guests select the floor they're going to and are assigned an elevator carriage—no buttons on the inside means a smarter, more efficient way to access your destination.
But the real innovations are evident once you reach the HALL Group's second-floor offices. A massive touchscreen by ZebraDog can be used to display floorplans to potential tenants, or to showcase information for internal meetings. "It's really changed the way leasing happens," says Ellen Marsau, the company's director of communications. Representatives also use Google Goggles to show clients what buildings will look like. And yet, for their upcoming HALL Residences slated to open in 2019, visitors can step into a full-scale model right in the office itself. Equipped with Bulthaup kitchens and Gaggenau appliances, the high-rise model is fully equipped with automated lighting and shade screens. With communal spaces designed by Emily Summers, the homes won't just be pretty to look at. They'll also be LEED-certified, just like the HALL office itself.
Dallas Mavericks
Amazing things can happen for an NBA-championship-winning basketball team—in the case of the Dallas Mavericks, a luxe makeover of the team's most essential spaces. In April, design firm Gensler began redesigning the Mavs' locker room, weight room, and other core spaces at American Airlines Center. From the moment players walk in, facial recognition technology (designed by an MIT grad) greets them at the door with the day's workout schedule and any upcoming travel plans. Once they pass through the new-and-improved weight room—where that championship trophy is encased in blue lights—the same information is displayed on a video screen in their lockers. But the technological advances go much further.
The cool-toned, blue and white lighting isn't just a nod to the Mavs' signature colors—it's synced with the human body's circadian rhythm, so lighting can be adjusted to a higher energy setting pre-game, or a more calming one post-game. Fresh, dehumidified air is pumped into the whole area—unlike before, when the scent of chlorine from the hydrotherapy pools dominated the locker and weight rooms. Lockers include a bottle chiller, tablet space, USB plugs, soft-close drawers (so as not to pinch those valuable fingers), anti-microbial surfaces, perforated doors (to help circulate that fresh air and reduce odor), and custom hangers from Hollman adorned with the Dallas skyline. A magnetic whiteboard wall with a touchscreen ensures coaching staff has plenty of space to strategize.
Even with the extensive renovations, the 15,000 square feet didn't change—just the usability. "One of Mark [Cuban]'s goals was to make the space more efficient for the players," Gensler principal Byron Chambers says of the Mavs owner. The locker room entry now has a direct path to the showers, rather than being separated by the trophy space and main entrance. Bathrooms, saunas, hydrotherapy pools, and sports medicine rooms all got a revamp, too—as did the office spaces designed by Varidesk. "It's one thing to have an open office," says Varidesk's Bradd Shipp. "It's another to have an active office."
ATOS
As the company tasked with managing IT applications for the Olympic Games, it's imperative that Atos has a high-tech setup right in its own offices. And that's exactly what the designers at Gensler created for them. At Atos' Irving location, not only are conference rooms equipped with all sorts of videoconferencing and file-sharing technology, but the entire area is powered with Wi-Fi, so any location can become a workspace. Tables throughout the office are set up with HDMI outlets, and any laptops can connect with any screen around the office to display materials—including in the "working café."
But the most exciting part comes on the seventh floor, where Atos houses its business tech and innovation center. The European company opened its Dallas regional headquarters in 2015 when it acquired Xerox, but began with an office in downtown Dallas. As the needs expanded, a new space became essential—and successfully opened in January. In the "B-tech," as employees call it, a ring of touchscreens stands ready to greet clients. Lighting surrounding the devices can be changed to echo a client's branding. The screens can be raised, lowered, or tilted for flexible use, and they're enabled for videoconferencing or as a digital whiteboard. A camera in the back of the room means demos can be streamed live, or video of a presentation can be archived. Right now, it's the only Atos facility like it in North America. And as more get built or renovated in Atos' international offices, the Dallas location will help pave the way. "It's got to be the blueprint for all the newest B-techs," says Atos director Ivar Willemse.
Bottle Rocket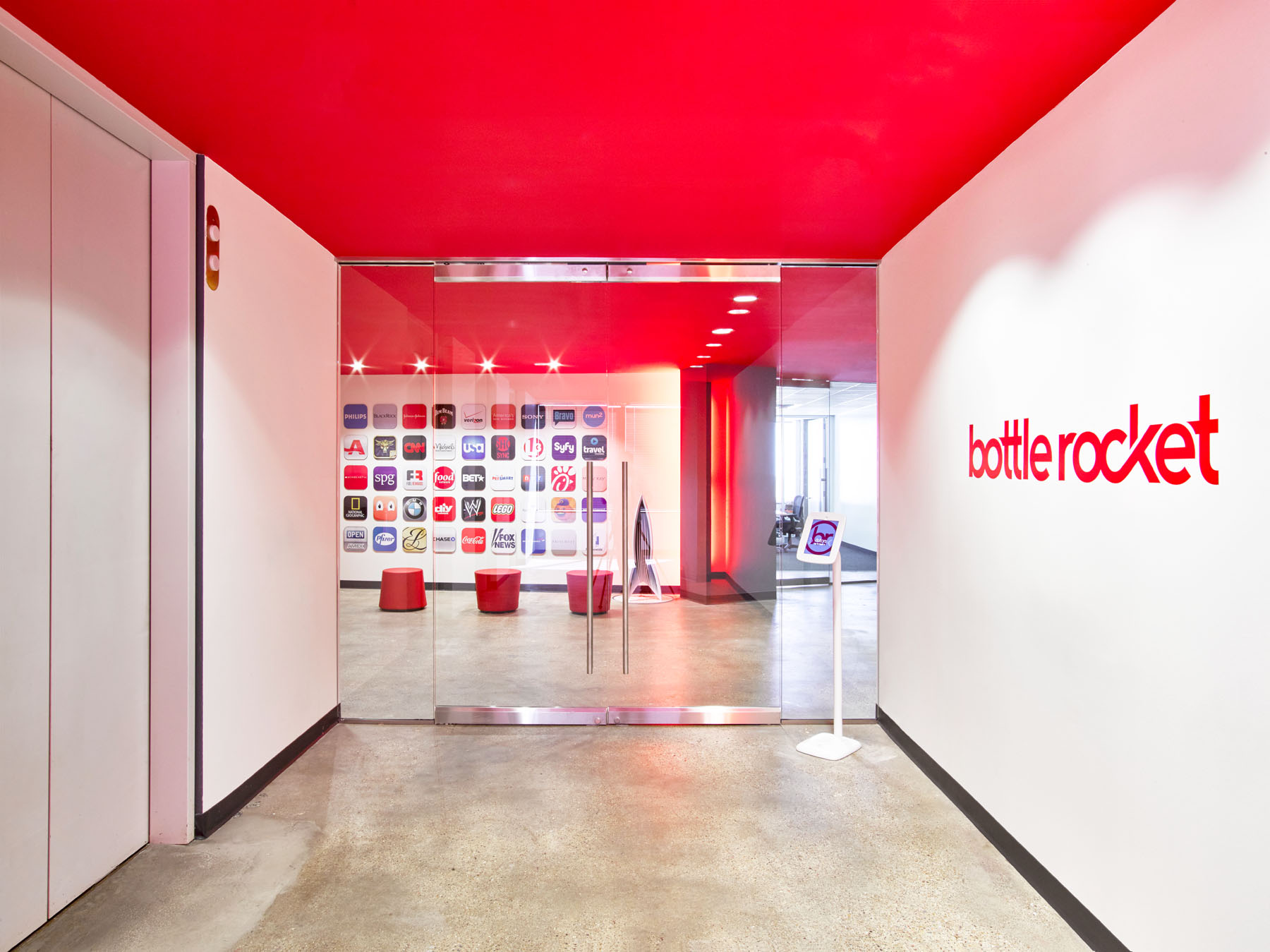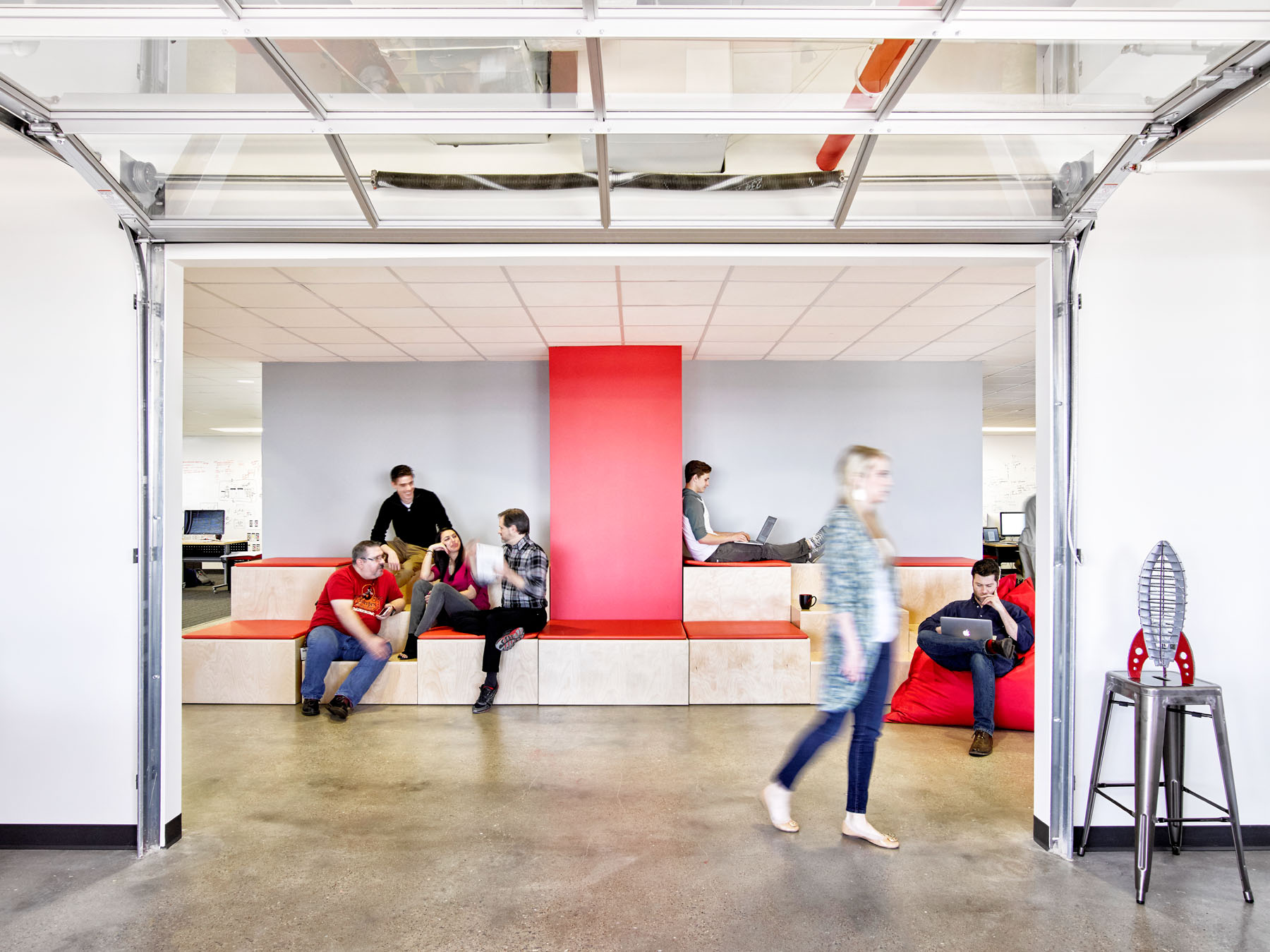 Space-conscious: Bottle Rocket has a receptionist-less entry with an iPad for checking in to visit the "Rocketeers."
Sometimes, innovation comes directly from the people who know best—the employees. At Bottle Rocket in Addison, the app development company hosts a 24-hour hackathon each year, affectionately known to "Rocketeers" as "Rocket Science." But it's not just for kicks. Many of the creations that have resulted from the competition have since become realities.
One case in point: the receptionist-less entry. When you step off the elevator at Bottle Rocket, no receptionist greets you. Instead, a sleek iPad stands ready to check you in. Employees swipe in with a badge; visitors can check in, and the system will notify the appropriate person on their computer or phone. Guests then get a message that says: "A Rocketeer is on the way!" The system is also set up to receive packages and deliveries. "We want to use every space of the office for productivity," senior marketing coordinator Shannon McCoy says.
But culture touches matter, too. Another result of Rocket Science: the "Kegerator," a digital keg used for office parties and events. A companion app displays the internal temperature of the beer, as well as how much is left inside. "It gets us our beer more digitally," one Rocketeer jokes. Yet another Rocket Science culture win is the old-school arcade game—located in the same communal kitchen area—that's been made from scratch, specifically with Bottle Rocket branding (its logo displays the name "brcode"). It all speaks to the kind of creativity that Bottle Rocket not only encourages but celebrates.
Perkins + Will
When you picture the new offices of a top architecture firm, you may not envision a renovated, 110-year-old high school. But the minds behind Perkins + Will did. In transforming the old Dallas High School downtown to create office space, they've fashioned a place that not only respects its past but looks to the future as well. Occupying a little less than 100,000 square feet of the high school's 400,000 feet since November, Perkins + Will is the largest tenant at its new home.
One challenge of the project was striking a balance between modern LEED certification requirements and maintaining the requirements of its historical landmark designation. But the team succeeded. For example, the light fixtures in the office can be dimmed not only to create ambience as needed, but to enable "daylight harvesting" throughout the building. With 15 feet of the windows on exterior walls, "we can dim down to 5 percent," senior associate Gardner Vass says. Conversely, shades can also come down to adjust to lighting needs.
Besides flexibility in lighting, Perkins + Will also used the original footprint of the school to work with its needs. Old classrooms are equipped with monitors for videoconferencing and meetings, and the original auditorium in the center of the building has been transformed into a multipurpose communal area that can be used for lectures, banquets, events, and even just as the kitchen/break area. "One of the contractors said, 'Gosh, why don't we call it the cafetorium?'" principal Courtney Johnston laughs. It's one way for the firm to showcase its creativity to clients—all on its own turf.
Toyota Connected
At Toyota Connected, the workspace sports "humanized usability" with a California touch.
When Toyota Connected—the collaborative science hub of Microsoft and Toyota—needed a headquarters facility in Plano, just any old office wouldn't cut it. Enter Perkins + Will. Designers with the firm had two goals: work with the company's emphasis on "humanized usability," and give relocated employees a little taste of California culture.
The 17,000-square-foot result is a large facility with a floorplan that builds off one main diagonal running through the rectangular building, replete with natural daylight. Conference rooms are decked out with dual screens and drop-down screens, for example. Tables include plug-ins that are hidden beneath the surface to maintain a clean aesthetic. TVs are recessed and mounted on walls, and much of the lighting is recessed in the ceiling as well. "In our talks about technology, we wanted it to be futuristic," senior associate Gardner Vass says. "It's very minimal, but warm and inviting."
A hallmark of the office are three canted walls made up of bezel-free flat screens. Handheld devices can simulate various presentations or create live feeds for all sorts of company town halls and meetings. The area also includes 84-inch touchscreen surface hubs for additional flexibility. And finally, a massive simulator sits in the middle of the space, ready to display live feeds and demos for employees and clients alike. "People gravitate toward it," Vass says. Amid all these technological advances is a sleek space blending exposed brick, metal, glass, and hardwood floors.
AT&T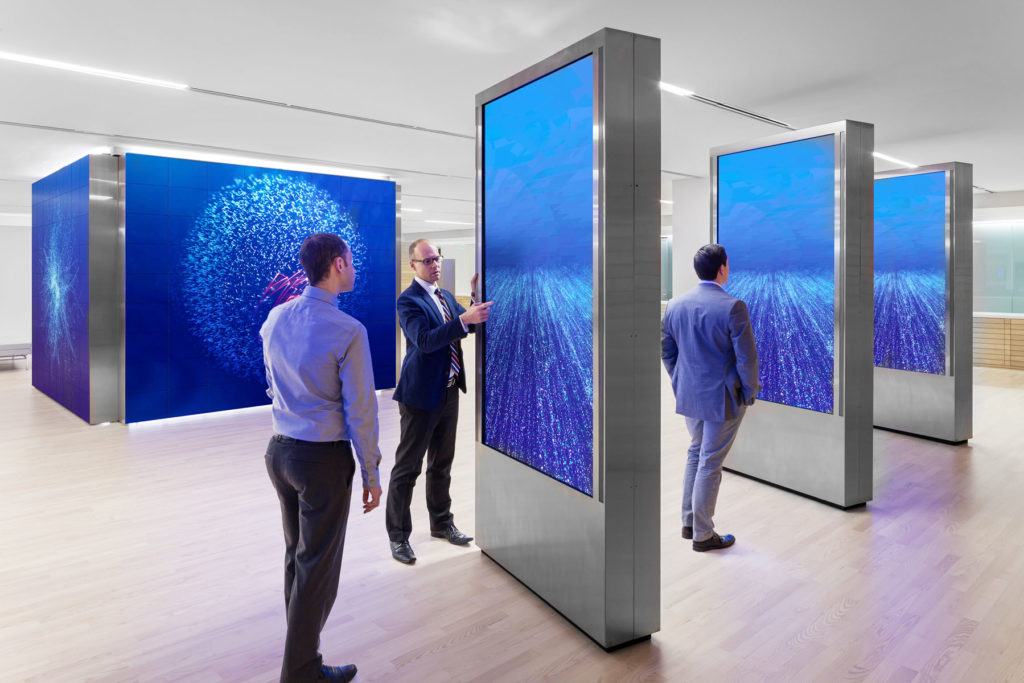 If you expected AT&T to have a highly technical office space at its headquarters in downtown Dallas, you'd be right. The Executive Briefing Center, known to employees as the EBC, is often where AT&T will host C-suite executives (as its name implies). With that in mind, Gensler was tasked with creating a sleek yet elegant space with plenty of technological luxuries. "We're really focusing on making spaces for people," Gensler design director Christopher Goggin says. "We're human—we're touch-sensitive."
As a result, the core of the EBC is called The Gallery—styled to echo the feel of an art gallery. Wood-paneled walls at the entrance have the ability to display data like Twitter feeds or simple welcoming messages. Inside, a four-sided screen theater stands ready to display whatever imaging employees need for presentations to clients. The cube is so large, in fact, it includes its own air-conditioning unit. Alongside it, touchscreen panels provide additional visual support. And surrounding the entire area, breakout spaces and conference rooms allow for more privacy, depending on the day's needs. Each is equipped with screen panels, integrated microphones, and digital whiteboard surfaces and podiums.
As for the floors where most of the workers spend their days, many of the employees don't have assigned desks. Instead, the entire office is equipped with open lounges, coffee bar-style kitchens, small huddle rooms, and conference rooms with full technological capability. Employees can work from essentially anywhere, and they can book rooms on the spot when they need a private place to focus. In fact, many of the spaces have moveable walls, so rooms can be broken down or added onto, depending on the needs. "Technology lets you work anyplace," Goggin says. Desks all have sit-to-stand functionality, and printers are surrounded by whiteboard walls for jotting down ideas. When the company relocated from San Antonio in 2008, many of the 37 floors in the Whiteacre Tower building were traditional office spaces. Now the goal is to make as many floors as possible flexible.
Get the D CEO Newsletter
Stay up to speed on DFW's fast-moving business community with weekly news reports, interviews, and insights.