From D CEO May 2017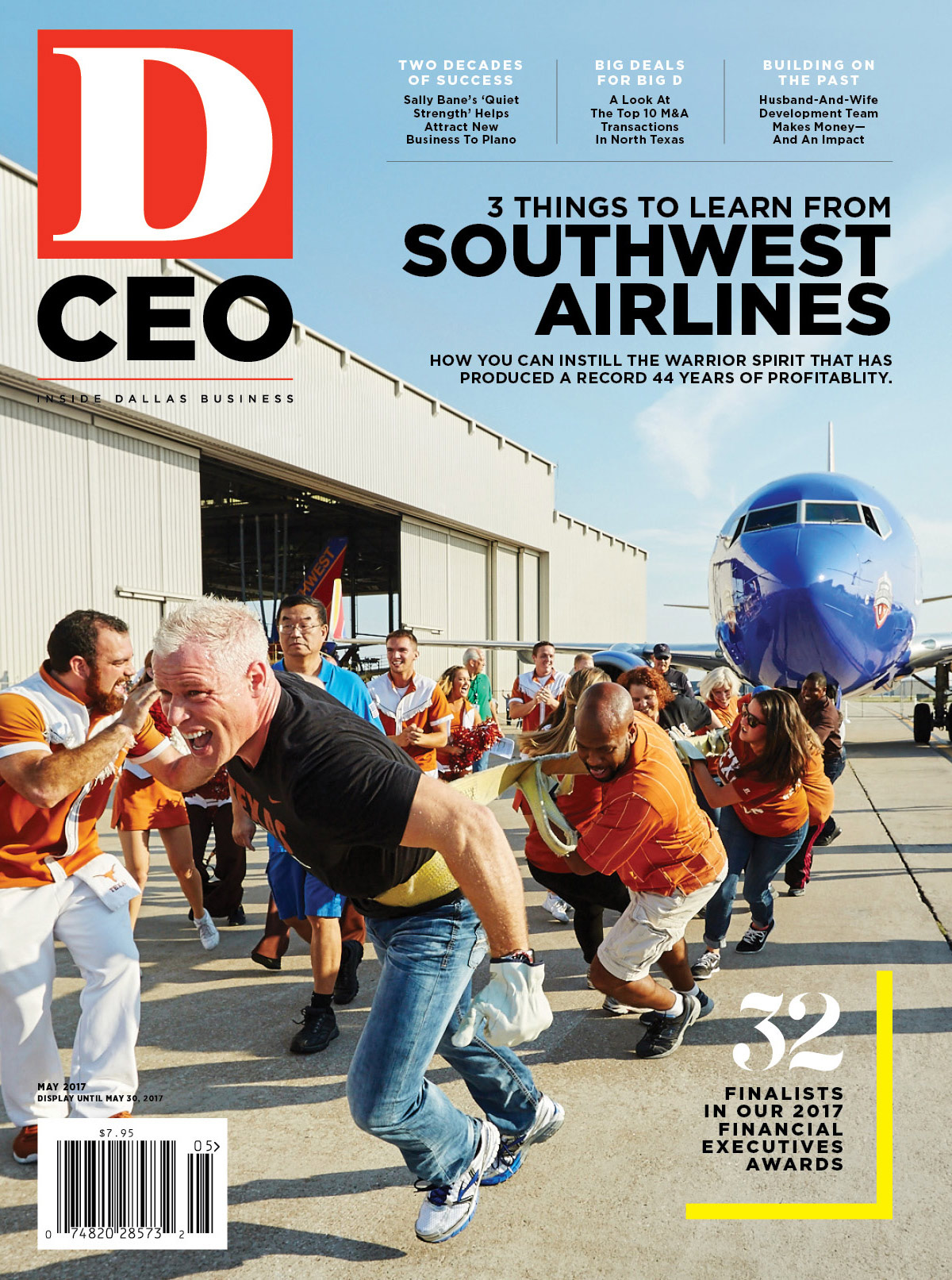 Subscribe
A big reason so many North Texas companies enjoyed such robust growth in 2016 was the outstanding performance of their financial teams. Whether ensuring Sarbanes-Oxley compliance, implementing or streamlining company programs, or lending a hand with acquisitions and initial public offerings, financial executives worked overtime last year to help set strategy and creatively solve problems. To select the finalists and winners you're about to meet in our Financial Executives Awards for 2017, D CEO and our partners in this annual program—the Association for Corporate Growth, the Dallas CPA Society, and Financial Executives International—were assisted by an impressive panel of industry experts. Our judges this year were: Daniel Boarder, managing director, transaction advisory services, Whitley Penn; Robert R. Kibby, shareholder, Munsch Hardt Kopf & Harr PC; Lisa Ong, Dallas CPA Society president-elect; Ron Rushing, chief financial officer, Velocity Group; and Scott Smaistria, consultant, Dykes, Reed, Boggs, & Flynn PC. 
Judd Nystrom
Outstanding CFO, Large Public Company
At Home Group Inc.
Sweeping change has come to Plano-based At Home, which under Judd Nystrom as chief financial officer has slashed its annual interest expense by $20 million-plus and more than doubled its annual revenue (to $760 million) since 2013. Lee Bird, chairman and CEO of the home décor retailer, says Nystrom also "built a top-notch finance and accounting team" and "led the charge" to take At Home public last year. The CFO credits his "strong team, which has the experience to solve complex problems and overcome challenges."
Finalists: Richard Dealy, Pioneer Natural Resources Co.; John Stephens, AT&T Inc.; Joseph Tusa Jr., U.S. Concrete Inc.
Michelle Frymire
Outstanding CFO, Large Private Company
Service King Collision Repair Centers
Backed by private-equity powerhouse Blackstone, Richardson-based Service King has been on a national growth tear in recent years, acquiring or adding more than 90 new vehicle repair locations and topping $1.1 billion in revenue. Michelle Frymire is a key reason why. Under her leadership, the company's finance team has raised at least $300 million in capital and implemented transformative corporate-governance controls. Says Tyra Bremer, Service King's vice president for talent development: Frymire's "commitment to excellence … [is] an inspiration to all levels of our organization."
Finalists: Brad Almond, Vertex Business Services; Ted Croft, Studio Movie Grill; Stanley Reynolds, 7-Eleven Inc.
Dave Knickel
Outstanding CFO, Midsize Company
Kainos Capital LP
Dave Knickel is an invaluable member of the team at Kainos, a private equity firm focusing on the food and consumer sector. Last year the Dallas firm raised a new, $934 million investment fund in just nine months, eclipsing its target by 25 percent. In addition to his important role in that effort, Knickel has helped rebuild the firm's IT infrastructure, implement a forensic testing program, and, in the last two years, oversee four acquisitions totaling $715 million and three exits valued at $1.2 billion.
Ron Long
Outstanding CFO, Nonprofit Organization
Texas Health Resources
Ron Long has been overseeing good things at THR for 11 years. For example, he hired the system's first chief investment officer and revised policies for the system's investment portfolio, which by December had grown to more than $4 billion. Last year he also led the creation of a joint healthcare venture with Aetna, after structuring another major partnership with UT Southwestern. THR's bond rating has been upgraded and, for the first nine months of 2016, the system's operating margin was 6.3 percent, above
industry benchmarks.
Finalist: Gayle Anderson, Dallas Zoo
Derek Kerr
Most Innovative Finance Team
American Airlines Group Inc.
Derek Kerr and his finance team have been "heavily involved" in the successful integration of American Airlines and US Airways, American CEO Doug Parker says. The Fort Worth-based carrier logged record earnings in 2015, and Kerr's finance department has instituted a companywide profit-sharing program, financed 99 aircraft with low-cost debt, and integrated six pre-merger 401(k) plans into a single unified plan. Kerr says he's done it by transforming the department from a group that "acted … like the police" into one that thinks more broadly.
Finalist: Daniel Healy, Civitas Capital Management LLC
Thomas Walker
Outstanding CAO, Controller, or Treasurer, Private company
Dallas Cowboys Football Club
Thomas Walker joined Jerry Jones and Jones' Family Organization as tax director, but his role since has expanded to include analysis, tracking, and general oversight for all investments made by Jones, the Dallas Cowboys owner. The organization's 2016 highlight was building and opening The Star, the Cowboys' landmark world headquarters in Frisco. As part of the executive team, Walker says it's important to be "willing to think creatively on how to solve a problem with the most efficient use of financial and human capital assets."
Finalists: Michelle Shepard, Southern Glazer's Wine and Spirits LLC; John Tschirhart, Interstate Batteries
Becky Haislip
Outstanding CAO, Controller, or Treasurer, Public Company
At Home Group Inc.
At Home CFO Judd Nystrom says that when Becky Haislip joined the Plano-based home-décor retailer, it had no "accounting processes, controls, or team members." What a difference four years makes! After hiring a number of first-rate accountants, Haislip overhauled the account reconciliation process, implemented the processes needed to meet Sarbanes-Oxley standards, and filed nine IPO registration statements. Says Nystrom: "Becky is a tremendous asset to our company and was promoted to CAO last year to … reward her for the key outcomes she is driving."
Finalists: Troy Crawford, GameStop Corp.; Rick Pelini, Lennox International Inc.
Denise Tacke
Outstanding Public Service
City of Plano
As Plano's Finance Director, Denise Tacke has enhanced the city with her sound, far-sighted decision-making. Early on, for example, she oversaw the creation and funding of a special trust for city-employee healthcare benefits, helping Plano become one of a handful of Texas municipalities with a AAA bond rating. In 2016, she also helped the city implement a new utility billing system. Tacke's valuable and "wise guidance," the city's Jim Parrish says, has directly contributed to Plano's recognition as one of the country's best-run cities.
Finalists: Jim Gandy, Frisco Economic Development Corp.; Anna Mosqueda, Denton County Transportation Authority
Scott Drake
Outstanding FP&A
Gamestop Corp.
Scott Drake and his FP&A team are "the backbone" of GameStop, says Rob Lloyd, the company's CFO. As senior vice president of financial planning and accounting, Drake plays a crucial role at GameStop, a videogame, consumer electronics, and wireless services retailer based in Grapevine. In particular, Lloyd says, Drake and his team "go the extra mile" to ensure that all of GameStop's retail stores have real-time access to mission-critical data. Drake, a graduate of Texas A&M University, previously worked for companies including 7-Eleven and La Madeleine.
Finalist: David Frazer, At Home Group Inc.
Katherine Findlay
Outstanding Internal Auditor
Southwest Airlines Co.
As vice president internal audit, Katherine Findlay leads Southwest Airline's internal audit department, which focuses on compliance, helping with corporate governance, and offering real-world solutions to bolster business operations. A graduate of Texas Tech University, Findlay joined the Dallas-based carrier in 1993. She's served as a member of Southwest's Diversity Council, and has received the company's "Winning Spirit" and "Leading By Example" awards. Prior to joining the airline, which has recorded 44 consecutive years of profitability, Findlay was a senior auditor with Ernst & Young.
Finalist: Monica Frazer, Baylor Scott & White Health
Dennis McCuistion
Excellence in Corporate Governance
University of Texas at Dallas
Few people have contributed more to the public's understanding of corporate-governance issues than Dennis McCuistion. In addition to serving as a clinical professor of corporate governance at the University of Texas at Dallas, McCuistion is the executive director of the Institute for Excellence in Corporate Governance there. His expertise on the topic of corporate governance is grounded in real-world experience. Active for decades in public policy and economics, he's a former bank CEO who's served on more than a dozen private, public, and not-for-profit boards.    
Finalists: Sharon Ellis, Nerium International; Renee Hornbaker, Stream Energy
D CEO Newsletter
Stay up to speed on DFW's fast-moving business community with weekly news reports, interviews, and insights.