Because he will spearhead technical research that could become essential to doing business in the future. He also will help provide North Texas companies with a technologically well-versed talent pool.
As director of the new AT&T Center for Virtualization at Southern Methodist University, Nair, 53, will be at the center of understanding some of tomorrow's biggest technology challenges. And, with a $2.5 million endowment from AT&T, his center's research will help companies across industries migrate from hardware and launch software- and cloud-based systems to increase efficiency, accessibility, and reliability.
Nair plans to work side by side at the center with companies like AT&T, which aims to commission research as it seeks out solutions to create stronger global connectivity. If all goes as expected at the new venture, Dallas could emerge as a hub for information technology, heavy with talent, companies, and research.
"This is going to be a forum for universities, industries, and government to come and freely exchange ideas," Nair says, adding that "everyone" is dealing now with virtualization issues in business. "We have the track record, and we are in the right place and the right time."
"This is going to be a forum for universities, industries, and government to come and freely exchange ideas."
Nair has been working at SMU since 1990, when he joined the university as a professor in computer science and engineering. The Illinois transplant quickly recognized Dallas-Fort Worth's robust business environment and knew he wanted to play an integral role in research for some of the largest local firms.
The Telecom Corridor in Richardson was alive and well back then, and Nair was able to land his first research contract with Alcatel in 1993. He also helped SMU launch its cybersecurity program, which has since received nearly $10 million in endowments and funding. Over the years Nair has generated several million dollars in research for companies. "Sometimes they'll have some technology problems they want to solve," says Nair, who brings his SMU students into the process of researching possible solutions. "It's a very cost-effective means of doing research, and it trains students to be hired."
The AT&T research center will be located in the Gerald J. Ford Research Building, which will be built at SMU with help of a $15 million endowment from Gerald J. Ford, Kelli O. Ford, and The Gerald J. Ford Family Foundation. The timing and location for the building, which will highlight the center on the ground floor, is still being determined. The center currently operates out of temporary space at SMU's east campus, across from U.S. Highway 75. Nair expects the center to attract companies from the region, state, and beyond, as it delves into a topic with broad appeal and an increasingly more powerful impact.
AT&T plans to virtualize 75 percent of its network by 2020. The company, which employs about 8,000 people in Dallas and about 18,000 in North Texas, will leverage research from the center. "The center allows us to build a 'test bed' as an extension of what we're doing," says Andre Fuetsch, AT&T Labs president and the company's chief technology officer. "We can build it in the research lab, and the students can come in and work on problems we're trying to solve or come up with their own solutions. It exposes students to our internal workings, [and also] gets us exposure to talent."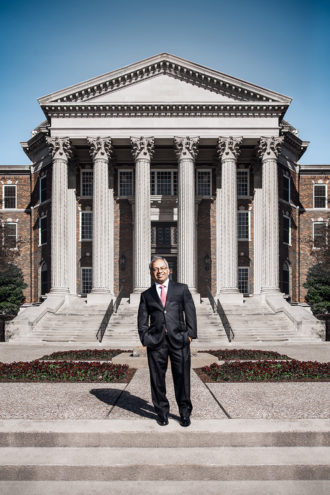 The center was the brainchild of Nair and Krish Prabhu, AT&T's CTO prior to Fuetsch. The two co-taught a class at SMU on software-defined networks. "Our idea was, let's build this material so we can bring this out in front of students, and then possibly create a research place," Nair says, adding that the idea took about two years to become a reality. "We felt we needed a center close to Dallas," Prabhu adds about AT&T's decision at the time. "What we were really looking for was a place where AT&T researchers could come on sabbatical to attract other researchers to us. As the internet continues to explode, virtualization becomes a vital technology."
It also helped that Nair led the proposal, Prabhu says: "He's an established researcher. He has an ability to recruit, attract, and direct research, plus a really good personality that's not temperamental but is highly competitive. It's the best of both worlds."
James Quick, SMU's associate vice president for research and the dean of graduate studies, was instrumental in helping the proposal get approved, Nair and Prabhu say. Now, Nair and the center could serve a key role in advancing healthcare, energy, telecommunications, and even agriculture, Nair says.
The center is a dream come true for Nair, an immigrant from India who's spent most of his adult life immersed in research. "Because technology keeps changing, I have to keep changing my research," he says. "I see virtualization as the promise land."
Get the D CEO Newsletter
Stay up to speed on DFW's fast-moving business community with weekly news reports, interviews, and insights.