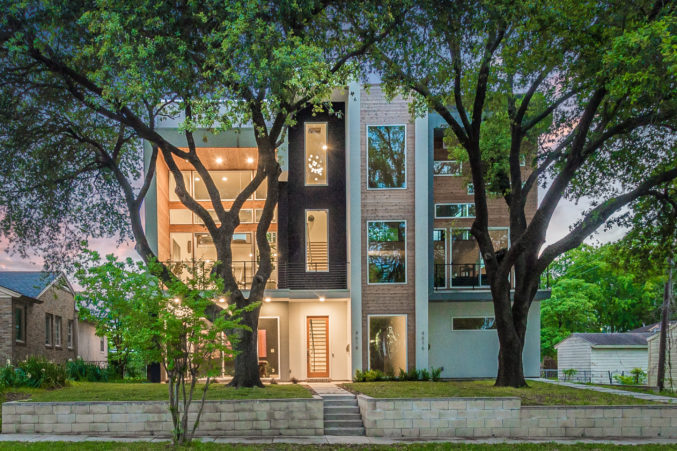 Hot Property: A Trendy Townhome with Three Levels of Living Space
Step inside this modern build on Manett Street.
Readers, I don't know about you, but I'd choose a townhome over a massive standalone build any day. They're compact, chic, and modern. Their multi-level layouts can accommodate several paint colors and design schemes. They're often located in bustling, lively neighborhoods. And according to Forbes, they're specifically designed to appeal to millennials.
Regardless of your stance on townhomes, this week's Hot Property will win you over.
4618 Manett Street is a pretty build located a few blocks away from Fitzhugh and Henderson Avenues. The home's contemporary façade is partially concealed by a towering oak tree. Look closely to appreciate the home's mixed materials: light wood, white stucco, black accents, and dozens of glimmering windowpanes.
The home's 3,000 square feet of living space is spread across its three levels, and snippets can be seen from outside.
On the first floor, you'll find a sophisticated study. A wall of windows shines opposite a matte black accent wall. Black built-in shelves are installed behind the desk; fill them with books and you'll have a tiny library.
Head upstairs to appreciate an open floor plan that marries the kitchen, dining room, and living room. The vaulted ceilings and floor-to-ceiling windows create a bright and airy feel.
On this floor, a small but serene patio is enveloped by leaves from the oak tree. It's a front-row seat to the happenings of Manett Street, but the foliage creates a sense of seclusion.
Just off the kitchen is the first bedroom. Two vertical panes are perfectly placed to hug your headboard, while an additional window in the master bath brings in natural light.
Climb another flight of stairs to find the true star of the show: a sprawling balcony with plenty of space to lounge, grill, or enjoy an incredible view of the neighborhood and beyond.
See more of this stunning townhome in our gallery.