There are, at last count, 240 schools in Dallas ISD, and a handful of them get a great deal of attention (and rightly so). But among those 240 schools are some gems that even longtime Dallasites may be unaware of. 
First, an explainer: Dallas ISD, as a rule, has an open enrollment policy and a focus on school choice, which means that if you live in Far North Dallas but work downtown, and there's a great school on the way to work, you could enroll your child there, provided there's space. 
But the district also has several different varieties of schools. There are magnet schools, where students take tests to qualify and the campuses offer specialized instruction in everything from leadership to arts education. There are single-gender schools and neighborhood schools. There are transformation schools that center around innovative approaches in STEAM education, arts, Montessori, project-based learning, dual language, and more. 
Dallas ISD magnet schools often get a lot of attention. Our mission today? Find 10 schools or programs you should know about, that aren't magnet schools. (Bear in mind that this is not an exhaustive list–there are a lot of really great neighborhood schools and transformation schools throughout the district.)
Biomedical Preparatory at UTSW
Nestled in UT Southwestern's campus, the district's Biomedical Preparatory school opened in the 2021-2022 school year with grades pre-kindergarten through first and will add a new grade each year until the school hits eighth grade. The idea? Get kids interested early in biology and other sciences, taking advantage of opportunities to visit medical facilities and hear from guest speakers. 
The district chose Robert Gonzalez to helm the first-of-its-kind in the nation campus. Gonzalez is quite possibly the most perfect person for the job, having been a family practice doctor in Colombia before immigrating to the U.S. and turning to education. 
When asked how to approach a biomedical focus with preschoolers, Gonzalez explained that the curiosity of a scientist is also innate in small children, too.
"I have to teach them that mistakes help us learn," he said. "It's a culture of failure to get to a discovery. Mistakes are celebrations for us."
Dallas Hybrid Preparatory at Stephen J. Hay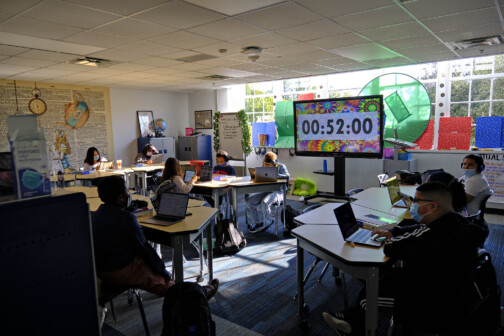 When the district launched Dallas Hybrid Preparatory in the fall of 2021, the country was still in the throes of a pandemic and students were just returning to campuses en masse. For many, virtual learning was gladly left in the rearview mirror, but for some families, it was making a lot of sense. 
Ironically, the district had actually been in the planning stages for a hybrid campus well before COVID-19 forced campuses to shut down in 2020, and the pandemic actually delayed those plans. When it opened, it was the first hybrid campus in the state.
Students attend school virtually three days a week, and on-campus two days a week, and the school focuses on technology, learning STEM concepts like coding, robotics, and even drone flying classes.
When it opened for the 2021-2022 school year, it began with fourth through sixth grade. It saw its founding class of eighth graders graduate last year. 
Dallas ISD STEM Environmental Center
One instructor at Dallas ISD's STEM Environmental Education Center called the 500-acre campus one of the best-kept secrets in the district. But more than 20,000 students head to the Seagoville site each year on field trips, taking the opportunity to do field and lab research and get hands-on science lessons that can't be duplicated in a classroom. It includes 300 acres of forest preserve, 200 acres of farmland, and a barn full of animals. The facility also has a fossil pavilion, an observatory, three nature trails, four science laboratories, a 70-seat theater, gardens, outdoor classrooms, and a planetarium. An indoor facility also has interactive exhibits and space to interact with amphibians, reptiles, mammals, and birds.
Thomas Jefferson High School/Walnut Hill International Academy
The Thomas Jefferson High School campus was mangled in the 2019 EF3 tornado that struck a large swath of northwest Dallas, as was nearby Walnut Hill Elementary. Cary Middle School, which sat on the same block as Jefferson, was irreparably damaged and eventually demolished. In the wake of that, the district opted to repair and improve the high school and create a new school—Walnut Hill International Academy—that would sit where Cary once was. The new Walnut Hill has expanded to include students in pre-kindergarten through eighth grade, meaning that some students will attend school on the same block their entire public school experience.
Both new campuses are bright, spacious, and offer a lot of new features, with new visual and performing arts spaces at the high school; and science labs, a band hall, a choir room, a drama and dance multipurpose space, an art room, and a competition-sized gym and locker room spaces on the Walnut Hill campus.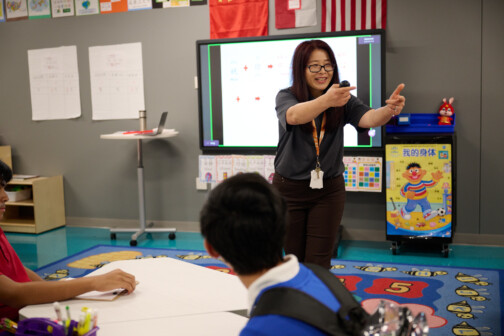 The Montessori Schools
Harry Stone Montessori Academy and George Bannerman Dealey Montessori and International Academy were the district's only Montessori schools for a very long time, and getting into both popular magnet schools is difficult. But the district opened Eduardo Mata Montessori in 2014 as a neighborhood school, and in 2018 Onesimo Hernadez converted to a Montessori school as well. They were eventually joined by the Downtown Montessori at Ida B. Wells, then Prestonwood Montessori at E.D. Walker. The former serves families who live and/or work downtown primarily, and the latter is in a northwest Dallas neighborhood, sharing a block with E.D. Walker Middle School.
The Career Institutes
Back in the day, it was known as vo-tech, or vocational-technical instruction. But Dallas ISD's four career institutes allow students from high school campuses all over the district to train for careers in an impressive array of fields, including cybersecurity, construction and carpentry, electrical and solar technology, dental assisting, architecture and interior design, game design, plumbing, and welding. A health science cluster offers the opportunity to become a dental assistant or EMT. Most of the programs offer students the opportunity to accrue professional certifications that will allow them to start a career right out of high school.
West Dallas STEM School at Pinkston
Housed in the former Pinkston High School campus, West Dallas STEM School is the product of an innovative collaboration between the district, SMU, and the Toyota USA Foundation, along with the input of several local nonprofits and the surrounding community. The pre-K through 8th grade school uses project-based learning and also offers on-site community support services. As its name implies, a STEM focus informs the learning, with students engaging in robotics classes, experiments, computer coding, and problem-solving. 
Early College Programs
College is expensive, but imagine eliminating two years of that expense before you ever get there. That is one of the benefits, the district says, of its early college programs, which allow enrolled students to graduate with a high school diploma and as many as 60 hours of college credit. The program is a partnership with Dallas College and the Institutes of Higher Education and offers seven traditional early college high schools and 18 P-TECH, or Pathways in Technology Early College High Schools. The latter program also helps students find mentors and internships with various industry partners, giving them real-world experience in health sciences, information technology, cybersecurity, early childhood education, criminal justice, and more before they even head to a four-year college.
Dr. Frederick D. Haynes III Global Prep Academy at Paul Quinn College
The Dr. Frederick D. Haynes II Global Prep Academy is on the campus of historically Black Paul Quinn College, and is named after the Paul Quinn trustee, Friendship-West Baptist Church pastor, and newly-appointed head of Jesse Jackson's Rainbow PUSH Coalition. Open since 2021, the International Baccalaureate school will eventually serve grades six through 12, and will offer high schoolers the opportunity to earn college credit, too. The school's location has already proved fortuitous for students—in the first year the school was open, its sixth and seventh graders received acceptance letters to Paul Quinn College, guaranteeing them entry to the HBCU years ahead of schedule.
Coming in 2025: A New K through 12 STEAM Academy in the Dallas International District
As development within the Dallas International District, which encompasses the areas around the former Valley View Mall and the Galleria Mall, continues, look for another first. A new K-12 STEAM school will be the district's first all-inclusive campus, and its first vertical campus, as it will take over a 12-story office building on LBJ Freeway. The building will also house a joint Dallas ISD and city library branch. The district is still working on the programming and design process for the school but expects it to open for students in 2025.
Get the D Brief Newsletter
Dallas' most important news stories of the week, delivered to your inbox each Sunday.
Author
Bethany Erickson is the senior digital editor for D Magazine. She's written about real estate, education policy, the stock market, and crime throughout her career, and sometimes all at the same time. She hates lima beans and 5 a.m. and takes SAT practice tests for fun.