When Dallas ISD opened its Biomedical Preparatory at UTSW campus last year, it received 530 applications for 128 spots. This year, applications blew that ratio out of the water. The school started in 2022 with pre-kindergarten through first grade and is adding one grade per year, meaning just 44 additional spots are opening up for the 23-24 school year. So how many applications did the school receive for those 44 spots? 517.
The attention the school is garnering is well earned, with an intentional curriculum that makes complex topics available for young students, a connection to one of the top academic medical centers in the country, and a leader who can bring medical experience and education together as few can.
Dr. Roberto Gonzalez left his career as a Colombian family practice physician to come to the U.S. and be a teacher. After more than a decade in education as a teacher and administrator at Dallas ISD, he became the inaugural principal of Biomedical Preparatory last year.
Located on the UTSW campus, the school is meant to introduce students to STEM careers at a young age and give them real-world learning applications by visiting the medical facilities and having guest speakers from UTSW on campus. Like many of Dallas ISD's choice schools, it is engineered to be economically diverse, with the goal of 50 percent of the schools being economically disadvantaged students and the other half not. In Dallas ISD, it is often more of a challenge to attract middle and upper-middle-class students to local public schools, but Gonzalez reports that the ratio has been reached with an ethnic diversity that is rare for a Dallas ISD school.
The school is 44 percent Hispanic, 18 percent African American, about 19 percent White, and 15 percent Asian. "We are proud of our diversity, and it is something we are pushing with our global relationships," Gonzalez says. "We have to practice diversity and be intentional."
The curriculum is another differentiator. Gonzalez is determined for the school's name to be more than marketing, but a defining characteristic of what happens inside (and outside its walls). As a brainchild of Dr. Charles Ginsburg, who is vice provost and senior associate dean for education as well as a former chair of pediatrics chair at UTSW, medical education is an essential part of the school.
"We have a first-class biomedical research institution that has incredible intellectual and physical resources that allow us to provide for the academic enrichment of young children," Ginsburg told UTSW's CenterTimes. "I wanted UT Southwestern to expand access to its resources in nontraditional ways for the benefit of the community."
While the young ones aren't allowed to be on the hospital campus just yet, speakers from UTSW come to the school once a week to discuss everything from how the heart works with the cardiology team to using the ultrasound machine and discussing healthy habits.
Before a speaker comes on campus, they meet with the Biomedical Prep administrative team to ensure the curriculum is age-appropriate and adjusted for primary students. The first graders have been able to visit UTSW's simulation center, where future physicians train with patient mannequins, practicing operating room protocol and other procedures.
The school is moving closer to a new building as well. The $24 million building will be more than 57,000 square feet, and Gonzalez says it will be open for the 24-25 school year.
Word is spreading about the campus and its offerings. Students must apply and enter a lottery to attend, but there is a preference for all UTSW employees and those in the surrounding neighborhoods. Gonzalez has been hitting the streets to let others know about the school, meeting with families, going door-to-door, and going to the medical center to meet with potential parents everywhere, from the academic departments to physical plant employees.
At the end of the year, UTSW hosted the grade promotion ceremony, giving the students another chance to visit the medical center and literally see themselves among the physicians and researchers who work there. "It was pretty formal and something to highlight for the students," Gonzalez says. "The UTSW and Dallas ISD collaboration has been a true partnership."
Get the D CEO Healthcare Newsletter
Stay informed with a detailed weekly report on DFW's evolving healthcare industry.
Author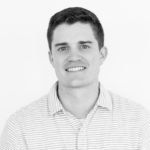 Will is the senior editor for D CEO magazine and the editor of D CEO Healthcare. He's written about healthcare…