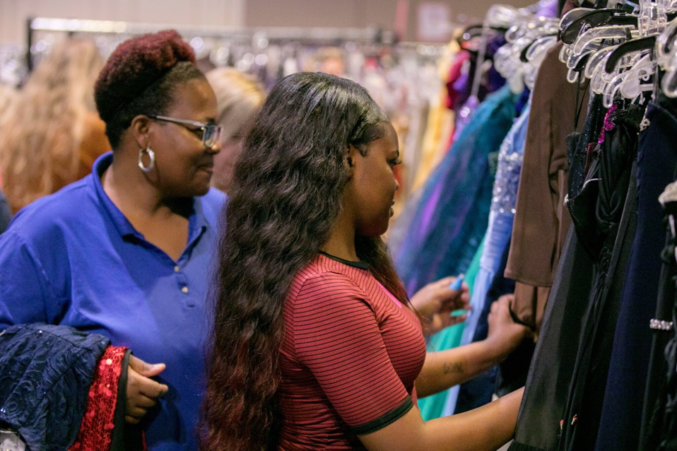 Prom Closet Gets High Schoolers Ready for the Big Dance, for Free
At Plano's St. Andrew United Methodist Church, high schoolers can get a free dress and a once in a lifetime experience.
By Chloe Young
Published in FrontBurner
February 20, 2018
10:30 am
Senior prom: one of the most famed traditions of American adolescence. It's a night for celebration and a key part of any coming of age story. However, the glitz and glam of the high school dance comes at an expensive price, one that many families are unable to afford.
For the past 10 years, Plano's St. Andrew United Methodist Church has been working to relieve this financial burden, providing thousands of free dresses, shoes, and accessories through Prom Closet, an event that allows every girl a chance at the prom experience. Now in its 10th years, the church will be expecting over a thousand young women at Prom Closet, which is open on Feb. 27 and 28, and on March 1, from 4 to 8 p.m., and on March 3 from 9 a.m. to noon.
"At times, it's overwhelming, but exciting and heartwarming to know that we've gone from helping 35 girls in the first year, to 950 last year," says Devra Helffrich, a Prom Closet organizer.
Beginning almost a decade ago after a discussion in a women's group at St. Andrew, Prom Closet came to life through a community-wide spirit of generosity and the volunteer efforts of North Texas women. Weeks before the event, local service groups can be found helping to prepare the perfect experience for the high school prom attendees, sorting through endless donations while sizing and cleaning thousands of dresses.
"We're just organizers," Helffrich says. "Everyone else is making it happen."
This year alone, Prom Closet has received more than 1,000 donated dresses, with more than 4,000 held in storage from years past.
 "Whenever they walk in, they realize the number of dresses that we do have for selection, that this is exciting for them, that they have never been able to have the opportunity," Helffrich says.
It's an opportunity that Prom Closet organizers believe is truly a once in a lifetime experience. More than just a free dress for prom, Prom Closet hopes that young women will leave with an important lesson about what it means to care for one another. "We're hoping that they learn helping each other in the community is important," Helffrich says. "We all need each other to get through life."
Prom Closet is next week at St. Andrew United Methodist Church in Plano.