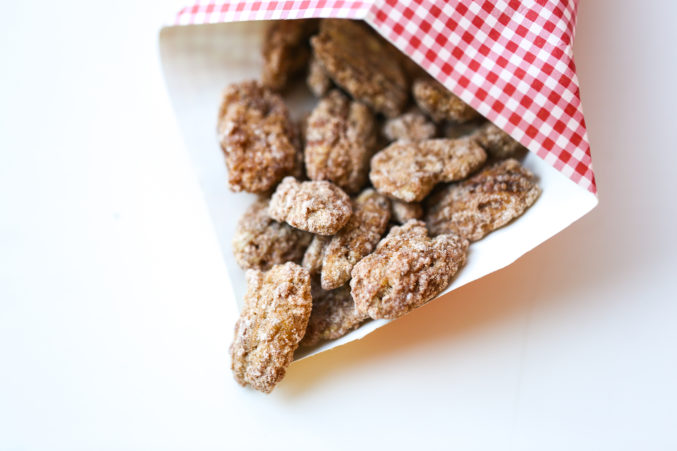 Check Out Candied Harvest Cinnamon Glazed Pecans
These treats at the Dallas Farmers Market are a perfect stocking stuffer.
It was the color scheme that stopped me, brilliant scarlet, like the most delicious candy apple. Followed immediately by the smell of caramelized sugar and cinnamon, the scent of the holidays wafting through the air.
Two weekends ago, I learned that I could find at the Dallas Farmers Market everything I want from a Saturday morning in December, and I hadn't even gone beyond the first stand. For $5 you can take away a cone of warm, freshly candied pecans, straight out of the cauldron into which go Texas pecans, cinnamon, and sugar, stirred in front of you. What comes out is all buttery pecan notes and sweet spiced bliss, shuffled into a cone and handed to you with a smile by the young duo behind Candied Harvest that has sweetly, savvily capitalized on the appeal of retro charm. The cone is red-and-white checked tablecloth cheer. (There are also—of course!—Mason jars.) It's childhood, the holidays, and everything you love all wrapped into one. From a fledgling start-up business, yet.
Which is how I found myself deciding, on the spot, how stockings would be stuffed and cheer spread this year.