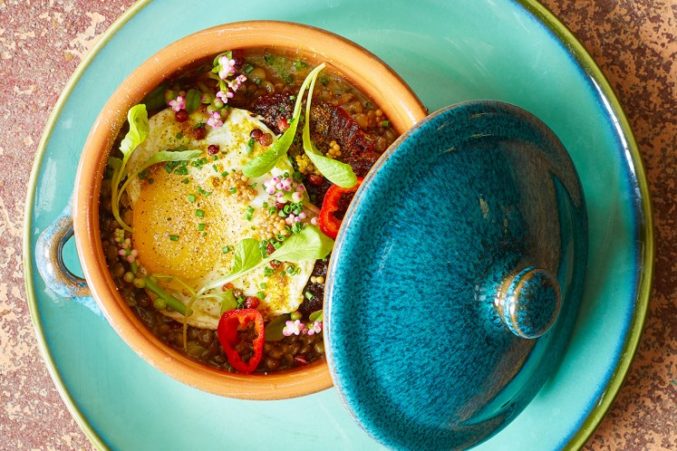 Chef Ross Demers Leaves Deep Ellum's On the Lamb
The ground continues to shift in the Dallas dining scene
As of last Friday's dinner service, chef Ross Demers is no longer heading the kitchen at On the Lamb.
The tiny place in Deep Ellum had garnered accolades since opening last spring. The astonishing force and surprising polish of its cuisine led me to name it one of the Best New Restaurants of 2016. Demers' food pushed the boundaries of what you'd find in a place that looked like a bar. It was easy to cozy up to the Sloppy Joe, but a world of French technique went into merguez sausage in a tagine with sherry lentils and a duck egg.
"In a place this small … you feel close to the creative genius that cures South African biltong, beef bresaola, and duck pastrami," I wrote in my description in the Best New Restaurants issue, "Once you've had the foie gras with golden gooseberries, it's hard to look at bar bits the same way."
And yet, Demers says his decision came as a result of pressures that seem to be creating fissures of late. Like a number of other chefs currently, Demers felt the pinch of an awkward yoking: a chef's vision, diners' preferences, a neighborhood's habits, and investors' concerns forming an awkward fit.
In our current dining scene, diners are hard to read and investors are scared. Dallas seems to want the novelty of a chef's voice and the excitement of quality and adventure, but the service pool is small, chefs clamor to find spots, and once in them, have a hard time convincing diners to get on board with their food. Restaurant owners fear the drop-off, and menus can slide to the mid-ground as they scramble to read the scene and adjust according to profit projections. A recent spate of shifts has felt like a spasm, with places closing and some opening seeming to make no sense. Rarely do I hear talk of a ten-year plan.
Meanwhile, chefs need to be realistic, but they also have to believe in what they're doing.
"I wasn't going to serve sliders and three-dollar beer," Demers says.
He will take his time looking into a new venture, he says. Meanwhile, a long Deep Ellum run seems not to have been in the stars.
"It makes me sad," he said.
Me, too.