Love and romance are in the air, and nothing says "I love you" like something pretty and shiny. If it tastes great, it is even better. If you are still looking for that something special for your sweetheart, consider one of these tasty treats to knock her, or his, socks off. A few selections were sent for editorial consideration.

Bubbly is always appropriate and sure to put your love in the mood for romance.  A classic offering from the heart of Champagne comes from Moet & Chandon with their Rosé Imperial Brut. A fresh and nicely tart wine with an emphasis on Pinot Noir, while blending in Chardonnay, to add creaminess, and Pinot Meunier for richness. Ripe strawberry and tart cherry fill the palate, enhanced by red apple, spice and a touch of floral notes. $60 available here.
Traveling from Champagne to Napa, Moet & Chandon's winery in the region, Domaine Chandon has been making quality sparkling wine for over 40 years. Utilizing sustainably farmed estate vineyards produced in the traditional method at their Yountville, Napa winery. Their lively Chandon Brut Rosé, made with the traditional varieties of Champagne, the bubbly is filled with layers of strawberry, watermelon and white peach for a fresh, easy to enjoy fruit filled sparkler. $24, available at Pogo's. Their adorable 187ml mini bottles are available for $8 each at World Market stores, a great option if you are entertaining a Valentine's Day crowd.
I started an event the other evening with a toast of Anna de Codornui Brut Rosé Cava and was pleasantly surprised at how many friends kept coming back requesting more of the bubble, even after other wines were offered. Juicy, lush and inviting, in a beautiful pink package, this affordable Spanish sparkler, made in the traditional method is a true crowd pleaser. $15 available at Total Wine and More.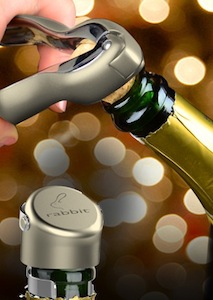 Opening your favorite bottle just got a little bit easier thanks to the handy tools from Rabbit. Their Champagne set comes with both a set of velvet pliers to help carefully remove the cork, and a stopper to keep those bubbles fresh if you don't finish your bottle (and yes, they do really work.) The set sells for $30 available here.
Bubbles aren't the only Rosé, instead of roses get her a bottle or two of dry Rosé wines. A perfect variety to make into the dry yet fruit filled wine is Pinot Noir.
Always on the top of my Rosé list is Vision Cellars Rosé of Pinot Noir. Owner/Winemaker Mac McDonald uses Pinot Noir fruit from his Mis Lil's vineyard in the heart of Russian River to create the wild strawberry and red raspberry filled wine that has more character and personality than some, quite like the his dynamic bride the vineyard is named for. Perfect with seafood and shellfish, or sipping on its own, this is a Rosé to please any palate. $32 available via their website.

A new favorite comes from Dolin Malibu Estate Vineyard with their Dolin Estate Rosé of Pinot Noir. Just last year the Malibu Coast AVA was approved, made possible in part by the efforts made by Elliott Dolin, proprietor of Dolin Estate. His Rosé of Pinot Noir is filled with fresh layers of watermelon, strawberry and juicy raspberry with a touch of orange peel on the finish to round out the sunshine filled wine. $22, available via their website.
Making a Rosé wine out of the robust, often highly tannic, indigenous Greek red grape varieties helps tame the robust fruit, and have been some of my favorite wines enjoyed from the country. Varieties like Xinomavro and Agiorgitiko soften when produced as a Rosé, highlighting their earthiness without overwhelming the palate with intensity making them great food wines, or easily enjoyed on their own.  Gaia 14-18h Rosé of Agiorgitiko from the Nemea region in central Greece. Dark rose pink in color from an extended period of time on the black grape skins. Fruit filled, yet balanced with ripe cherry, red berry and a touch of grassy herbal notes with bright acidity and freshness. $18 at Spec's.
I have written about my love for the beautiful Rosé wines of Domaine Ott before from the heart of Rosé in France, the picturesque region of Provence. Domaine Ott Les Domanier Cotes de Provence Rose delivers on elegance and refinement, with a slightly lower price than its Domaine Ott cousin, though made with the same care and attention as the classic Domaine Ott wines, which have a history dating back to 1912 when the winery was founded. Blending Grenache, Cinsault and Syrah the medium-bodied, balanced Rosé is filled with orange and lemon citrus notes with ripe strawberry and a touch of spice. Light and lovely, perfect with light pasta dishes to poultry or pork. $20 at select Total Wine and More stores.

If your sweetie is a red wine lover, add a little love with a Whole Buncha Love Pinot Noir from winemaker/owner Kathleen Inman of Inman Family Wines in Sonoma. Kathleen celebrates love often in her wines, reflected first with her Endless Crush dry Rosé made for her husband to celebrate their anniversary. She also introduced a Sparkling Brut Rosé not long ago from her Russian River Olivet Grange Vineyard Pinot Noir. Her Whole Buncha Love is a love story to Pinot Noir and a love of producing the wine through whole cluster fermentation utilizing native yeasts and carbonic maceration. The result of these production techniques, a unique but very intriguing wine with spice, dried red berry and cherry, earthy mushroom and forest floor notes. A big yet balanced wine, available in very limited release for $45 via their website.
If your sweetie likes things a little spicy and a little sweet, try the Clif Family Winery Zinfandel & Spice it Up Gift pack. Spicy, earthy, fruit filled Gary's Improv Howell Mountain Zinfandel with 1 tin of Dark Chocolate Chipotle Almonds and 1 bag of Smoked Paprika Almonds, wrapped in a gift box with a customized note. When most think of Howell Mountain they think of the incredible Cabernet Sauvignon grown in the iron rich, volcanic soils. But, some of the best Zinfandel is also grown high up on this mountain from producers like Turley, Black Sears and the fruit for this delicious wine from Clif Family grown in their estate Summit Lake Vineyard located 2000 feet above the valley floor on Howell Mountain. The gift pack is sure to please any Valentine. $60, available via their website.
If your love is a fan of spirits, as well as wine, create a special cocktail to say I love you.

The French Kiss
1 part Courvoisier VSOP cognac
1 Demerara sugar cube
2 dashes of Angostura bitters
Top up with Champagne
Preparation: Soak a sugar cube in bitters and drop into a Champagne flute. Cover with Courvoisier VS Cognac and slowly top with Champagne.
Honey & Heat
2 oz. New Amsterdam Vodka Citron
1 oz. Lime Juice
1 oz. Monin Habanero Syrup
OR
1 honey syrup/agave nectar
1-2 slices of Serrano chiles
Preparation: If using chiles, muddle in a cocktail shaker, then pour in liquids and ice and shake until cold. Strain into tall, ice filled glass, add 1 oz. Ginger Beer, garnish with a lemon wheel and serve.
Valentine's Petal Power
3 organic rose petals, rinsed well
3 fresh raspberries or blackberries
1 oz simple syrup
1 1/2 ounce Bombay Sapphire East Gin
4 oz Sparkling Wine, like Chandon Brut Rosé
Preparation: In a cocktail shaker combine the rose petals, raspberries and simple syrup. Muddle to release the flavors of the rose petals and berries. Add gin and ice and shake vigorously. Strain the contents into a tall flute and top with Rosé. Garnish with additional rose petals.
If you are entertaining a crowd for Valentine's Day create a festive cocktail to put everyone in the celebratory spirit.
Cali Tidings Punch
1 liter bottle Caliche Rum
1 bottle of sparkling wine
16 oz of Ruby port
12 oz curaçao liquor
12 oz fresh squeezed and strained orange juice
12 oz unsweetened pineapple juice
8 oz fresh squeezed strained lemon juice
8 oz light agave nectar.
1 large block of ice
Garnish:1 cup of hulled and sliced strawberries, 2 large lemons pitted and sliced and a handful of mint leafs.
Preparation: In a large punch bowl combine the Caliche, port, curaçao, fruit juices and agave nectar, stir until well incorporated, refrigerate for at least 4 hours. When ready to serve add the ice and garnishes to the bowl, gently stir in the champagne. Serve in small punch cups.
And, if you want something simple, yet completely refined, give your love a bottle of Clyde May's Whiskey. I enjoyed a dram of this the other evening with friends, sipping it simply with a single ice cube, as I think the originator would have liked it. Clyde May was an artisan craft distiller in Alabama making his quality whiskey in a time when most were making white lighting moonshine. Using quality grains, pure spring water and a cooper still May created his small batch, high quality whiskey. Today the spirit of May lives on in Clyde May's Alabama Style Whiskey. Made from a blend of corn, rye and barley and aged in charred oak barrels the smooth whiskey is filled with toasted caramel, spice, orange and a touch of green apple notes. A perfect gift for the quality spirits lover.
Get the SideDish Newsletter
Dallas' hottest dining news, recipes, and reviews served up fresh to your inbox each week.