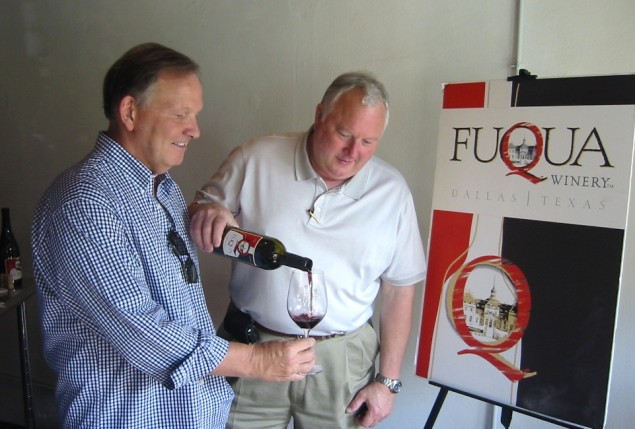 Sadly, Dallas hasn't done well in our local winery department, and this weekend, two of our Dallas wineries will shut their wine doors for good. Benajamin Calais of Calais Winery is moving his current operations down to Hye, Texas in the Hill Country from his Deep Ellum location where he has been for the past 7 years.  Lee and Julia Fuqua of Fuqua Winery are closing their wine doors, also having been in operation for a little over 7 years, to take a stab at the spirits world, transitioning their current winery to a distillery, Duckworth Distillery. Both are holding sales through this weekend with significant price reductions on the remaining bottles in stock.
Thursday night is a busy one with three great opportunities to taste.
If you are a Spanish wine lover The Grape will host their monthly "Come as you are" wine dinner, with reservations open anytime between 5:30 and 9, this month featuring a three course, Spanish inspired tasting menu paired with a selection of Spanish wines, including 20 year Royal Ambrosante Pedro Ximenez Sherry…just that is worth attending. $48, reservations required. 214-828-1981
Bottled Poetry Imports has expanded their portfolio beyond Argentina to include a selection of Spanish wines, which they will sample in a walk around tasting at Vino 100 on Thursday night accompanied by a selection of tapas and paella from Cafe Madrid. $38, Thursday from 6pm-8pm, reservations required. 214-969-9463
More of a French wine fan? Wine Poste will celebrate their 1 year anniversary with a tasting of 5 French wines paired with a "Pig Centric" menu from Chef Graham Dodds of Hibiscus and Chef Matt Ford. $80, Thursday from 6:45-8:45, reservations required. 214-693-7374
Friday night Pappas Bros. Steakhouse will host one of California's favorite sons, winemaker Jim Clendenen of Au Bon Climat Winery from the Bien Nacido Vineyards in Santa Barbara County.  Au Bon Climat is recognized around the world for their high quality, Old World style Pinot Noir and Chardonnay wines, with the multi-course dinner featuring current release and library selections from the winery, as well as Clendenen Family Vintners, expertly paired with dishes from Chef James Johnson. $175, reservations required, 214-366-2000.
TEXSOM, the premier weekend event for wine professionals and enthusiastic novices, will take place at The Dallas Four Seasons Resort and Club in Irving August 9-11 with registration open and available now. The line up for this year looks fantastic, with Master Sommeliers from across the country joining founders James Tidwell, MS and Drew Hendrix, MS, guiding attendees through both basic state of the industry seminars, as well as a selection of sessions focused on individual regions in the world including Franciacorta, Argentina, Chile, South Africa and so much more, plus rooms for attendees at The Four Seasons are generously discounted. Details on their website, full registration for the conference as well as the final Grand Tasting is $395.
Get the SideDish Newsletter
Dallas' hottest dining news, recipes, and reviews served up fresh to your inbox each week.