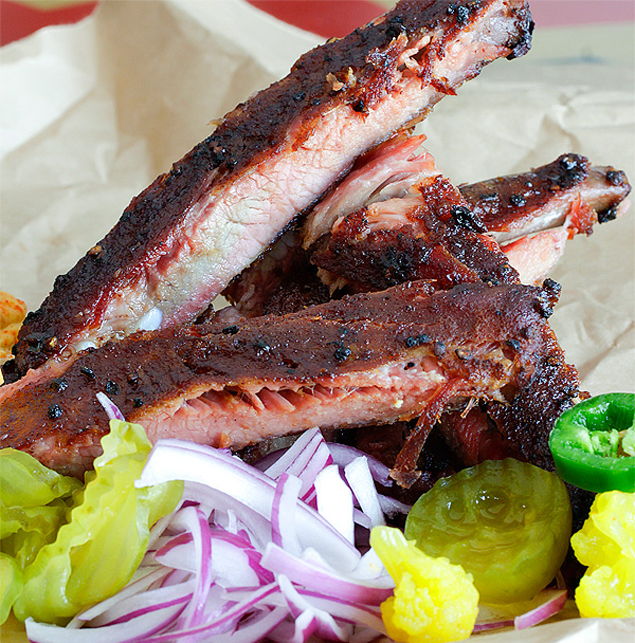 This July 4, don't settle for your usual hot-dog-and-hamburger routine. Four Dallas chefs are sharing their secrets and tips for the tastiest Independence Day cookout your neighborhood has ever seen. Step it up a notch with Lockhart's spicy adobo sauce, Komali's pineapple habanero ribs, TJ's grilled salmon with cucumber dill sauce, and Chino's teriyaki steak recipes. Learn how to grill and make fixin's like these pros.
Restaurant: Lockhart Smokehouse
Chef: Damian Avila (Assistant Pit Master)
Recipe: Adobo Sauce
Ingredients:
½ pound guajillo peppers
5 garlic cloves
1 white onion
3 cups chicken stock
3 ounces salt
¼ cup apple cider vinegar
Directions: Boil all the ingredients except the vinegar for 25 minutes. Let it cool down then blend everything and add the vinegar, drain the mix. Taste the sauce and add salt if needed. Pour it on to your ribs, chicken, fish or whatever you prefer.
Side: Jalapeno Grilled Corn
Ingredients:
5 jalapenos
6 corn on the cob (in the husk)
4 garlic cloves.
1 lb. sweet butter
2 oz. olive oil
Directions: Dice the jalapenos and the garlic. Heat the oil on a pan and cook the jalapenos and the garlic until they get a light brown color, add the butter and let it melt. Let it cook for 10 minutes at low heat. For the corn, soak for at least 5 hours in the husk before putting the corn on the grill. After cooking, peel the corn and dunk it in the jalapeno garlic sauce, and enjoy.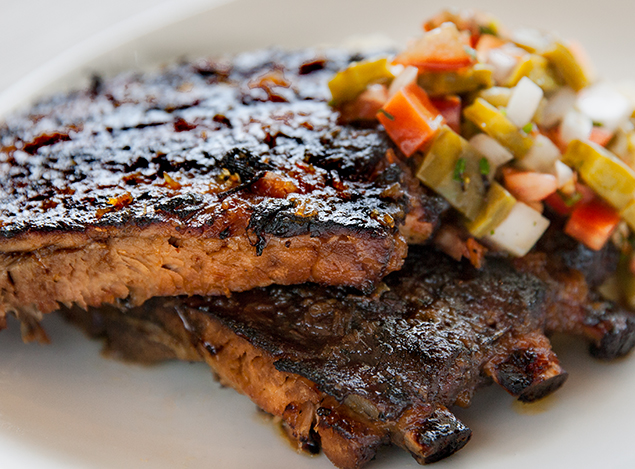 Restaurant: Komali
Chef: Anastacia Quiñones
Now keep in mind, these ribs are spicy (the menu at Komali has a warning next to them) and the process of making them is lengthy, but easy. According to Quiñones, they are totally awesome.
Recipe: Pineapple Habanero Ribs
Ingredients:
1 quart pineapple juice
1 cone piloncillo
15 habanero chilies
2 rack ribs
1 quart orange juice
6 tablespoon chopped garlic
¼ cup Tajin or Lucas (Mexican chili spice for fruit)
Salt to taste
Directions: Preheat over to 375 degrees. Season rib racks with salt and mark on grill on both sides. Rub Racks with chopped garlic and add chili spice. Place in pan and add orange juice. Cover with water. Cover pan with water and foil and bake for one hour. After one hour, add water to pan to cover ribs and bake another two hours.
Deseed habanero chilies and set aside. In a sauce pan, add pineapple juice, piloncillo cone and let simmer until piloncillo melts. Bring it to a boil and add habanero chilies. Reduce heat and cook until habanero chilies are soft. Puree sauce and reduce until sauce begins to thicken.
Remove ribs from pan and let cool. Once cool, portion into three rib portions. With a brush, generously apply Pineapple Habanero glaze on ribs and place on grill. Season with salt.
Side: Grilled Nopal Salad
Ingredients:
2 Roma tomatoes
1 white onion
1 bunch of cilantro
2 limes
¼ cup blend oil
Salt to taste
4 each cleaned cactus paddles
Directions: Small dice the roma tomatoes and white onion. Chop cilantro and add to tomatoes and onion. Add the juice of one lime and salt to taste. Set aside.
Marinate cactus paddles with blend oil, the juice of one lime and a pinch of salt. Set aside for a few minutes while grill gets hot. Place on grill and cook until paddles become soft. Remove from grill and return to bowl with oil and lemon juice. Cover with plastic and set aside until cool. Paddles with continue to cook with steam. Once cool, small dice and add to tomato mixture. Add salt to taste.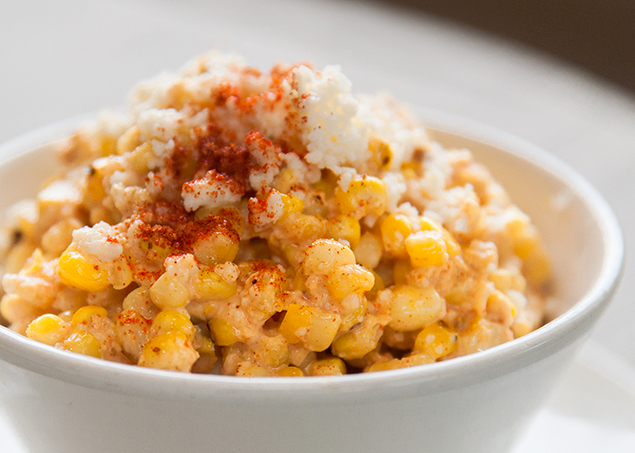 Side: Street Corn
Ingredients:
¼ cup Mexican crema
¼ cup mayo
1 lime juiced
½ tablespoon guajillo powder
¼ cup queso fresco
Salt to taste
4 ears of corn
Directions: Blend all ingredients in a bowl for sauce. Boil ears of corn in husks in seasoned water when soft, peel and grill. Grill just until corn gets a little char. Cut corn off cob or enjoy whole with Street corn mayo.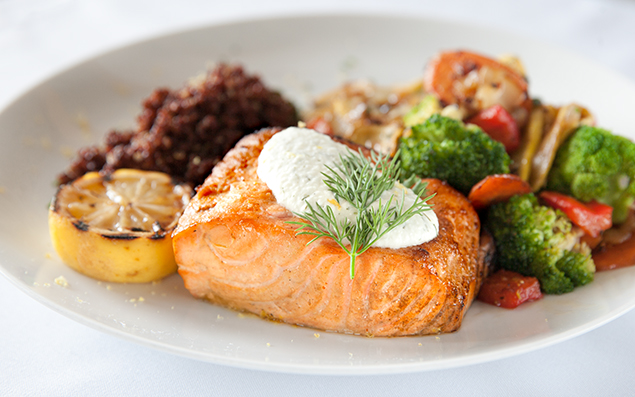 Restaurant: TJ's Fresh Seafood Market
Chef: Jon Alexis
Alexis had some tips to share when it comes to grilling fish. Here are few:
1. Buy only fresh fish.
2. Buy your fish "skin on". It will hold together better and seal in moistness and flavor.
3. Don't grill cold fish. When grilling, it's best not to grill cold protein. So pull from the fridge and marinate at room temperature for 20 to 30 minutes before you grill.
4. Feel the heat. Ignore your grill's temperature gauge. Put your hand an inch above the hot grill. If you can't get your hand that close, it's too hot. If you don't have to pull away after 2 to 4 seconds, it's too cold.
5. Perfect timing. Most fish can be cooked 6 to 7 min per side over medium heat. For thicker fish, you'll want to add a minute. For thinner fish, subtract a minute. And for tuna, 90 seconds per side should be perfect.
Recipe: Wine-Soaked Cedar Plank Salmon With Classic Cucumber Dill Sauce
Ingredients:
(4) 8 ounce portions of Salmon (or any fish) skin OFF.
3 tablespoons sea salt
1 tablespoon white pepper
1 tablespoon onion powder
1 tablespoon garlic powder
1 large cedar plank
1 lemon, quartered
1 tablespoon fresh thyme
1 bottle, dry white wine
Directions: Remove any stickers or price tags from your cedar plank and soak as long as possible in white wine, completely submerged with something heavy on top. Twenty-four hours is ideal, but 4 to 6 hours is OK.
Heat your grill to about 350 degrees. Season fish (all sides) with dry seasoning and place portions separated on wet plank. Place plank on indirect heat and close the lid. You want the plank to steam, not burn or smoke. Bake for 10 to 15 minutes, or until fish flakes. Garnish with lemon wedges and thyme. Serve at table on plank.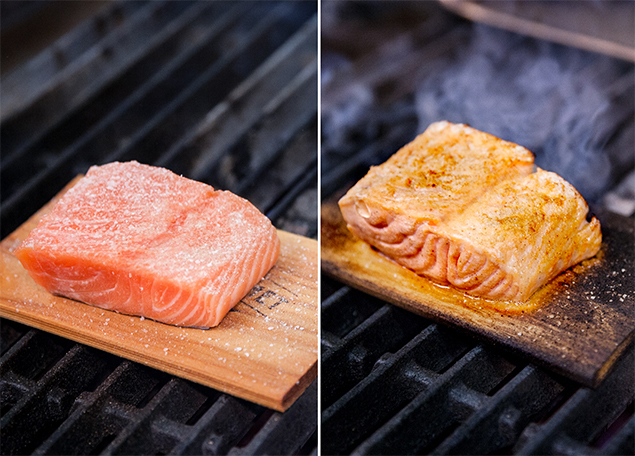 Side: Classic Cucumber Dill Sauce
Ingredients:
2 cucumbers
¼ cup fresh Dill, chopped
1 cup mayonnaise
1 cup sour cream
1 oz. lime juice
1/8 teaspoon sea salt
1/8 teaspoon white pepper
Directions: Peel and seed the cucumbers. Chop cucumbers into uniform pieces and puree until smooth. Strain mixture with cheesecloth for 10 minutes. Keep puree. Add remaining ingredients to the puree. Seasoning with salt and white pepper to taste. Refrigerate any extra sauce. Alexis says it's great with any fish or poultry, or toss with poached chicken or tuna for great salad.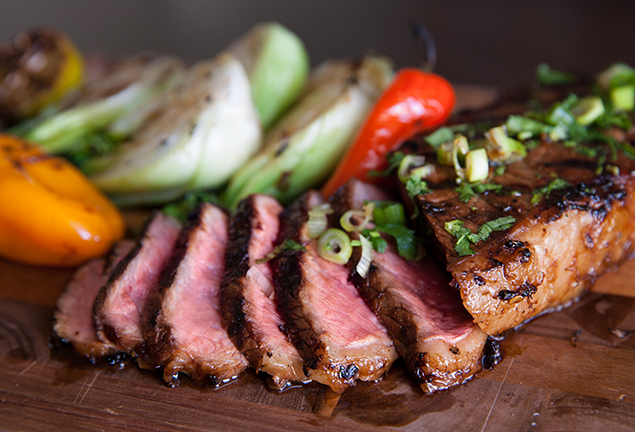 Restaurant: Chino
Chef: Uno Immanivong
Uno Immanivong says this is her favorite grilled teriyaki steak recipe. Growing up, her mom would use the marinade on chicken wings and short ribs, but she prefers to use it on NY strip steaks.
Recipe: Teriyaki Steak
Ingredients:
2 pounds NY Strip Steak
1 cup soy sauce or tamari
2 tablespoons sesame oil
2 cloves minced garlic
2 inches minced ginger
¼ cup agave nectar or honey
¼ cup brown sugar
½ tablespoon fresh ground pepper
¼ cup sambal (optional chili paste)
Ponzu sauce
1 tablespoon sliced cilantro and green onions for garnish
Directions: Place all ingredients, except Ponzu Sauce, in a gallon size zip lock bag and marinate for one to 24 hours.
Prepare an outdoor grill with a high fire. Brush grill grate lightly with oil. Place the steak on the grill. Grill three to five minutes, turning once, until an instant-read thermometer inserted in the meat reads:
— 120 degrees F to 125 degrees F for rare
— 125 degrees F to 130 degrees F for medium-rare
— 130 degrees F to 135 degrees F for medium
Transfer the steaks to a cutting board and let rest for 5 minutes. Slice steak and serve with Ponzu Sauce, garnish with sliced cilantro and green onions.
Side: Ponzu Sauce
Ingredients:
1 cup soy sauce or tamari
2/3 cup lemon juice
1/3 cup orange juice
1 tablespoon orange zest
½ cup dried bonito flakes
1 clove smashed garlic
1 inch sliced ginger
¼ cup rice wine vinegar
2 sliced jalapeno peppers (optional)
Directions: Place all ingredients in a medium saucepan and bring to a boil. Reduce to low heat and let it simmer for 15 minutes. Cool and then run the sauce through a sieve. Use this sauce to dip your pan-fried dumpling, grilled steak or sushi or as a replacement for regular soy sauce.
Quick Tip: Ponzu sauce can be made in advance and stored for up to one month in the refrigerator.
Side: Grilled Bok Choy
Ingredients:
1 pound bok choy cut in half long ways
¼ cup olive oil
2 cloves minced garlic
2 tablespoons oyster sauce
2 tablespoons soy sauce
1 tablespoon fish sauce
1 teaspoon black pepper
Directions: Heat olive oil in a wok at medium-high heat. Add garlic and sauté until golden brown. Remove garlic from pan and set aside. Add remaining ingredients (with exception of vegetable) and let simmer for 5 minutes at medium heat. While sauce is simmering, brush the bok choy with a little olive oil and place on grill for 5 to 8 minutes until stem gets tender. Remove from grill and toss in sauce and crispy garlic.
Another easy side would be grilled corn on the cob. Once it comes off the grill, slather it with mayonnaise, lime juice, salt, pepper, and cayenne.
Marley Dablo will be an online journalism senior at the University of Oklahoma in the fall. She plans to attend culinary school upon graduation in hopes of combining her writing and culinary skills to ultimately have her own cooking show one day.
Get the SideDish Newsletter
Dallas' hottest dining news, recipes, and reviews served up fresh to your inbox each week.