Mini-golf 'eatertainment' concept PopStroke—owned by CEO and founder Greg Bartoli, Tiger Woods' TGR Ventures, and TaylorMade Golf Co.—has broken ground on its North Texas venue. The 37-hole indoor-outdoor locale is set to open in February at Grandscape at The Colony, the country's largest mixed-use real estate development.
A recent filing with the Texas Department of Licensing and Regulation cited the venue will be 13,000 square feet, but according to Bartoli, that figure only accounts for the indoor portion of PopStroke. "It is a big, big area. We're spread out over upwards of 80,000 square feet and we can have 300 to 400 people on the golf course at any given time and 100 to 200 people inside our restaurant offerings," he told D CEO at a ceremonial groundbreaking on Tuesday.
Upon opening, the Grandscape location will be PopStroke's 12th site nationwide. Currently, there are seven existing venues across the country with 13 more in the Florida-based company's pipeline. But Bartoli believes North Texas could be the company's top performing market.
"The heart of golf is right here, so I think The Colony could be our most successful market," he said. "Obviously, the Dallas metropolitan area is growing extensively. There's so many new businesses that are coming to town and being created right here. I think this lifestyle center of Grandscape brings so many different people into play. So I think this could be our best."
The North Texas location will feature four bars—one in the middle of the golf course—and incorporate mobile ordering and delivery of beverages. It also includes a full-service kitchen, a private event area, an ice cream parlor, a playground, and various games like cornhole, foosball, ping pong, and more.
"We're getting more innovative as we go," Bartoli said. "This building in The Colony is our first prototype in which we've air conditioned the entire property: the restaurants, the event center, the entire indoor-outdoor experience. We're introducing roll-back glass doors that open up and we will also have a really inviting point-of-sale experience here."
Earlier this year, TaylorMade Golf Co. made a material investment in PopStroke to join its ownership group. TaylorMade is also an investor in Drive Shack Inc., which opened its flagship 21-and-up mini-golf venue Puttery at The Grandscape at The Colony in 2021. Puttery features four 9-hole courses and food and beverage offerings—and is financially backed by Rory McIlroy.
"PopStroke fits perfect with the curation of our other tenants throughout Grandscape [like Andretti Indoor Carting & Games, Puttery, Sixes Cricket, and others]," Grandscape President Jeff Lind said. "When we first met with PopStroke a couple years ago, only the first location in Port St. Lucie was open; we decided a location in The Colony was a perfect fit—really, a no brainer."
Grandscape continues to grow with new tenants flocking in each month. In June, Cosm—a global tech company delivering immersive experiences for sports, entertainment, science, and education—broke ground on its 65,000 square-foot, immersive content viewing venue. Cosm and PopStroke will be located next to each other, just beyond the Grandscape stage.
Get the D CEO Real Estate Newsletter
Get weekly updates on breaking commercial real estate news and relevant industry reports.
Author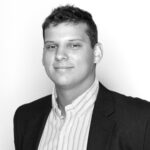 Ben Swanger is the managing editor for D CEO, the business title for D Magazine. Ben manages the Dallas 500, monthly…