Cosm, a global tech company delivering immersive experiences for sports, entertainment, science, and education, is bringing its new immersive entertainment venue to Grandscape at The Colony. Whether it be a sporting event, concert, or nature presentation, guests will experience immersive content through Cosm's proprietary dome and curved LED screen display technology, which aims to bridge the gap between virtual and physical realities.
The Colony venue is designed by Dallas-based HKS. The three-level facility will be between 65,000 and 75,000 square feet, have a capacity of about 1,500 guests, and feature a 87-foot diameter LED screen.
"We always knew Dallas-Fort Worth was going to house either our first or second location," Cosm CEO Jeb Terry—a former NFL player for the Tampa Bay Buccaneers—told D CEO. "We looked at Victory Park, we looked at the fairgrounds, but when we started exploring Grandscape, I was really drawn in by the area's developers. In The Colony, we will be surrounded by high attention to detail, high-quality tenants, and a fast-growing population. All of that adds up to make our experience dynamic in every way."
Cosm also is developing a new facility in Los Angeles. Terry wasn't willing to share specific funding numbers, but says the company is well capitalized through its M&A activity. Cosm's largest investor is Steve Winn's Mirasol Capital. Winn is the former chairman, president, and CEO of Dallas-based RealPage.
The first tier within Cosm in The Colony will be a standing-room area with minimal dynamic seating for select productions—picture the pit of a concert or SRO area at AT&T Stadium, Terry said. The second level will be a tiered seating bowl with lounge-type chairs. The third level will be more of a socializing bar area and will feature an open-air deck.
But every level will be high-style, Terry said. "Think about the coolest club section of every stadium or arena venue you've been to—that's really the intent," he said. "We're aspiring to be the world's best immersive producer."
After a year-long design process, Cosm recently broke ground on its Los Angeles location; also designed by HKS, it's expected to open in May 2024. The Colony location is already in the design process and expects a more compressed timeline than the LA site.
"It takes us about a year to go through the full design process, get things priced, and then start construction," said Mark Williams, HKS' leader for sports stadiums and venues. "Our timeline is all dependent upon the economy and supply chain, but I am anticipating it to be a bit tighter."
The Colony venue will be similar to Los Angeles', but HKS and Cosm plan to make it distinctly Dallas.
Cosm was built on the backbone of the experience a planetarium delivers—and the company deploys its tech in 700 planetariums worldwide. "The planetarium was the world's first experiential theater and immersive experience," Terry said. "The goal is to take you to space—as well as educate, inspire, entertain. And that's really what we're doing but applying it to sports, entertainment, and other things."
The company's flagship location is at the Cosm Experience Center in Salt Lake City. The location is a mini version of what is coming to Los Angeles and North Texas. In 2022, Cosm—which has more than 200 employees—partnered with NBC to broadcast the Winter Olympics in the world's first immersive 8K virtual reality live stream.
"All of a sudden, today's world is coupling the physical environment with the virtual environment," Williams said. "At a Cosm, you can literally be taken anywhere in the world and have a front row seat. But you won't just watch it, you will feel like you are there."
Cosm has grown through a series of acquisitions. The deal that anchored the company, Terry says, was its purchase of Evans & Sutherland, which was founded in 1968 and pioneered the planetarium and immersive computer graphics fields. Cosm also acquired LiveLike VR in 2020.
Looking ahead, Terry says his team is currently identifying the next eight markets for Cosm. "Our aspiration is scale," he said. "Over the next five to ten years, we plan to have many more." As the scaling efforts intensify, Terry is studying the early success of Dallas-based Topgolf. "We're really trying to model our efforts after them," he said. "And eventually, I think Dallas-Fort Worth can be home to more than one Cosm."
Get the D CEO Newsletter
Stay up to speed on DFW's fast-moving business community with weekly news reports, interviews, and insights.
Author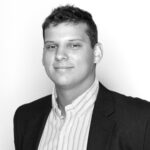 Ben Swanger is the managing editor for D CEO, the business title for D Magazine. Ben manages the Dallas 500, monthly…