INDUSTRIAL
Dallas-based commercial real estate investor and operator 
Pillar Commerc
i
al
purchased the 182,154 square-foot light industrial building known as Addison II.  Located at 4550 Excel Parkway, the 1996-built property is adjacent to Addison Airport and near the Dallas North Tollway. Addison II is 100 percent leased to a diversified mix of tenants, including Southern Glazer Wine & Spirits, Assurant Solutions, and Arbonne International. Brian Carlton, with JLL, represented Pillar Commercial in sourcing the debt.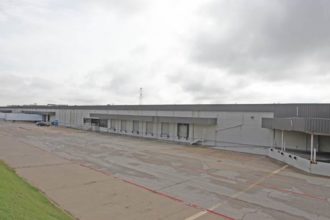 KAL Freight
, a commercial freight management logistics company, has signed a lease for 49,883 square feet at 600 109th St. in Arlington. This lease brings the 543,353-square-foot industrial property to more than 90 percent leased. Transwestern Principal John Brewer and Associate Riley Maxwell provide industrial leasing services on behalf of the building owner. Payne Pittman and David Dunn, SIOR, CCIM, of SVN Dunn Commercial Management, represented KAL Freight in the deal.
RFF Family
leased 33,400-square-foot warehouse in south Dallas County at 706 E. Red Bird Ln. in Duncanville Kyle Matthews, of Matthews Real Estate Investment Services, represented Mazaya Investments, which acquired the holding about four years ago.
MULTIFAMILY
Bella Oaks
, a two-story 160-unit multifamily
community, located at 300 Lake Lamond Road
in Longview, was sold.
Colliers International
'
s
Multifamily Services Team of Mark Allen and Courtland Charles facilitated the sale.
Berkshire Group
bought more than 1,500 rental units in three different apartment communities in Garland and McKinney from developer Western Rim Properties.
OFFICE
2703 Telecom
, a 121,420 square-foot office building, located at 2703 Telecom Parkway in Richardson, was sold.
The multi-tenant, single-story building was sold by
Pillar Commercial
,
based in Dallas
, to
Goldenberg & Associates, Inc.
for an undisclosed amount. Colliers International's Capital Markets Team of Creighton Stark and Chris Boyd facilitated the sale.
Access Healthcare Services USA
leased 9,775 square feet of showroom space in Alpha Business Center, 4300 Alpha Road in Farmers Branch, from Kennington Alpha Business Center. Brian Pafford, executive vice president and managing partner of Bradford Commercial Real Estate Services; Ryan Coretz, broker associate; and Susan Singer, executive vice president, represented the landlord. Michael Stern, of Edge Realty Partners, represented the tenant.
Sedgwick Claims Management Services
leased 9,648 square feet at 2711 Lyndon B Johnson Fwy. Transwestern's Chris Lipscomb, Justin Miller, and Cohen Howard represented the ownership, 2711 LBJ Partners.
RETAIL/LAND
Ampler Development
purchased almost two acres from Summer Creek Station in Fort Worth. Transwestern's Mason Bishop, Steve Williamson, Cullen Finnegan, and Larry Jordan represented the Seller. The site plans to be used for a new Burger King restaurant and will be located in front of an existing Walmart Neighborhood Market and Urban Air.
Retail Buildings
purchased 47,000 square feet of land from Hunter Crossroads in Fort Worth. The site is located at the southeast quadrant of U.S. 287 and Avondale-Haslet Road and is slated to be developed for a new Braum's Ice Cream & Dairy Store. Transwestern's Mason Bishop and Steve Williamson represented both the Purchaser and the Seller in the transaction.
Redline Athletics
leased 21,000 square feet at 320 E Main Street in Crowley. Chris Flesner, of RESOLUT RE, represented the tenant. Jon McDaniel, of NAI Robert Lynn, represented the landlord.
Verizon Wireless
has leased 1,750 square feet at Sweetwater Corners (309 NE Georgia St. in Sweetwater). Sam Littlejohn, of RESOLUT RE, represented the tenant. Jake Blankenship, of NAI Robert Lynn, represented the landlord.
Get the D CEO Real Estate Newsletter
Get weekly updates on breaking commercial real estate news and relevant industry reports.