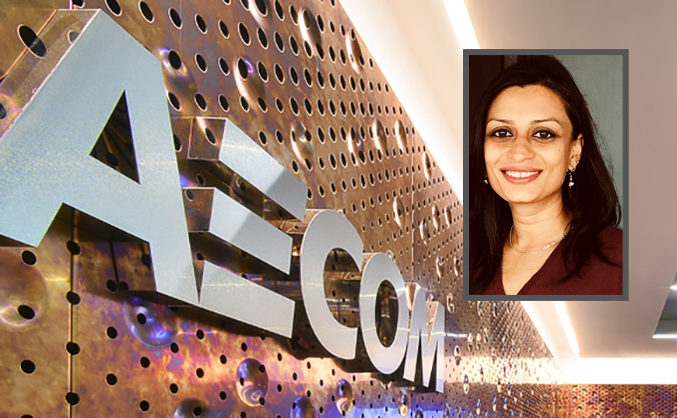 Business Briefs: AECOM Hires Executive to Grow Transportation Business in North Texas
Plus Jacobs plans to be carbon negative by 2030, JPMorgan Chase & Co. Commits $670,000 toward COVID-19 crisis, and more.
AECOM has made a hire to grow the transportation footprint in Texas through the infrastructure firm's transportation business development and project management teams. Nandita Kaundinya brings more than 18 years of experience in civil, mechanical, and industrial engineering to the position.
"AECOM is focused on building its staff to support the robust Texas infrastructure market, and Nandita's strategic leadership and cross-discipline approach will drive client collaboration and team-building to solve complex infrastructure issues in North Texas," said Dan Manojlovski, AECOM's Central Region Transportation Regional business leader. "Her client focus includes various TxDOT districts, DFW Airport, North Texas Tollway Authority, local municipalities, transit authorities, and regional metropolitan planning organizations (MPOs)."
Most recently, Kaundinya created a 10-member North Texas transportation team to increase company business at Garver, a multi-disciplined engineering, planning, architectural, and environmental services firm. She drove revenue and growth by securing new markets for TxDOT and collaborated with cross-discipline teams to expand market share.
As project manager on one of TxDOT's largest projects — the almost $2 billion northeast expansion of I-35 in San Antonio — Kaundinya helped secure environmental clearance and schematic design that included 30 miles of elevated structure between main lanes and frontage roads and complex interchange design.
Jacobs Will be Net Zero Carbon in 2020 and Carbon Negative by 2030
Jacob's Engineering Group has released its Climate Action Plan—a commitment to make a positive environmental, societal, and economic difference for businesses, governments, and communities around the world. The plan details how the company will achieve and maintain 100 percent renewable energy, net-zero carbon for the company's operations and business travel in 2020, and carbon-negative fo its operations and business travel by 2030.
The Climate Action Plan commitments and supporting delivery plans build on the foundations of Jacobs' PlanBeyond strategy, which was launched in early 2019 to set out sustainability priorities across the business and how the company is helping sustain the planet for future generations.
Jacobs Chair and CEO Steve Demetriou says the plan "commits us to set an ambitious, science-based target for carbon reductions across both our operations and supply chain emissions by 2030. Jacobs' biggest opportunity to affect climate change is through the work performed for clients—from the world's largest infrastructure projects to mission-critical outcomes and cutting-edge manufacturing—Jacobs is driven by its customers' most complex problems."
Jacobs was recently recognized by Environmental Business International (EBI) with six business achievement awards for leadership and outstanding performance in its corporate, environmental, and climate change work in 2019.
ECI Software Solutions Acquires BuildTools As Part of Growth Strategy
Forth Worth-based ECI Software Solutions has acquired BuildTools, a web-based construction management platform for custom builders and remodelers. With this acquisition. ECI, a cloud-based business management solutions company, says such acquisitions are part of its growth strategy. The company has made more than 20 acquisitions in the last decade, eight of which occurred in the previous two years. The deal closed on May 8, and terms were not disclosed.
BuildTools will become part of ECI's Residential Home Construction Group, and the team will report to ECI's Residential Home Construction Group president, Scott Duman. With this acquisition, ECI will reach a new customer market: smaller custom builders and home remodelers. To help accelerate BuildTools' global growth, ECI plans on making investments in the platform's development, go-to-market, and customer success strategies.
JPMorgan Chase & Co. Commits $670,000 To Help Dallas Cope With Economic Challenges of COVID-19 Crisis
JPMorgan Chase and Co. will invest $670,000 to provide relief for small businesses and residents in Dallas who are suffering from the economic damage of COVID-19. The costs will go toward women and households who may lose their transportation needed to get to work. The local philanthropic investments are being made to stabilize small businesses owned by women and families in danger of losing the transportation they need to get to work.
The company will donate $450,000 to JUST, a community development financial institution to support relief and recovery from COVID-19 impact; $150,000 to On the Road Lending to help individuals who are struggling with job loss or loss of income. The program makes affordable car loans and provides financial coaching resources, and $50,000 to assist in providing technology needs for interns through Education is Freedom and $20,000 to Per Scholas to deliver remote training to students receiving workforce training.
Security National Bank of Texas Announces Opening Date
Security National Bank, a full-service bank with 13 locations across Nebraska and Iowa, has announced the opening date for its first Texas location at The Union on Field Street. Opening on June 8, the site will fill a 4,146-square-foot premium, ground-level space at 2300 North Field Street. Owned and operated by the Landen's, a Dallas family with several generations of banking behind them, the bank aims to bring a neighborhood feel to the fringes of Dallas' urban downtown and Uptown areas.