At Toyota Music Factory, J Balvin Proves He Is a Global Superstar
The Colombian reggaetonero's Irving set was a reminder of years spent quietly—and excitedly—influencing the mainstream.
Sometimes–definitely not all the time–the radio doesn't suck. I've learned that over the past year since my car's aux cord broke off in the socket, leaving me to listen to commercials and cleaned-up pop music for hours and hours every week. First, I relied on 97.9, 104.5, 106.1, and occasionally 91.7. Those got old pretty quick. I soon came to appreciate the smoothness of KRNB 105.7, so much so that I voted it Best Radio Station in the Big D this year. Most recently, though, I've been spending most of my time in the airwaves with 107.9, Latino Mix DFW. I don't speak Spanish, but I enjoy reggaeton–and I also like not being able to understand commercials. 
As the music made its way into my regular rotation, I began to realize how big of a deal J Balvin is. The Colombian singer is behind a million hits, from "Mi Gente," to Cardi B's "I Like It," to "Loco Contigo." I had listened to his music for years without knowing his name. I became a fast fan. 
The reggaetonero was at the Toyota Music Factory in Irving on Friday for his Arcoiris tour, and I was #invitedbyBuchanans. So, I brought my Venezuelan best friend, partially to serve as my translator for the evening, and partially because she sent me this text when I mentioned the possibility of bringing a date: 
"Um you are not taking some strange gringo man to meet J Balvin and not me." 
We dug up some coordinating leopard print outfits and showed up a couple hours early for the meet-and-greet. Upon arriving at Toyota Music Factory, I was reminded of Balvin's global superstar status. We were in the back of a massive line of people waiting for an encounter with the Colombian artist. Once the line started moving, it moved at a lightning speed. Before we knew it, it was our turn for a photo.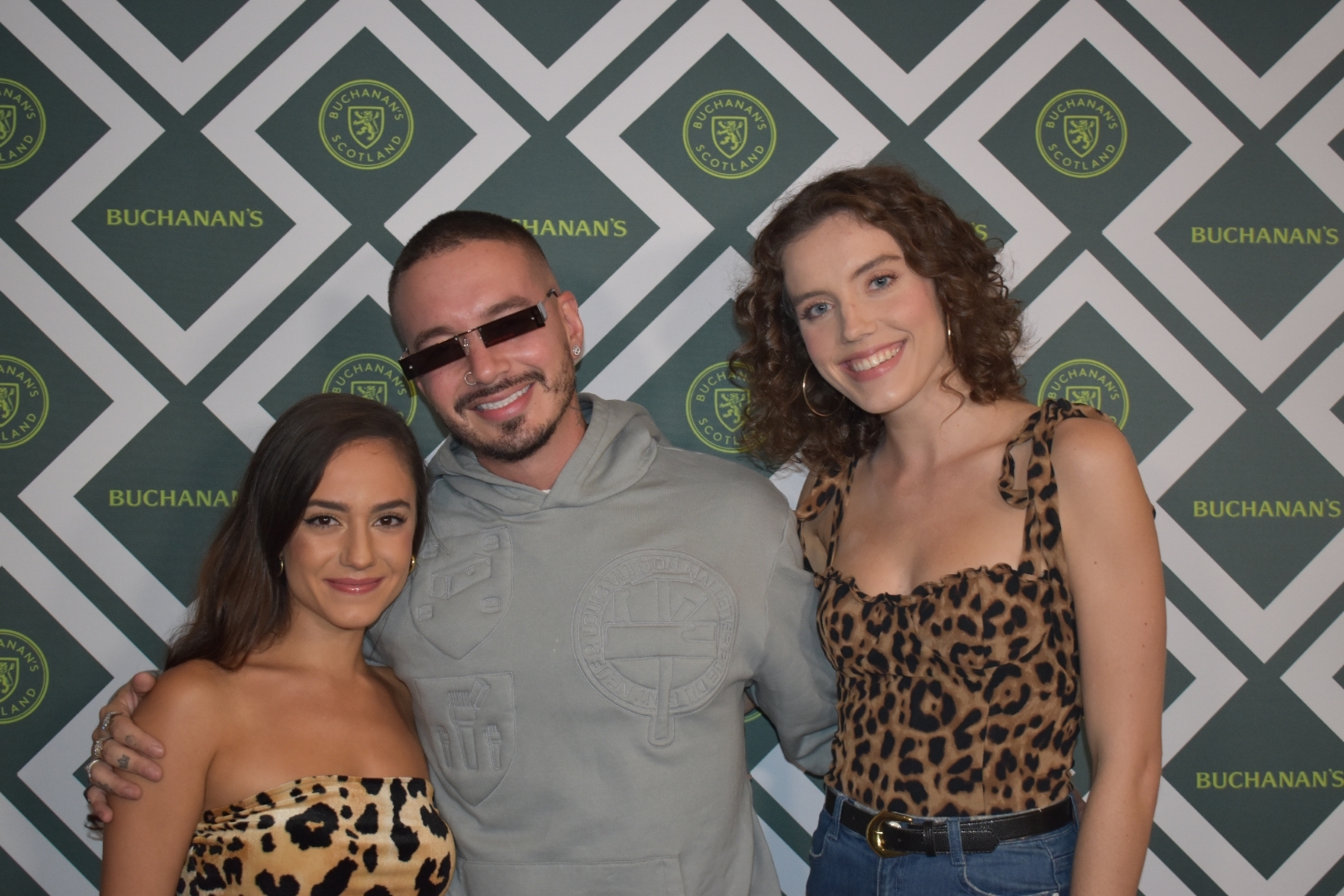 He was wearing a trendy sweatsuit and small, rectangular sunglasses. He and my friend exchanged pleasantries while I stood there with a dumb smile on my face. 
"J Balvin! Que tal?"
"Hola mi amor, como estás?"
"Chévere!" 
And then we stepped aside and let the next hundred fans have their moment. 
"I can't believe I talked to J Balvin!" Excitement was building in the air as showtime drew near. 
After two solid opening performances by Eladio Carrion and Lyanno, a rainbow washed over the stage and J Balvin made his grand entrance in a new pair of tiny sunglasses. He started the set fittingly with "Reggaeton." Once the beat dropped, Balvin's backup dancers appeared on stage. They weren't the typical, sexy twerk crew you'd expect, though. A group of men wearing Michelin man suits and giant cloud heads took the stage and surrounded the singer. It was awesome. 
J Balvin played hit after hit, "La Canción," "X," "Ay Vamos," "Con Altura," and others I didn't recognize. Then he disappeared, let his dancers take over the stage, and reemerged with a third outfit and yet another pair of statement sunnies.
Balvin took a moment during one of his slower songs to have a heart-to-heart with the audience. He spoke about dealing with depression, and then thanked the reggaeton artists before him for paving the way. My friend commented how glad she is that musicians like Balvin have changed  the machista stereotype that defined the genre for so many years. 
"He still sings about dirty stuff, but it's not all about sex," she said. "Like, he had those cloud dancers instead of just showing a bunch of butts."
For the record, there was a fair amount of booty-shaking on and off the stage at Toyota Music Factory on Friday; that's the J Balvin effect. Even for some "strange gringo" like myself who doesn't understand the lyrics, the music just makes sense.