AT&T Stadium roars with anticipation as masses dressed to the nines herd their way in to experience one of the most talked-about concerts of the year. The grounds are a sea of body-con statement dresses, short-sleeved Oxfords, foot-long margaritas, and special occasion sneakers. Jerry Jones' towering Jumbotron has a contrastingly small, cryptic, and simple message for the filing crowd below: This is not real life.
At this stage in the intersection between human history and pop culture, intimacy is a lost art. This Tinder-swiping, sexting, and subtweeting generation has figured out almost every way possible to both streamline and then broadcast the process of human connection to a most passionless conclusion. The very idea of dating itself is endangered. Everything from meeting to cheating has a technological shortcut. The concepts of true love, monogamy, and romance are not an easy sell to this demographic—but somehow, over a span of twelve years together, Jay-Z and Beyoncé have more than managed.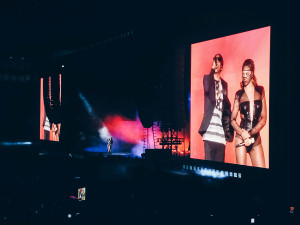 In a grandiose, over-the-top, 40-plus song performance, the co-headlining power couple combine their staggering catalogues to create a narrative of modern romance—at turns both gorgeous and ugly. Although they sometimes tease the audience with vague revelations of their highly private marriage (rumored to be on the rocks lately, in the wake of a rough night at the Met Ball), the only real possible evidence of marital unrest in the Carter home is a psychotherapist listed under the personnel staff section of the official tour program. Beyoncé and Jay-Z are definitely buying into their appointed roles as America's Sweethearts, and this show is a culmination of that, over a decade in the making.
The "On The Run" tour's self awareness borders on camp at times, which is what ultimately saves the event from mere self-indulgence. Jay Z and Beyoncé are highly calculated artists and entertainers, and this is no reality show. When these two ride into the sunset on a motorcycle, it represents something much less superficial than Kim and Kanye riding off together. Jay Z and Beyoncé aren't just trying to sell you a trope; they're trying to redefine it.
When the house lights finally dim, over an hour late, of course, the crowd is entirely restless. A choppy and hard-hitting remix of Future's "Move That Dope" rings out, getting them on their feet. The 20,000 square foot video screen flashes the first of many pulpy video packages for the evening. Fast cuts of Jay and Bey rolling through the desert in white suits and ski masks sync up to the beat. They're still riding with the top down, more than ten years after their first collaboration and show opener, "'03 Bonnie and Clyde".
The "On The Run" tour heavily evokes the films of Quentin Tarantino throughout the entire two hours. Classic scenes like Clarence and Alabama getting it on in the phone booth (True Romance), and Fabienne and Butch hiding out in the motel room (Pulp Fiction) are both referenced in the first act, naturally. The first act of any great love story is about the fun and sexy genesis, and for this particular couple, that would be their early duets, such as "Upgrade U" and "Crazy in Love." Some horns from "Deja Vu" even make the mix.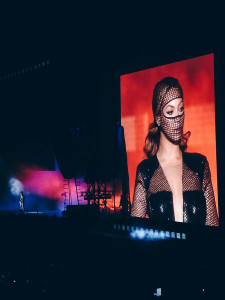 One of the most powerful elements of the "On The Run" tour is a use of medley and interpolation. Under the direction of Omar Edwards and Derrick Dixie, the show truly marries Jay and Bey's most celebrated works. As her "***Flawless" slips in the horn riff from Outkast's "SpottieOttieDopaliscious" before going right into "Yonce," his "Dirt Off Your Shoulders" blends in from the low end and rides. They spend the better part of the first hour springboarding each other's uptempo hits. At times, it flows so seamlessly, you lose track of where her songs end and his begin.
As passions begin to run high, a gritty and deconstructed arrangement of Beyoncé's fiery "Ring The Alarm" opens up Jay's Doors-sampling Nas diss, "The Takeover," in such a way that it was startling. Her R&B pop songs and his rap tunes are two opposing styles, normally presented and performed live in completely different ways. This was a moment of perfect balance between two artists' sounds, that resulted in hearing them each in a way you'd never quite heard them before. It unfolded like revelations between new lovers.
Serving the audience and the narrative, Beyoncé ran through a slew of favorites from her latest album, which proved to be a satisfying break from the tested material. This is the first tour American audiences have been able to hear selections from her surprise self-titled album since its release last Christmas. "Haunted" was particularly enthralling, with a mesmerizing dance solo from her touring sidekicks, Les Twins.
Jay Z's most memorable solo number of the night came with "PSA", when a wave of Roc signs washed over the stadium. There was definitely a missed opportunity with the decision to leave Jay's verse from "That's My Bitch" off the setlist. The Watch The Throne cut is one of Jay's stronger verses in recent years, and considering its lyrical content—which celebrates iconic women of color (including his wife, by name)—the rarely performed song would have been a great addition to this set. The same goes for the gushingly amorous Beyoncé cut, "Rocket."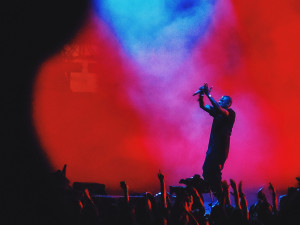 At the show's climax, Beyoncé and her band performed a rousing extended version of the Solange-penned "Why Don't You Love Me?" that brought the stadium down. One of her most underrated singles to date was realized to its fullest potential on this tour. So was the song it led into, Jay's Justin Timberlake-assisted "Holy Grail." It makes you wonder how Bey ended up not singing the hook on the album version.
Things take a turn for the young lovers with Beyoncé's breathtaking cover of Lauryn Hill's heartbreaking classic, "Ex-Factor." Backup singers, The Mamas, really flex their vocal chops here.
From there we're drawn into the most lovesick material in the two artists' respective careers. Jay wears his heart on his sleeve with fan favorite "Song Cry," while a forlorn Beyoncé laments over the grief-stricken "Resentment" in full bridal regalia.
After shedding her tear-stained veil, the feeling is back with Beyoncé's old school, soul-tinged number, "Love On Top."
The Tarantino cliches and film noir theatrics fade, as footage of The Carter family's actual home movies start to roll. As they close the show with a medley of Jay's "Young Forever" and Bey's "Halo," we see quick cuts of the couple's wedding video, the birth of their daughter, and other treasured family moments. The duo beams with pride looking up at their life together.
The "On The Run" tour is a much needed love story for the ages, told by two artists on their own terms, at a time when the art of romance is endlessly compromised by a hyper-social digital culture that never ceases.
Jay Z and Beyoncé never really asked to be the new ideal of marriage in America; a Marilyn Monroe and Joe DiMaggio for the post-rap generation. They barely even acknowledged their relationship on record until well after they were wed. On this tour, they set the boundaries of their own fame, clearly distinguishing the difference between the performance—which is ultimately their art and their product—and their life behind the curtain.
For the grand finale, that small, simple text returns to the video screen. It reads: This is real life.
Get the FrontRow Newsletter
Get a front row seat to the best shows, arts, and things to do across North Texas. Never miss a beat.