Nicole Kwon is a hard woman to pin down, but that's a good problem to have. Last week I attended the opening party for the Dallas-based designer's new concept shop in NorthPark Center. I was hoping to tête-à-tête with Kwon about the new shop, but that proved difficult. Her customers had the same idea.
The NorthPark store, which opened March 16, is Kwon's second brick-and-mortar location. Kwon has worked for fashion houses across the world and launched her first Dallas concept shop in 2012. The West Village spot carried stylish, everyday pieces and hard-to-find international brands like Saloni and Simon Miller. In 2019, she launched a lightweight vegan handbag line, called KWONN. Last year, she launched NKC, her ready-to-wear line of trendy closet staples. 
I bumped into Kwon not long after I walked in. We chatted briefly and she offered to grab me a glass of wine before our talk. After she left, I wandered the 2,000-square-foot store. I grabbed some bites from the charcuterie table and ogled at racks of dresses and asymmetrical twists on button-downs. 
The crowd was varied. I saw teens looking at swimsuits. I brushed past sophisticated middle-aged women wandering about, just as I was. One woman and I gushed over a knee-length skirt. I watched a mother-daughter pair admire a white midi-dress. There was something, it seemed, for everyone.
I finally found Kwon by the drinks table, caught in conversation with several other party guests. When I came over, she apologized for the wait. "No worries," I said. "You're the woman of the hour."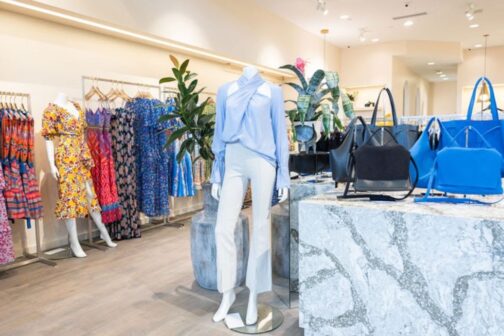 Kwon suggested we step outside for the interview. But before we could, a few women walked up for photos. I offered to take them, and I found myself capturing multiple angles and taking "candid" videos for social media. Kwon profusely apologized again, but I laughed it off, joking that I had gone to college in the Instagram era—I was used to this sort of thing. 
We finally made it outside, but our conversation was interrupted several more times. Guests kept spotting Kwon and popping over for a chance to talk. I didn't mind. It was a testament to the devoted following the fashion entrepreneur has grown over the years, shoppers who have followed her from her very first line back in 2008 and through multiple iterations of her West Village store.
Eventually, Kwon and I found a few minutes to talk about her store's decade in business, how that impacted her own lines, and why she wanted to open in NorthPark. It has been edited for length and clarity.
It's been about 10 years since you first opened in West Village. How has the past decade been for you?
It was a roller coaster. Especially during the COVID shutdown-pandemic period, I really almost gave up. I mean, I wasn't even shopping. I was in my pajamas for probably over a year. Ten years—it went really fast.
When you first opened your store, you didn't have your personal handbag and ready-to-wear lines yet. Did running the store inspire you to create your own pieces?
I feel like most retail stores—the big stores and smaller boutiques—mostly had the same designer brands we do. I would find brands first, and then after two years, other retailers start carrying it. I wanted something much more exclusive and fun. I'm really excited that my clients and my shoppers are loving it. It's been really great.
Do you think you'll ever carry exclusively your own merchandise in your stores?
I think I would still want to have at least two other brands, just to make it fun.
Why did you decide to open here at NorthPark?
I really love my clients in West Village, but I noticed NorthPark has a lot of diverse customers, too. They're very international. I just thought it could be a really great chance to explore. Meaning, finding my cool girls out here. … It's only been three weeks, but I'm very happy with it.
Are there any differences in what you carry between the two stores?
There are some exclusive styles at West Village and here too, but mainly, they're pretty much similar.
What's one thing you love about retail?
One thing I really love about being in retail is convincing new customers to try things on and know that they can look really great in something that they would have never worn. And I just wish more new people come in and that we can just bring that joy of feeling good.
You've grown a very loyal following over the years. How has that impacted you?
I feel seriously so grateful. I moved here without knowing anyone. I didn't grow up here, and I thought it would be very close-minded. I don't know how to even explain it. It's so amazing that everyone comes back and truly are happy for me.
What do you want your next 10 years to look like?
My next 10 years? I feel like I'm pretty content. I'm just really grateful having consumers who appreciate what I do.
Get the AtHome Newsletter
Enjoy Dallas' best trends, hot properties, and tips from local designers to help you nest in style delivered weekly.
Author
Catherine Wendlandt is the online associate editor for D Magazine's Living and Home and Garden blogs, where she covers all…