If you watched the Cowboys' Week 9 game against the Denver Broncos—well, first off, I'm very sorry. You are probably aware that the number to know this week isn't going to be nearly as fun and cheery as last time.
The Cowboys lost 30-16. They managed to climb within two scores before the final whistle thanks to two meaningless touchdown drives in the final seven minutes of the game. Prior to that, pretty much everything that could go wrong, went wrong. Even blocking a punt turned out to be a bad thing. 
There is one number, however, that manages to sum up the reason the Cowboys could not keep up with the Broncos this week: 3.4. That's quarterback Dak Prescott's total yards per play through the first three quarters of Sunday's game.
To be very clear: nothing went right in this game, and the blame doesn't solely reside with Prescott. But quarterback is the most important position in football, and this week, Dallas' quarterback had one of the worst games of his career. 
Heading into the week, Prescott averaged 7.5 yards per play, the fourth-highest mark in the NFL behind Los Angeles' Matthew Stafford, Seattle's Russell Wilson, and Cincinnati's Joe Burrow. That number was more than double what he produced through three quarters of action this past Sunday, which gives you some perspective on just how rough of an afternoon he had. 
There aren't many games throughout Prescott's entire career that you can point to when he produced at a lower rate. He hasn't had fewer than 4 yards per play in a home game since 2017 and only twice had fewer than the 3.4 he put up on Sunday.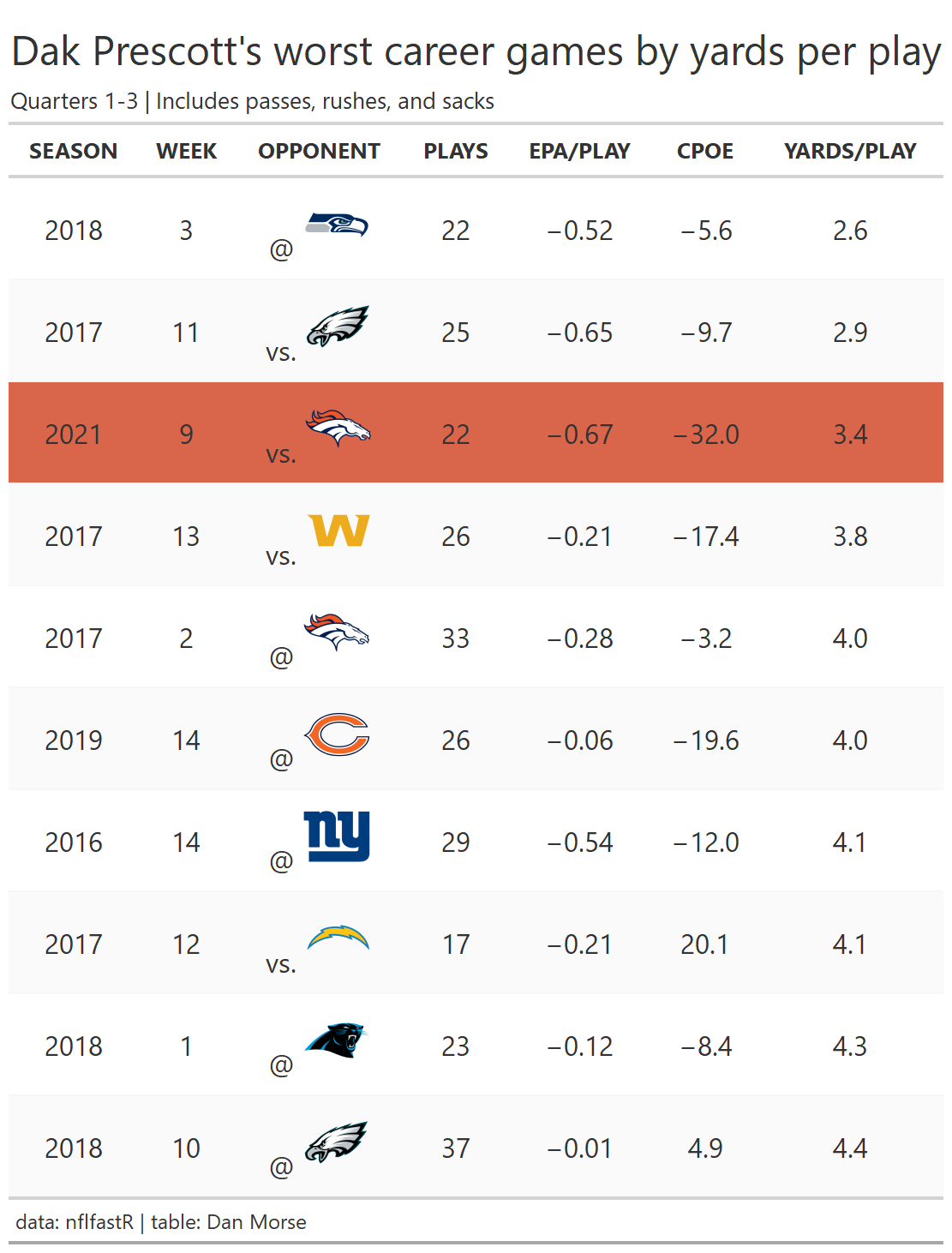 There are two other metrics shown in the table above that make the picture even worse. Let's start by discussing the whopping -32 CPOE Prescott dropped in the first three quarters on Sunday.
CPOE stands for "completion percentage over expectation." It's a metric that takes into account the depth and location of the targeted receiver and uses that to predict the likelihood of any given pass being completed. As of the Cowboys' bye week, Prescott was leading the entire NFL in CPOE.
And that's what makes the -32 from Sunday even more startling. Prescott consistently completes more passes than an average quarterback, but he absolutely could not do it this week. Of course, that wasn't entirely his fault. As mentioned above, the struggles really were a team effort.
Amari Cooper WIDE OPEN DROP 👀#Cowboys pic.twitter.com/Dye28MvSts

— TimeoutSPORTS__ (@TimeoutSPORTS3) November 7, 2021
That was Amari Cooper's first drop of the season. The receivers did not do much of anything to help Prescott. Tony Pollard also had a brutal drop early on, before the game was completely out of hand, which led to a stalled drive and another punt.
tony pollard drop pic.twitter.com/ZWDr4gRtjl

— Dan (@danmorse_) November 8, 2021
Prescott missed throws, but it takes a village to produce a CPOE as bad as the one we saw yesterday.
The other metric shown in the table above is EPA/play, which stands for "expected points added per play." Expected points is a way of measuring the impact of specific plays based on contextual factors like down, distance, time remaining, and field position. The model used here comes from Ben Baldwin of The Athletic.
On Sunday, Prescott's -0.67 EPA/play was the second-worst mark he's ever had through three quarters of a single game. Only his Christmas Eve performance against the Seahawks in 2017 graded out lower than this one.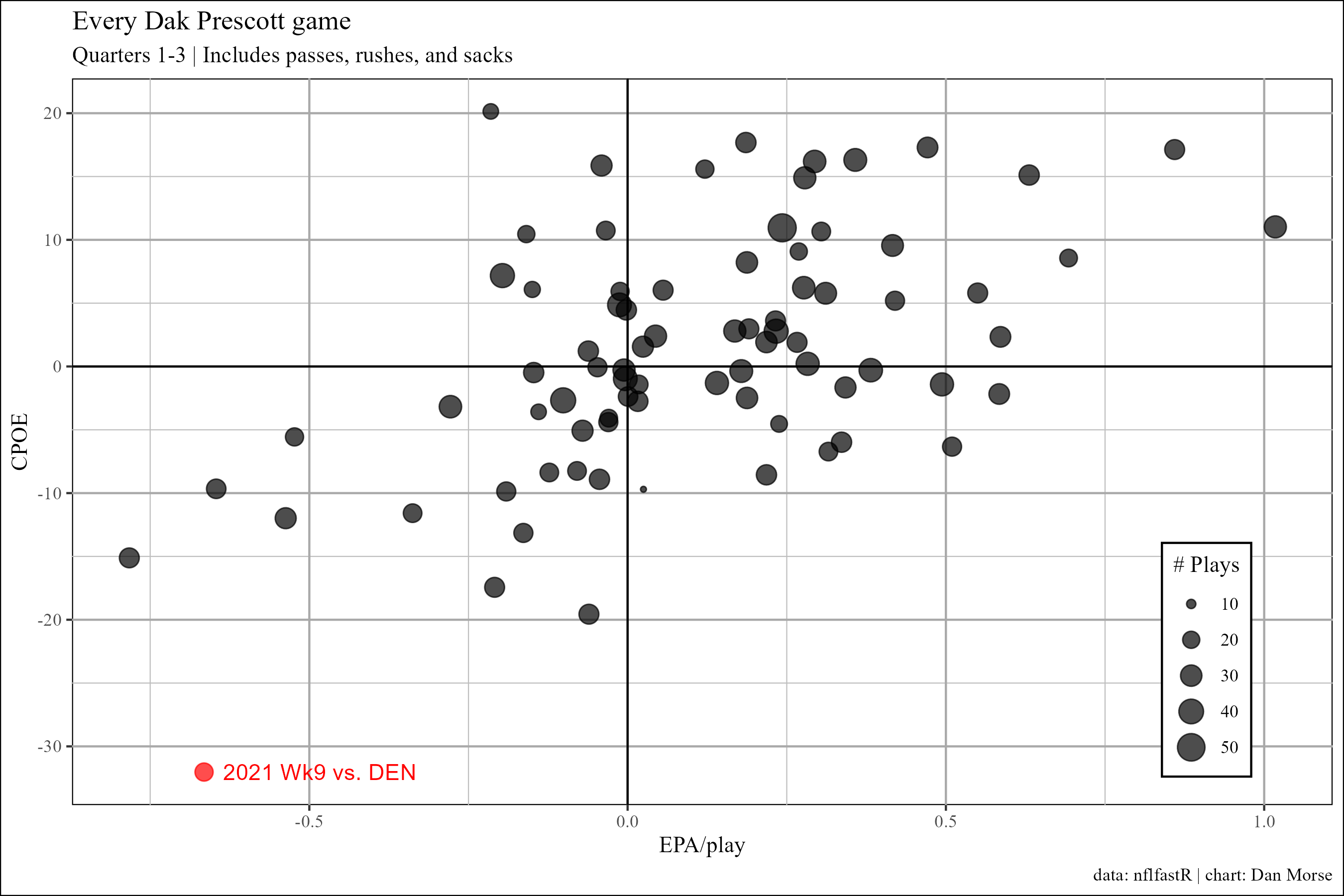 EPA encompasses all plays Prescott was involved in, including sacks. That's important to note because Dallas' offensive line did not do their quarterback any favors in this one. Prescott was sacked twice, but he was under duress much more often than that. According to the NFL's Next Gen Stats, Prescott was pressured on 31.7 percent of his dropbacks this weekend — nearly once every three pass attempts. Jonathon Cooper, a rookie seventh-round pick, had himself a career day against backup left tackle Terence Steele, picking up his first and second career sacks.
Jonathon Cooper gets the first sack of his NFL career! pic.twitter.com/6kXfS9TyTo

— Joe Rowles (@JoRo_NFL) November 7, 2021
The worst part is the Broncos didn't even have to send extra pass rushers to get pressure on the quarterback. This is a Denver team that just traded eight-time Pro Bowler Von Miller, mind you. They still were able to force Prescott out of the pocket with a four-man rush, and occasionally didn't even need that many.
3-man rush pressure pic.twitter.com/TvKk8trDFa

— Dan (@danmorse_) November 8, 2021
All of which is to say: it was a bad day for the Cowboys quarterback. It was a bad day for Cowboys receivers. It was a bad day for Dallas pass blocking. It was a bad day.
However!
There is at least a small bright spot from a forgettable weekend: Dallas was not the lone team to stumble in Week 9. The Saints lost to the Falcons. The Giants beat the Raiders. The Jags even beat the Bills! As a result, the top seed in the NFC—and that coveted first-round bye—is not lost. The Buccaneers stumbled last week and dropped their second game of the year, and this week the Aaron Rodgers-less Packers joined them in losing a second game. While it hurts to have a stinker of a performance on a day when the Cowboys could have separated themselves from the pack, it's a small comfort to know they at least didn't really lose ground.
The horrible, no-good day is in the past. In all likelihood, the receivers will bounce back quickly from their case of the drops, Tyron Smith will return to the left tackle position, and, most important, Dak Prescott will play the way Dak Prescott normally plays.
Get the ItList Newsletter
Be the first to know about Dallas' best events, contests, giveaways, and happenings each month.