The Dallas Cowboys will return from their bye week with the same three-game lead in the NFC East that they had going in. The Giants won, while the Eagles and Washington lost, and now the Cowboys' 5-1 record is trailed by a trio of 2-5 teams. It's a comfy spot to be in, as far as divisional races go. At this point, however, it's fair for Dallas to start dreaming bigger.
The top seed in the NFC is more valuable than ever, as it's the only playoff spot that earns a bye in the wildcard round under the new NFL playoff format. That spot is within reach for the Cowboys, but it's a tough hill to climb. Luckily, they have the one thing that every team with Super Bowl aspirations needs to finish atop their conference: an elite quarterback.
Dak Prescott has been throwing the football as well as he ever has in his return from a brutal ankle injury that cut his 2020 season short. His numbers are great across the board right now, but there's one that sticks out, as it's the NFL's best mark: 7.8.
No quarterback in the NFL has a higher completion percentage over expectation (CPOE) than Prescott's 7.8 percent, according to the NFL's Next Gen Stats. And if you want to understand why Dak—and, by extension, the Cowboys—have been so great in 2021, it's a great place to start.
Standard completion percentage doesn't tell us much about the context of the difficulty of a quarterback's pass attempts. A player who takes the checkdown every time it's there and never tries to push the ball downfield might have a great completion percentage, but that doesn't necessarily make him a more accurate quarterback than one with a lower completion percentage attempting deeper, harder-to-complete passes on a regular basis. That's where expected completion percentage comes in. Expected completion percentage is a model that tells us how likely a pass is to be completed, based on several different factors. From Next Gen Stats:
"The probability of a pass completion, based on numerous factors such as receiver separation from the nearest defender, where the receiver is on the field, the separation the passer had at time of throw from the nearest pass rusher, and more."
CPOE, then, is simply the difference between a quarterback's completion percentage and his expected completion percentage. Adding this context makes Prescott's 73.1 percent completion percentage, which ranks second behind Arizon'a Kyler Murray, even more impressive because it turns out he's not just taking the easy throws more often than any other quarterback.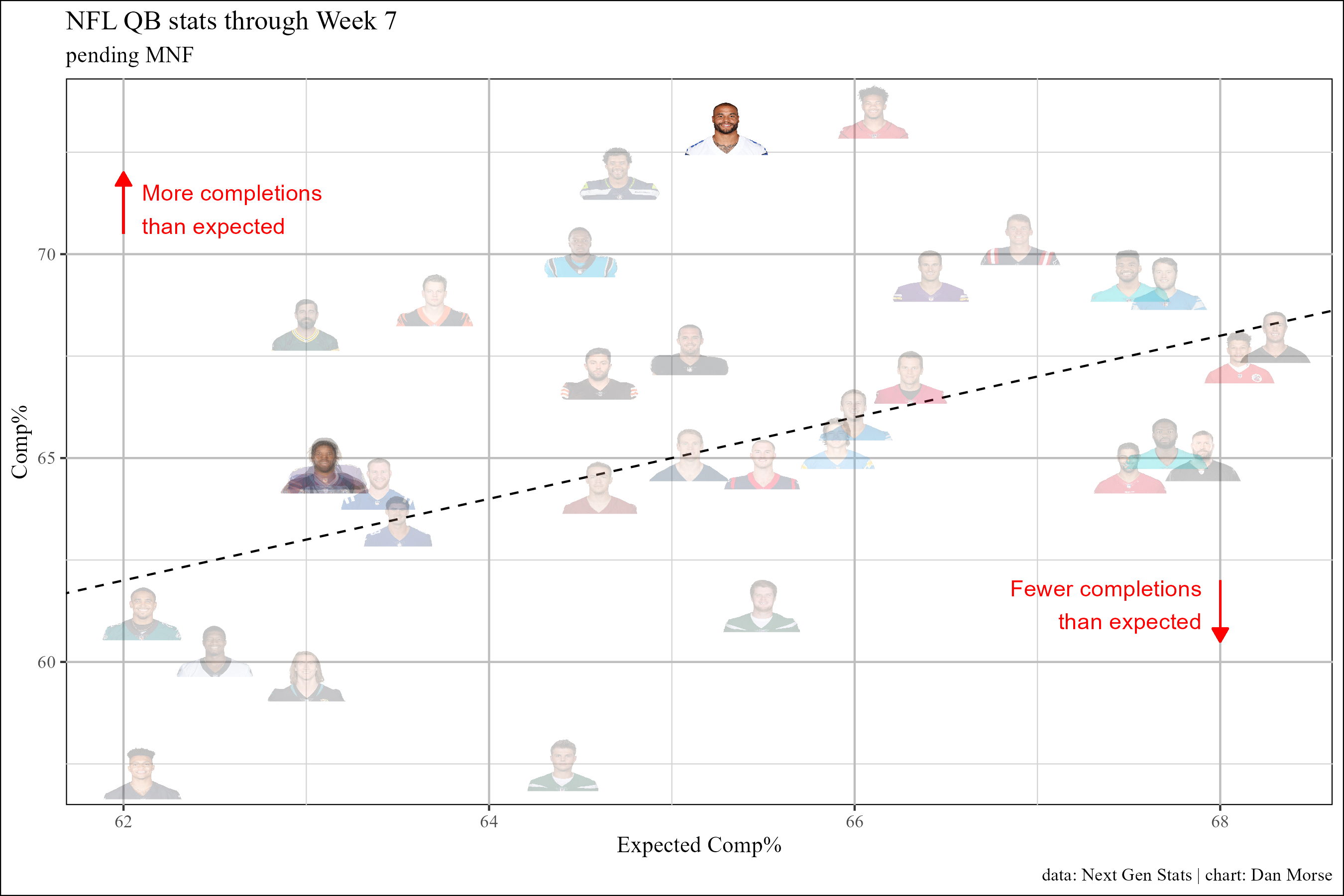 Of 33 qualified quarterbacks, Prescott ranks smack dab in the middle at 16th in terms of his expected completion percentage. The throws he's attempting, as far as the depth of his receivers and their separation from the nearest defender are concerned, aren't any easier than the average NFL quarterback in 2021. The fact that he's best in the league at CPOE means that while those throws aren't extraordinarily difficult, his ability to complete them is.
This league-leading accuracy mark is but one statistic explaining Prescott's career year. Completing so many passes is putting him on pace to set career highs in passing yards*, touchdowns, and yards per pass attempt. He is everything this team needs him to be right now, and that's what can catapult Dallas from a good team to a Super Bowl contender.
*a 16-game pace actually puts him below his 2019 passing yardage total, but the 17-game schedule would be enough to surpass it
DAK TO CEEDEE FOR THE WIN IN NEW ENGLAND. #DallasCowboys pic.twitter.com/kh34E4rPsU

— NFL (@NFL) October 17, 2021
The key to winning in the NFL is having the better passing attack. Yes, being good at rushing and playing great defense help, too, but passing has the strongest correlation to winning. ESPN's Brian Burke explained as much over a decade ago. He looked at the correlation between various team statistics (rushing offense, passing offense, turnovers, defensive statistics) and wins, and came to a pretty clear conclusion. From Burke:
"A good passing game is far more important than a good running game in the NFL. It's at least twice as important, and probably even more so. If we include interceptions as part of the passing game, passing efficiency and interception rates dwarf the importance of running efficiency by a factor of 4 to 1."
That's why a look at the modern Super Bowl participants results in a list that's three parts Hall of Fame quarterbacks and one part all-time defenses capable of slowing down those quarterbacks. This year is no different. Of the five teams that have separated themselves from the pack in the NFC, two have three-time MVPs at QB, one has the current odds-on favorite to win MVP, one has a QB who is having a career year in his first season outside of the Detroit Lions organization, and the last is the Dallas Cowboys, with Prescott. You have to have a quarterback to take your team to the promised land.
The Cowboys are in the mix to compete for an NFC championship this season. So many things are going right for this team through six games. The takeaways are flowing, the run game is a two-headed beast, and, most important, the quarterback is playing top-notch football. There's a lot of time left in the season for things to change; contenders can appear or disappear. But the Cowboys should feel confident that their championship aspirations are attainable. Any good team with a quarterback playing as well as Prescott is has no ceiling to what it can accomplish. 
Get the ItList Newsletter
Be the first to know about Dallas' best events, contests, giveaways, and happenings each month.