I fell down a rabbit hole with Âme. This was not terribly surprising. After a year of not dining in restaurants, the tumble seemed inevitable. But also, everything about Âme lends itself to that, is designed, essentially, to favor the plummet.
Plush and heady, it breezed into the Bishop Arts District in early April, taking over a prime corner of the strollable neighborhood long occupied by Hattie's. The mother-daughter duo of Afifa and Sabrina Nayeb wanted to transform the long, white hallway of the space they took over into an upscale Indian-French boudoir restaurant, a place where they could spin lighthearted, elevated dishes of finesse and quality with gusts of flavor. (The Nayebs—Afghan and Afghan American in origin—also own Laili, 8 Cloves, and Juicebabe.) It's a world into which you can easily disappear.
The entrance has shifted to West Seventh Street, and, once inside, you'll find a turquoise-fringed tiered-drum chandelier inhabiting a nook set off by wallpaper of vintage playing cards, where diners sink into a golden velvet banquette or black velvet chairs under the building's original white-painted pressed-tin ceiling. You go in through the light of a marble-topped bar, and then the dishes start coming toward you, overwhelming you with the fragrances and the intensity and immediacy of the sauces' aromas. And, yes, you're falling down a spice-laden warren of flavor.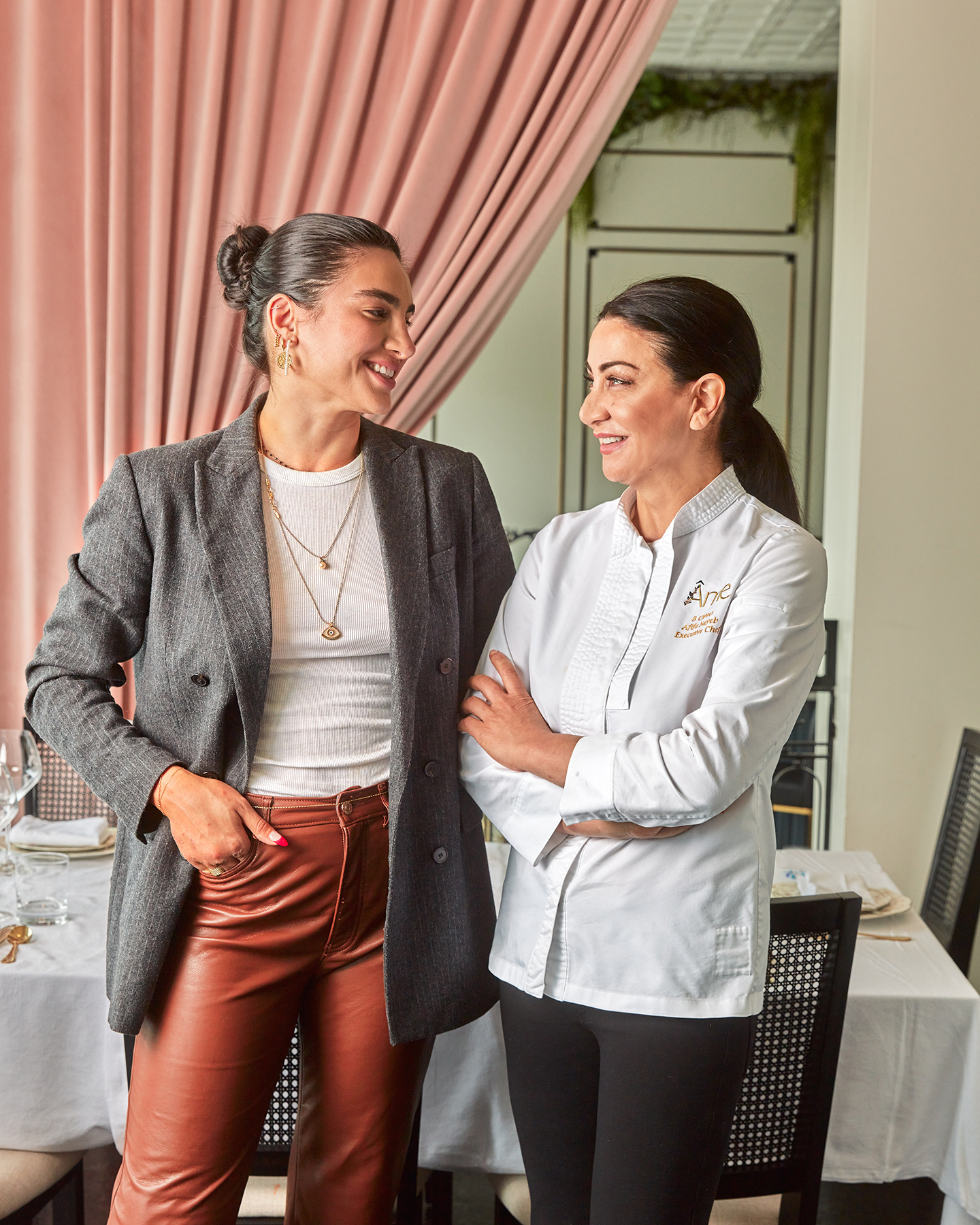 Are the recipes mostly from northern India? You might think that, looking at the pools of muted apricot tones, the washes of luxurious, cream-tempered ochres and umbers, the naan and lush curries. If you are expecting these, you find them. But the vindaloo of storied East Indian-Portuguese-Goan persuasion joins ranks with a confetti rendition of chaat, the ubiquitous street-food snack, and both are tremendous. They are updated and in many cases lighter, but what happens is that you recognize them across the room: the pyramid of earthy golden beet samosa retains its elemental form.
If I dropped in, I might judge the caliber of the place from the breads alone. The soft billows and bronzed blisters of naan from the tandoor oven, which Afifa had to teach herself to use nimbly. The freckled roti. The flaky, pull-apart coils of paratha that the menu calls "croissant," bringing to mind the Indian-French connection and the resemblance of the traditional bread to laminated pastry dough.
But yes, there are swaths of richness. It behooves you, of course, to order the biryani, that celebratory dish, each slender grain so silky and perfumed it's intoxicating, topped with a crispy Scotch egg. The often meat-centered dish has caramelized onions, which add a jammy quality, and cashews that bear a dash of reddening Kashmiri chile powder and cayenne, and the egg yolk soaks into a dish with myriad textures and aromas. Afifa has used an Afghan method of cooking the rice, parboiling and straining it to rid it of starch, and the whole is a thoughtful dish for vegetarians, distinct from the menu's chicken, lamb, and fish.
The Scotch egg on top is decidedly extra. I find I want to drizzle it all tableside with a tiny pitcher of ghee or whisk out a golden case and tweezers and affix a filigree of gold leaf.
One evening, the cinnabar-colored lamb vindaloo is set down and has a powerful, transportive quality: a tender shank slipping apart in rich hunks, with exactly three drops of spiced yogurt on the bone like sequins. The meat is deeply flavorful, like an unfurled secret, and the fiery lake of sauce has drunk up tomato and is redolent with Kashmiri chile.
It competes that night for fragrance with a luxurious East Indian curry that holds shrimp encrusted in rust-red spice and a sauce alive with coconut milk, ginger, and grape tomatoes for a tart burst.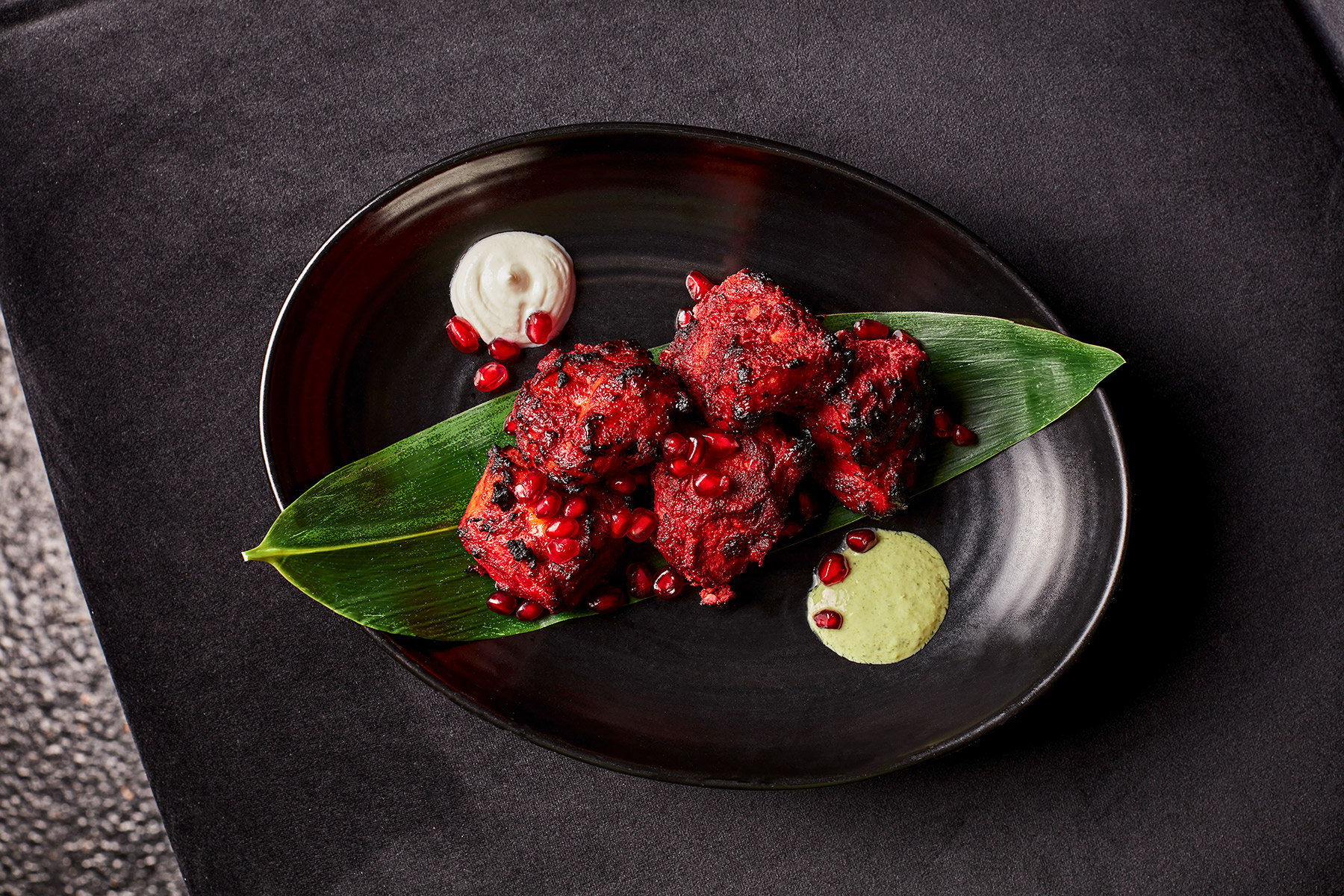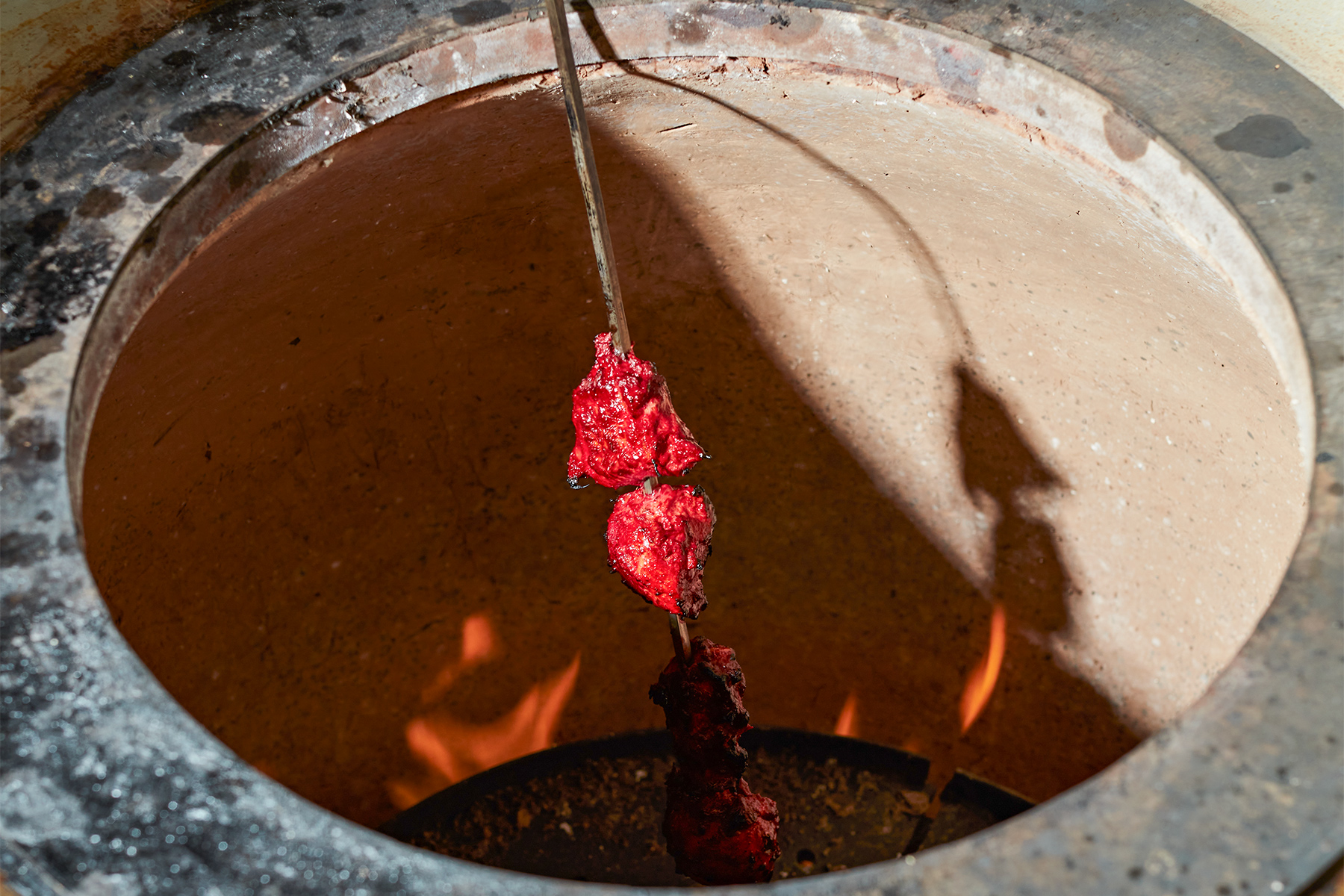 Pit Boss: Wonders from the tandoor oven are myriad and not to be missed. Afifa learned to use the Indian-made, clay-lined pit that turns out blistered naan and succulent, yogurt-marinated anari (pomegranate) chicken (pictured), tandoori fish curry, and skewered lamb patties. "I cooked, I learned, I questioned, I read books," she says. After leaving Afghanistan as a child, she moved to New Delhi before Dallas. "Whatever I do, I absorb it. It becomes part of me."
Afifa will tell you that the black dal I spooned into roti, entranced by its creaminess, is the hardest to afford its 72 hours of slow cooking. But Âme is the kind of place where something so unassuming is given as much care as the pistachio-encrusted lamb chops that speak to the French theme again.
Brunch brings eggs Benedict under a soft, rich, velvety tikka sauce or the warm heat of mango-habanero syrup on waffles stacked with shaggy-coated chicken stained brick-red by spice. It's a menu that includes a French omelet and chia pudding. But I can't get over the flavors and warm rush of spices, their edges precise and powerful at once.
She lets taste memories mingle, bolstered by training and a desire to make a highly personal hybrid.
On the sweeter side, homemade dairy goes into an opening trio. Pistachio kulfi is icy rather than fudgy. Lavender malai, like small ricotta sponges, come on a plate with lavender-infused whipped cream, Instagram perfect, the mauve petals of whipped cream affixed to the plate's edge, so they are like lashes to a blinking eye. In the plate's center the irises of pure white malai, soaked in a light lavender syrup, have pansy pupils and a raw cashew crumble. Meanwhile, the chocolate dessert presents as luscious as the lavender is delicate.
The new, elegant, upscale Indian—which we have seen spring up in the last 15 years in places like Mumbai, New Delhi, London, and New York—is a genre where plating is an art of dots and swishes. It's individual olive oil-infused naan puffs and aloo tikki orbs made with purple potato cradling goat cheese and pepitas in their molten centers and paneer salad for lightness. It's that reimagined chaat. Here, it means masala-baked eggplant with pine nuts, turmeric bechamel, and cashew cream as often as heavy cream in dishes that boast delicately bloomed spices.
If you've set out to do modern Indian, you must also have a punch (which, by some accounts, goes back to the 17th century and the Hindi word panch, a reference to its five ingredients) and it had better be a good one. The Golden Turmeric Punch that Âme serves at brunch absolutely is. (I'm less fond of the variation on a lassi that takes club soda to raspberry and yogurt in a way that might need to be reevaluated.)
As much as any of that, elevating Indian food in 2021 means, I think, some kind of acknowledgment of the tapestry of colonialism, post colonialism, neocolonialism, of cultural borrowing and culinary debt. Afifa approaches this with as much respect as any chef I have written about. She lived in New Delhi for more than two years when she was 11 years old, and the time imprinted taste impressions. She lets taste memories mingle, bolstered by training and a desire to make a highly personal hybrid.
Such are the times—hiring has been extremely hard—but service is not yet what it could be. It keeps things just under the line of fine: servers leaving saffron-tinted rice grains trailing on the tablecloth between entrée and dessert, leaving checks and promises of water trailing, too. On the technical side, servers underdelivered, though hospitality was warm, and they were conversant about the wine list, with its elegant Armenian white.
Still, I have rarely felt a place so fitting for amuse-bouches or parting mignardises. Maybe small send-off bites playing on the whole repertoire of Indian sweets. I craved more.
Some of that sense of specialness comes through the decor. A dusty rose velvet curtain partway down the dining room has a brass hand cinching it back. It creates a sense of mystery. That very subtle staginess is part of the allure. Even more of that is found in the very particular thing that is the Elephant Bar, inspired by Sabrina's visions of Paris. I found this another night.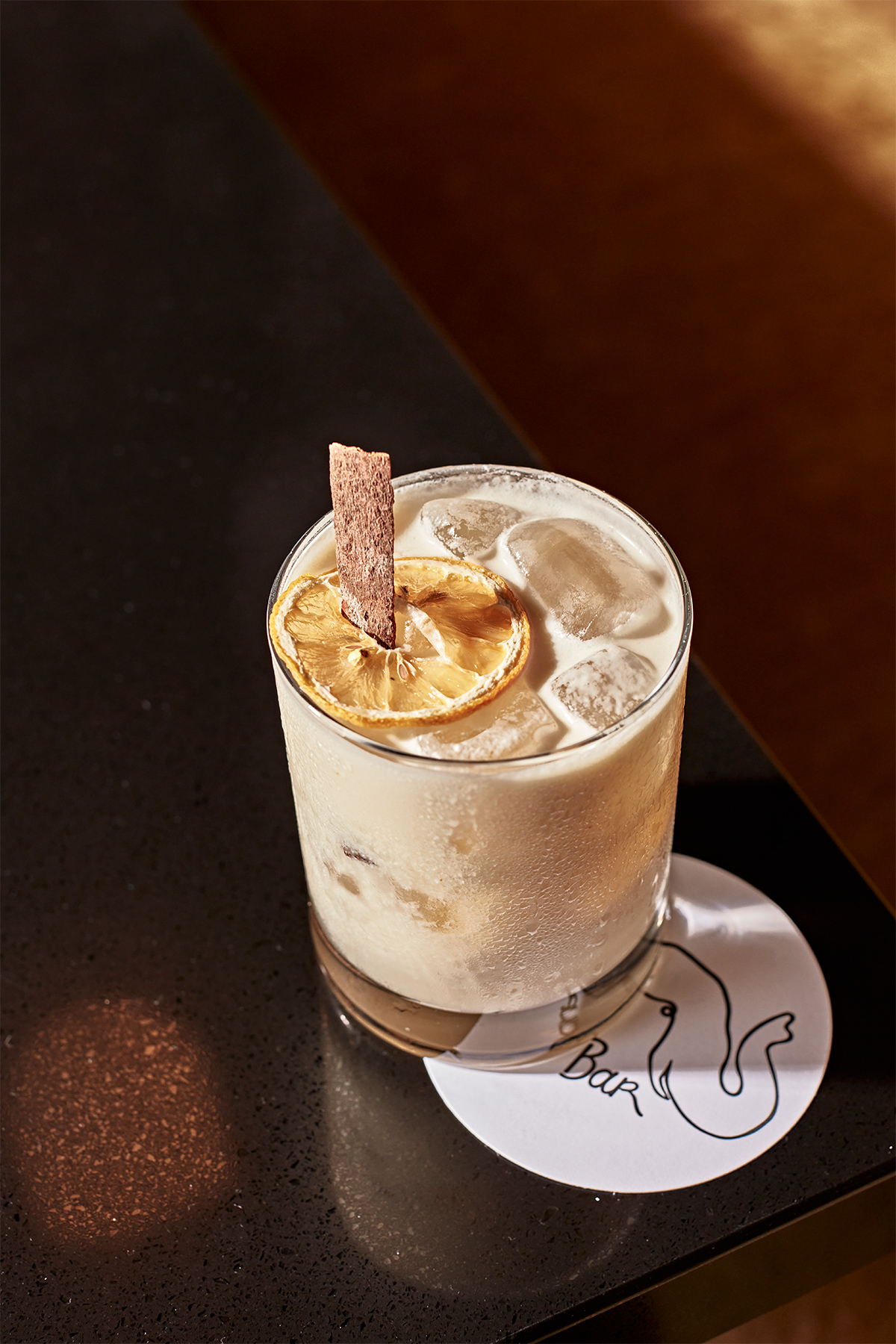 If one end of the restaurant is awash in light and white marble, the other end, accessible through a crushed velvet-
curtained doorway from inside or through double doors accented with elephant-head handles from outside on Bishop Avenue, is the moody lounge with its own cocktail menu, where the Purple Cloud is the drink of choice. Its coconut-laden, egg white-topped depth is to be consumed on an emerald-green velvet settee or ensconced in a corner with drapes that hide the world.
Here, clad in darkness, I ponder how I ended up in this bewildering and at times brilliant Wonderland.
It makes perfect sense that these first visits, cutting through the isolation and fog of strangeness, would land as a thoughtfully delivered, entrancing move. The Nayebs followed ambition, not tiptoeing in, but giddily and making me think of gold leaf.
An Alice, I've fallen in.
---
Write to [email protected]. This piece originally ran in the July issue of D Magazine with the headline "Indian-French Connection." 
Get the SideDish Newsletter
Dallas' hottest dining news, recipes, and reviews served up fresh to your inbox each week.