This piece is a feature from our special edition, Dallas and The New Urbanism. The magazine examines the successes and pitfalls of the urbanist movement in a region well known for its dependence on the automobile.
---
Creating a place means giving priority to the people who will live around, interact with, and enjoy the space. Many real estate projects are profitable or architecturally pristine but avoid or even turn their noses up at the public space around them. Their developers left money on the table because they failed to stimulate the multiple activities and higher returns that place-making achieves. With that in mind, we worked with investors and developers to identify several North Texas sites that transcended their status as a project to become a place. We've also found a few that muffed it.
Successes
State Thomas, Uptown Dallas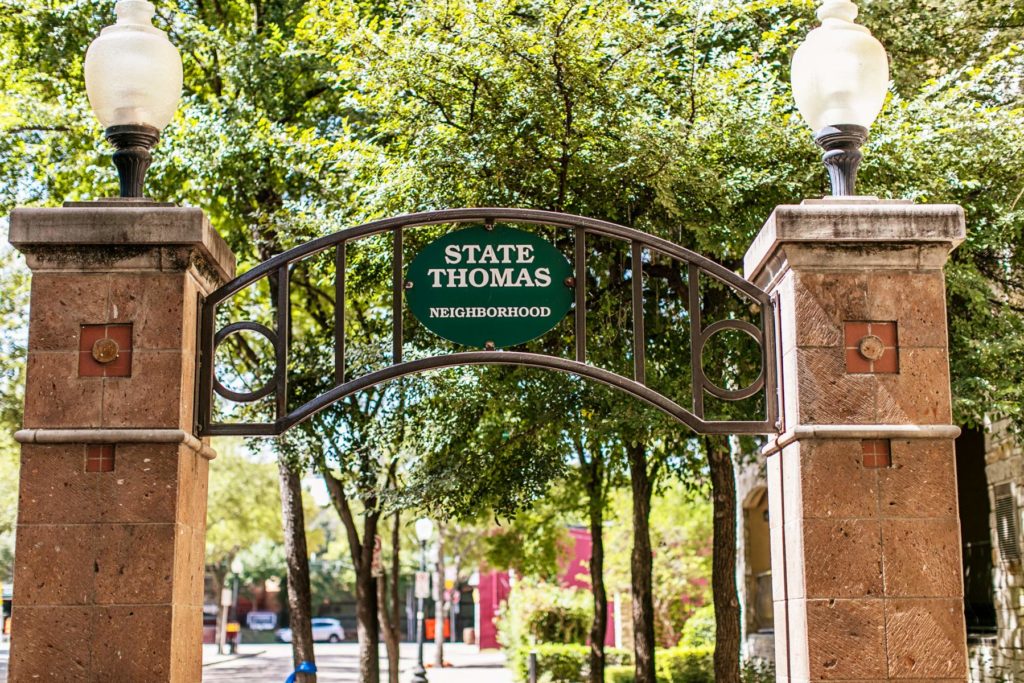 Two decades after its founding, the first planned new urbanism area in Dallas proves the concept. Robert Shaw's Columbus Realty took its master plan directly from the Jane Jacobs handbook. With the help of a newly formed tax increment financing district, Columbus buried utilities, planted trees, repaved streets, and considered how pedestrians would interact with every aspect of the residential neighborhood just east of McKinney Avenue. The small area sparked the thousand bars, restaurants, nail salons, clothing stores, apartment buildings, condos, and office high-rises that became Uptown. In State Thomas itself, the small, predictable street grid interacts with historic homes and a dense mix of small-scale apartment buildings, condos, and townhomes, with most doors opening directly onto the street. Pubs and restaurants dot Allen Street, the neighborhood's spine, bringing conviviality and people-watching out onto the pavement. All that activity has made Uptown the prime real estate location in the region and added $5.5 billion in value to the city.
Deep Ellum, Dallas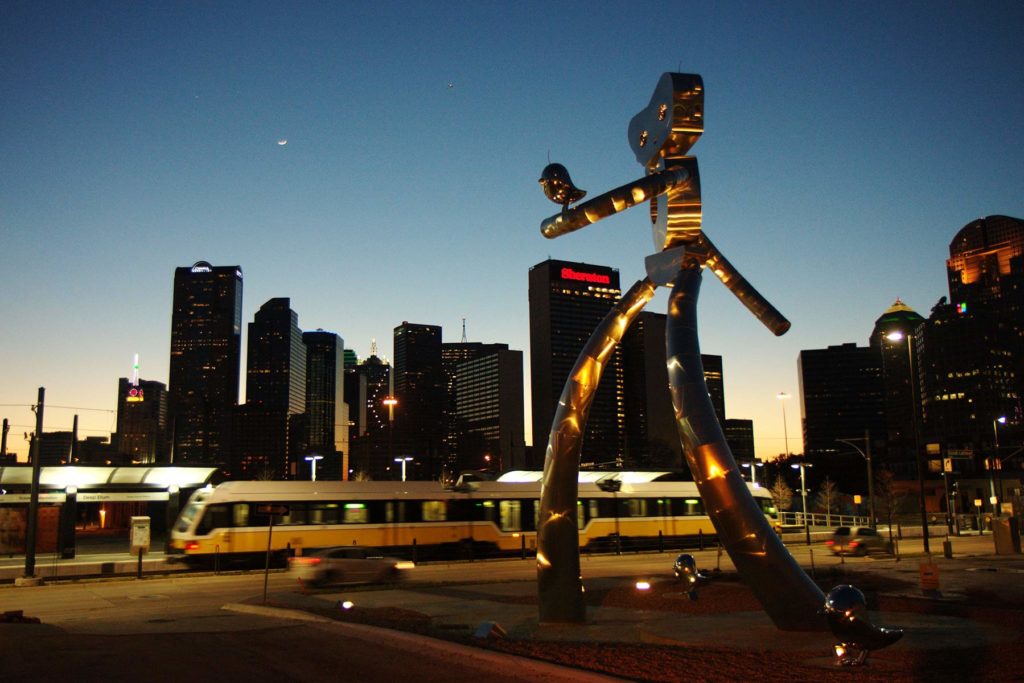 Before its most recent resurgence, Deep Ellum was a painfully cyclical market. Enter 42 Real Estate, headed by Scott Rohrman. After he bought up properties, eventually becoming one of four major landlords in the neighborhood (along with Asana Partners, Westdale, and Madison Partners), he applied the principles of new urbanist legends like Jane Jacobs and Jan Gehl to enhance an already walkable district. He whittled down his mission to five specific goals: increase safety, improve lighting, solve parking issues, get rid of slumlords, and thereby achieve a critical mass of people. Not every outcome has been a slam-dunk; the neighborhood still lacks the density of residents that characterizes State Thomas. But thanks to Westdale and StreetLights Residential, more apartments are on the way. To preserve the cultural vibe that makes Deep Ellum popular, the idea is to ring the historic area instead of intruding into it. How the Epic, a multistory, mixed-use project designed by Perkins+Will, interacts with the street will start to tell the tale.
Sundance Square, Fort Worth
While the Bass brothers were busy buying up land to create downtown Fort Worth in the '80s, Dallas was busy extending the Dallas North Tollway so its citizens could move farther away. Granted, few cities have fairy godfathers like Ed, Sid, Robert, and Lee, who systematically enhanced a city from the inside out on their own dime. Several initiatives Ed and his brothers implemented—namely, subsidizing parking and providing their own security force—keep the district appealing to corporations, tourists, and residents. The result, which has proved its value over and over again in the last four decades, is a 35-block walkable neighborhood that's activated from sunup to well past sundown. And it's going to stay that way. In 2001, the city of Fort Worth created a Downtown Design Review Board, which, like the name suggests, holds proposed developments to a high standard of enhancing the neighborhood from a human scale.
CityLine, Richardson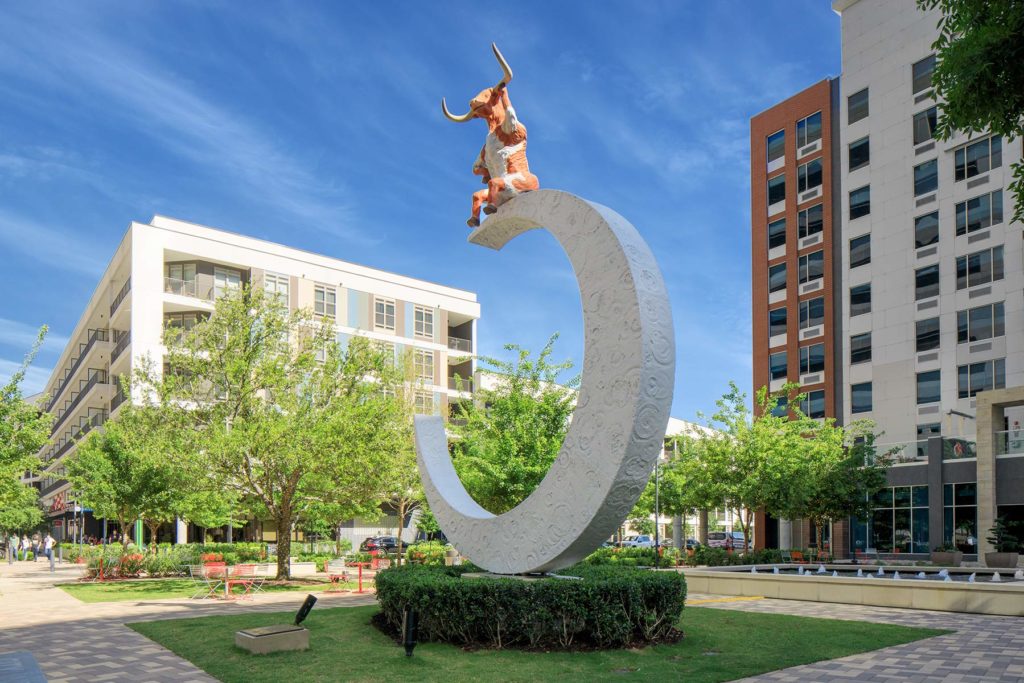 When State Farm went looking for a Dallas hub where it could bring up to 10,000 workers, one of its wishlist items was a transit line. Richardson had the right site, developer KDC made the investment, and Corgan did the master plan with assitance from Kimley-Horn. Omniplan developed guidelines for the State Street retail experience. The city did its first urban form-based zoning while the development team took great care on the new project's streetscapes, lighting, and ground-floor interaction with pedestrians, including wide sidewalks. The result is a successful—and expandable—district with apartments; a hotel; 200,000 square feet of retail space, including more than two dozen restaurants; and the capacity for 30,000 workers. The city also bought 58 acres of native hardwood south of Renner Road and CityLine to expand and preserve the Spring Creek Nature Area.
Southlake Town Square, Southlake
The first iterations of Southlake Town Square feel like the charming hometown you wish you grew up in, with a gazebo, blooming landscaping, and red brick buildings. On some streets surrounding Rustin Family Park, the sidewalks are wider than the streets. In the mid-'90s, the developer, now known as Cooper and Co., worked with the city to change the zoning, and Southlake Town Square, in all its walkable glory, was born. Nearby strip center developments, such as the Shops at Southlake (home of Central Market) and Park Village, followed a different zoning plan when they were built, about a decade later. The result was an ocean of parking without a drop of appeal. Says Cooper and Co. president and principal Frank Bliss: "As you go through the city's zoning, you realize how many times it is telling you the exact opposite of what is required to build a downtown center." Now the primary pressure point in the area is bringing more residential units—apartments, that is—to downtown.
Legacy Town Center/Shops at Legacy, Plano
After moving his EDS headquarters to Plano in 1985 and assembling 4 square miles of land around it, Ross Perot Sr. decided to develop the 186 acres immediately adjacent to serve his employees and those of the national companies headquartered in his business park across the Dallas North Tollway. Andrés Duany's master plan for the Legacy Town Center at EDS called for a mix of retail, residential, offices, and lodging—at the time, a combination so unusual that Plano's codes had to be revised to allow it. The Karahan Companies was selected to create the Shops at Legacy, which became the centerpiece of activity within the center and a major regional destination. Columbus Realty was picked to build 3,600 apartments along narrow, tree-lined streets feeding into the retail area. The result of these combined efforts is the most successful mixed-use development in Texas, and a major attractor of corporate relocations.
Old Town Coppell, Coppell
The revitalization of Old Town Coppell came after many, many meetings between the city, business owners, private developers, and residents. Stakeholders spoke, and the city listened. In 2002, the Old Coppell Master Plan was approved to transform the 100 acres of underutilized space abutting warehouses into a town center with green space for community events, a bed-and-breakfast for visitors, a senior center, and small-scale single-family homes—all laid out on a small street grid with head-in parking, generous sidewalks, and inviting streetscapes. North Texas' version of row houses, complete with the sweetest front porches, live in harmony with restaurants and retail spaces near the Old Town Pavilion that has a playground and splash pad for kids, a weekend farmers market, and a long lineup of community events.
NorthPark Center, North Dallas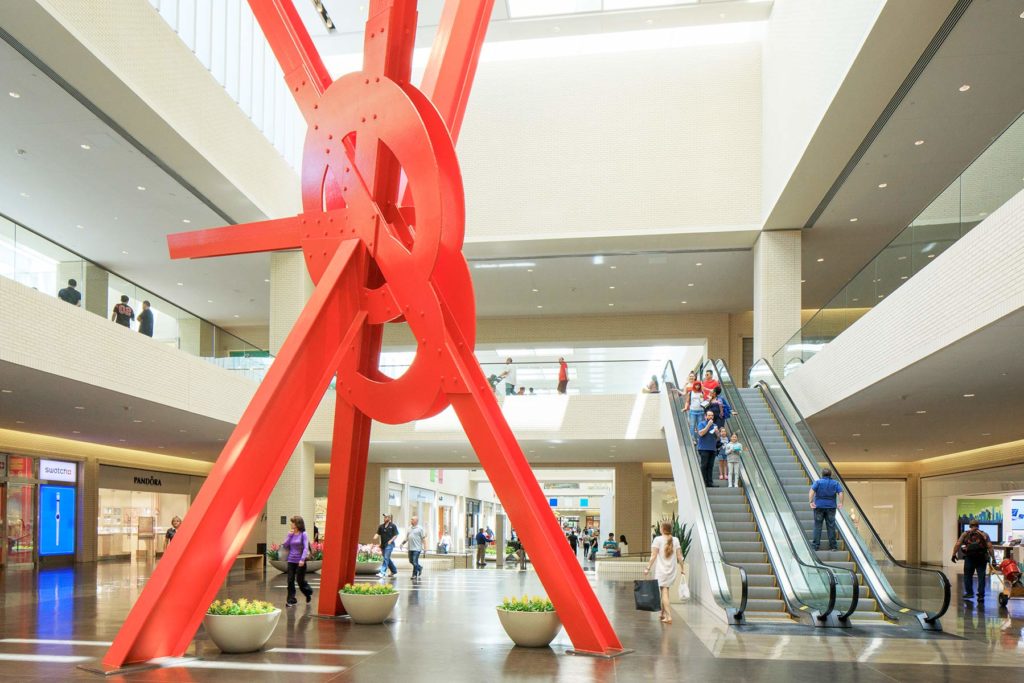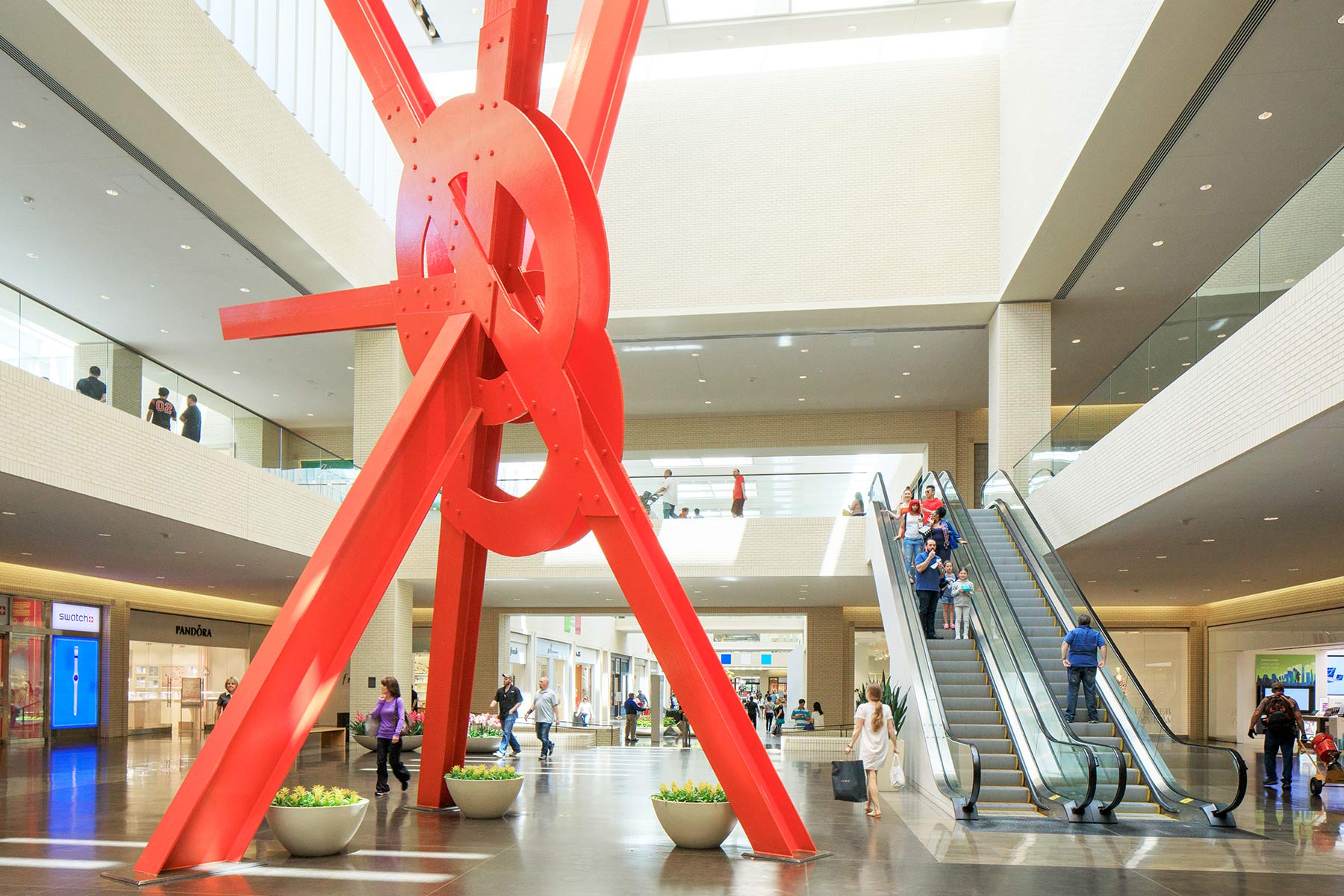 Single-use facilities—such as a shopping mall or a financial district—are neither efficient nor, in the present generation, particularly attractive. So NorthPark has carefully reinvented itself with secondary users. Ray and Patsy Nasher's 1965 vision for an air-conditioned shopping center has been turned by daughter Nancy and husband David Haemisegger into an 18-hour venue for fine dining, moviegoing, art installations, indoor speed walking, coffee-drinking, people-watching, and, of course, fabulous shopping. The 2006 expansion designed by Omniplan (which also did the original 1965 plan) doubled its size and created more interactive attractions, including an outdoor park and public library. Clearly, it's working. NorthPark's more than 200 retailers generate more than $1 billion in revenue annually.
HomeTown, North Richland Hills
On the site of a former airport, Arcadia Realty Corp. and legendary urban planner Andrés Duany created a TND, or traditional neighborhood development, that integrates single-family homes of all sizes (including the cutest little cottages you ever did see), apartments, public art, retail space, a city library, performing arts center, and elementary school, all on a walkable street grid centered on manmade lakes and a cohesive trail system. With the help of a $43 million TIF, Arcadia sought plenty of public feedback for the development that was first conceived in the late '90s. Arcadia also created a guidebook of regulations (covering everything from front porches to architectural styles) to make sure the development, which would be built out over a generation, maintained the same high standards that made it a success initially. The proof: lots that have doubled and tripled in value since HomeTown's inception.
Lakeside DFW, Flower Mound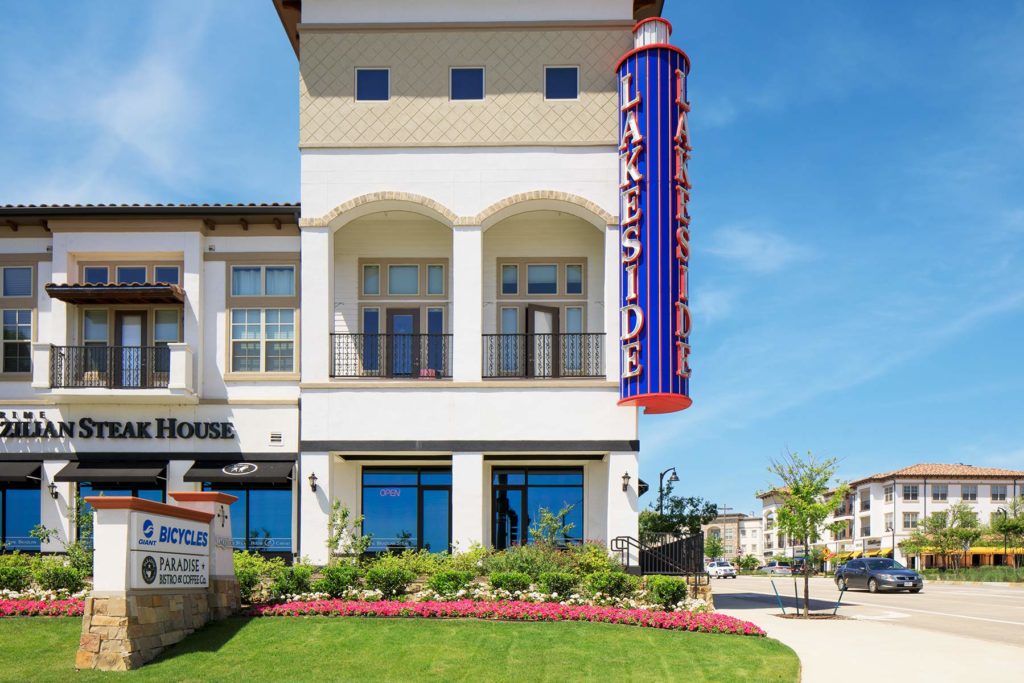 Peter P. Stewart was one of the leaders behind Thanks-Giving Square in downtown Dallas. His family more recently set its sights on Flower Mound. In 2012, the Town Council approved zoning changes to turn 150 acres Stewart had assembled near Lake Grapevine into a mixed-use development. Under a master plan jointly developed by the Stewart family and developer Realty Capital Management, the community features appropriately scaled housing types, putting apartments nearest to retail, followed by small-lot, single-family homes, and leaving the large-lot homes to face the lake. A mix of housing uses, most definitely including apartments, in a walkable neighborhood brings amenities and increases value exponentially. A planned three-level underground garage will ensure the focus stays on pedestrians, not parking lots.
Addison Circle, Addison
Nestled along the Dallas North Tollway, where nobody would ever expect it, Addison Circle is a smaller and quieter version of Dallas' Uptown. The mixed-use development on 124 acres was originally zoned for warehouses. Instead, under the leadership of longtime city manager Ron Whitehead, Addison used the land to create its own brand of new urbanism in the suburbs. Between WaterTower Theatre on the Addison Road end and office buildings off the Tollway, townhomes and apartments of varying levels and architectural styles surround small pocket parks. A 10-acre park on the actual Addison Circle adds recreation and hosts major events, like Addison Kaboom Town. In creating an urbanist master plan and following it to the letter, Addison brooked no compromises. It shows what a suburb can do when it summons the political will to do it right.
Watters Creek/Montgomery Ridge, Allen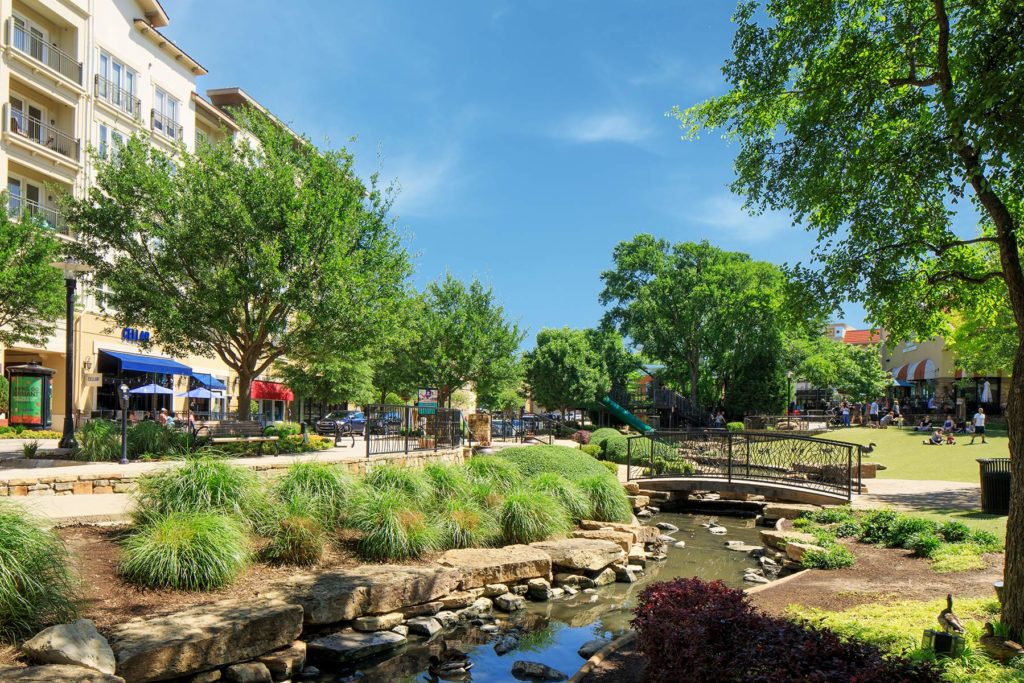 Trademark Property Co.'s Watters Creek, 700,000 square feet of retail space on Central Expressway and Bethany Drive in Allen, feels good on the pedestrian level—and the number of people hanging out at the park called The Green on any given Saturday proves it. But that's not what earns it a spot on this list. Watters Creek is integrating with Montgomery Ridge, the mixed-housing development to the southwest of the shopping center. Montgomery Ridge will embrace the namesake creek and shops to become an actual town center. Using 130 acres, the Montgomery family and Thompson Realty Capital are merging urban multifamily housing, senior housing, small-lot homes, and large-lot homes in a walkable street network that will connect to the southwestern edge of Watters Creek through foot bridges. By connecting the town center with a human element, Watters Creek is putting several thousand potential patrons in walking distance of its development.
West Village, Uptown Dallas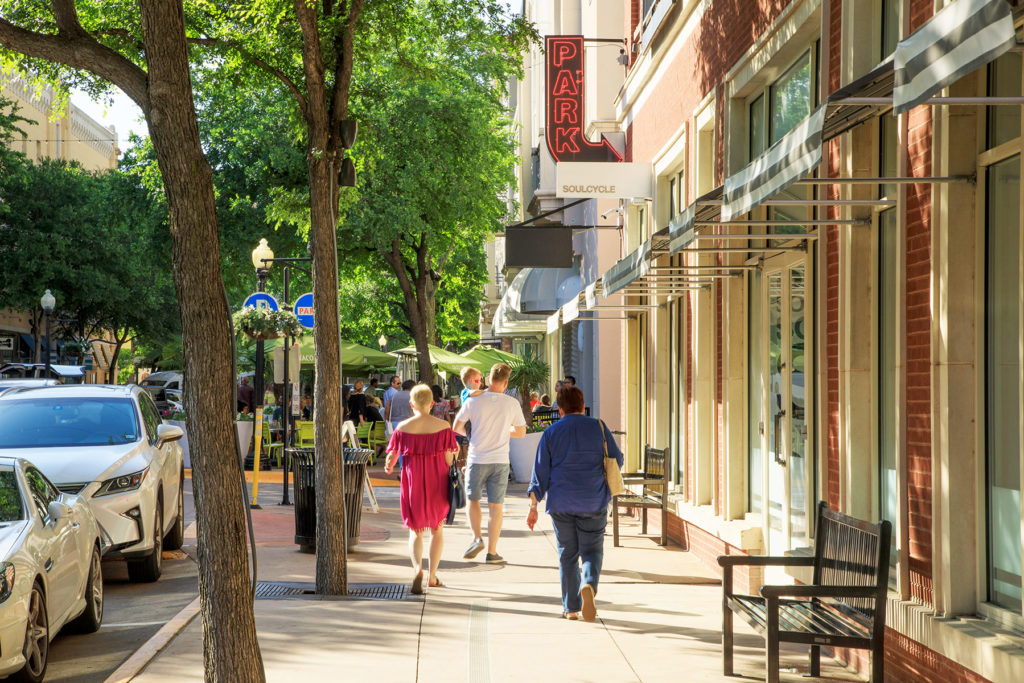 As an inside-facing mixed-used development, West Village should not have worked. But by creating two internal one-lane, one-way streets with angle parking, putting its garage between the two streets, and giving up additional parking to create patios for its restaurants, West Village built a pedestrian-friendly environment that is mobbed at peak times and busy anytime of the day. Opened in 2001, it was the first of its kind and modeled as a smaller and hipper version of Highland Park Village with apartments. Nevertheless, it was an unproven concept and a risky play for developers Robert Bagwell and Henry S. Miller III. Its success has been a catalyst for development of the west side of the CityPlace district on which it sits and which is now home to companies such as The Richards Group and 4,000 apartment units.
Klyde Warren Park, Downtown Dallas
Plenty of brilliant people have fingerprints all over Klyde Warren Park, but perhaps none more than J. Erik Jonsson, the former Dallas mayor. He fought to lower Woodall Rodgers Freeway, as it was being constructed in 1964. Nearly a half-century later, banker Jody Grant and real estate executive John Zogg made Jonsson's dream a reality and raised $112 million from private and public sources. The city opened the park in 2012. The park quickly filled to capacity on weekends and became a mecca for office workers during weekdays. Unfortunately, not having anticipated the park's popularity, the city has been negligent in building sidewalks on its northern and southern ends to accommodate the foot traffic, which can pose a danger to pedestrians. Regardless, property values have more than doubled along the park since 2012, demonstrating vividly to those slow on the uptake that walkability increases returns by a significant quantitative factor.
---
Failures
Victory Park, Downtown Dallas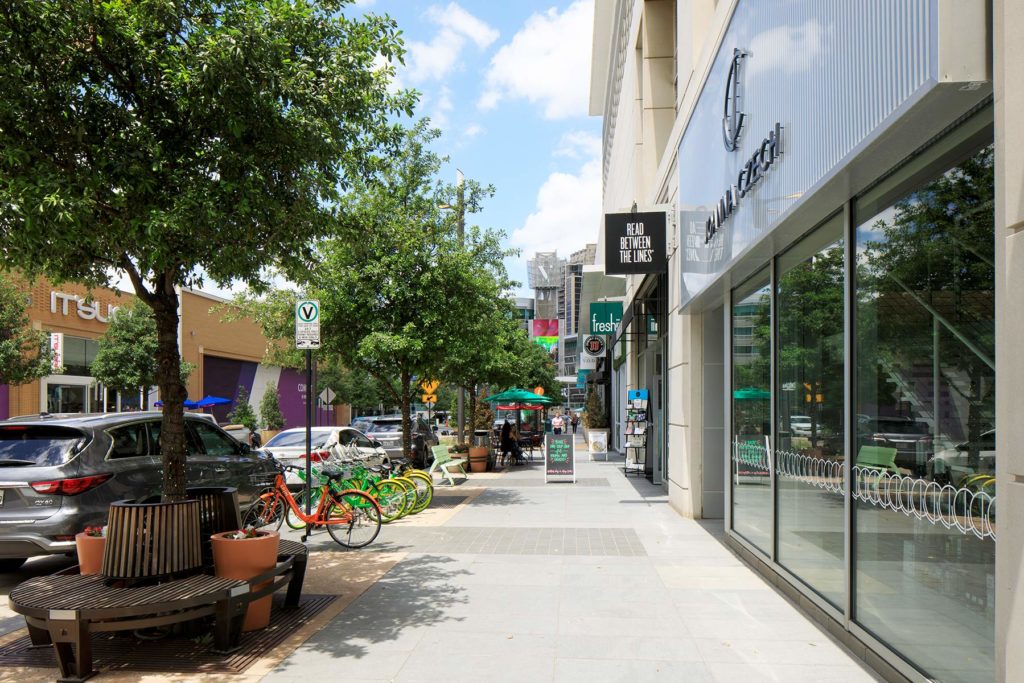 In 1998, Ross Perot Jr. and Tom Hicks made a major contribution to downtown Dallas by placing their new arena for the Mavericks and Stars on the site of an abandoned brownfield power station. But the arena owners insisted on a system of four-lane, one-way thoroughfares to give easy access to gigantic parking lots for games and concerts. Hiring brand-name starchitects for high-rises and recruiting expensive retailers for the ground floors, the planners deliberately went upper scale, overestimating how eager people who paid top price for arena floor seats would be to risk their lives in navigating after-game traffic. As it turned out, potential office tenants and apartment residents felt the same way. Perot ceded control in 2009. But there's redemption afoot: Houston Street and Victory Avenue have been turned into slower, more pedestrian-friendly two-way streets; new apartments are gradually adding residents; and some retail has braved the wintry high-rise architecture to establish a beachhead.
Arts District, Downtown Dallas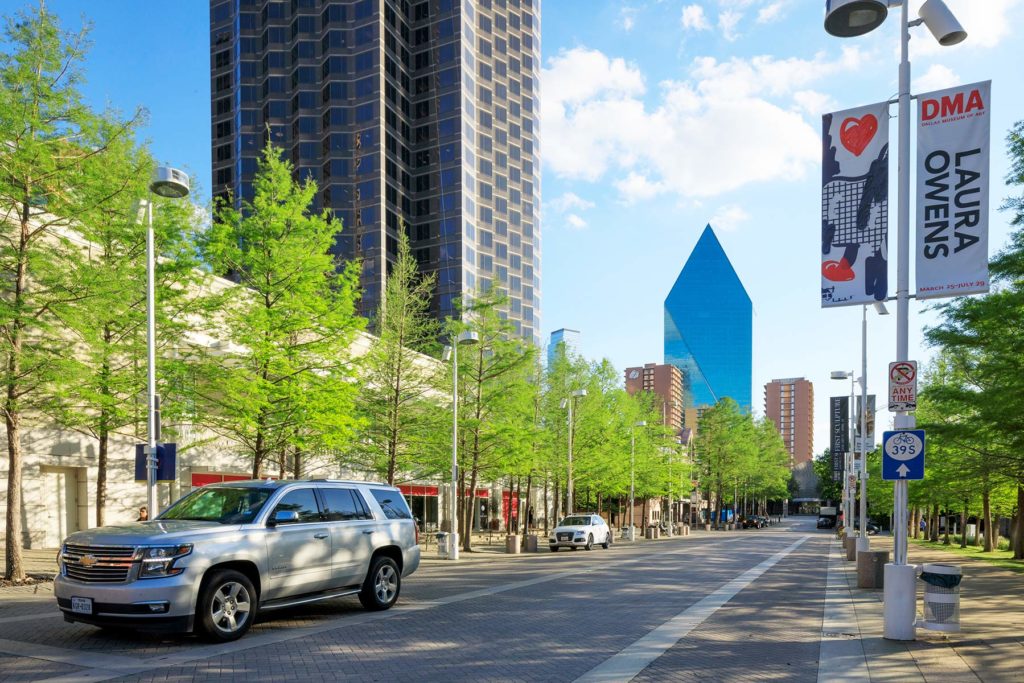 In the early stages of the Performing Arts Center design, urbanists objected to its preciousness and sterility. They were told that the architects would not allow anything to interrupt their particular vistas, and the Dallas moneyed class at the time was so fawningly subservient that it believed them. So Flora Street, which should be the liveliest street in Dallas, instead became a street-as-museum, a display of unactivated buildings instead of a place of kinetic artistic exchange. Fortunately, the private sector is coming to the rescue of the public. Craig Hall's office building will soon be joined by residences and a hotel and already hosts Stephan Pyles' Flora Street Cafe.
Vickery Meadow, North Dallas
Vickery Meadow was built as a singles' haven in the '70s, filled with fenced garden-style apartments lining long, uninviting street blocks. After the passage of the Fair Housing Act in 1988, the apartments transitioned into low-income housing and fell into disrepair. It's tough to see the return on investment in transforming a single property in a poverty-stricken neighborhood when no comprehensive plan exists to strengthen the area. But the Vickery Midtown Public Improvement District and others are trying to change that. In partnership with the NasherXChange program, artist and MacArthur Fellow Rick Lowe created Trans.lation, an ongoing public art project that includes pop-up markets and community events for this diverse neighborhood, where more than 27 languages are spoken. If there's one fact that private investors need to know about Vickery Meadow, it's that 28,000 people live in this 3-mile area, making it the densest area of Dallas.
Sylvan Thirty, West Dallas
In interviewing many urban planners and developers for this issue, this project was blacklisted more than almost any other. There's been plenty written regarding how this project followed the letter—but not the spirit—of the city's form-based code. Mixed-use real estate is not inherently good urban design (and, likewise, good urban design doesn't have to be mixed use). By creating a curtain of apartments towering over shops and with restaurants that face an internal parking lot, developer Oaxaca Interests and architectural firm Lake Flato isolated the project from, instead of adding to, the burgeoning neighborhood on Fort Worth Avenue. We hope Oaxaca has learned its lesson because it is doubling down by redeveloping the nearby W&B Service Co. into about 10,000 square feet of retail space and building 16 townhomes on Commerce Street.
Mockingbird Station, North Dallas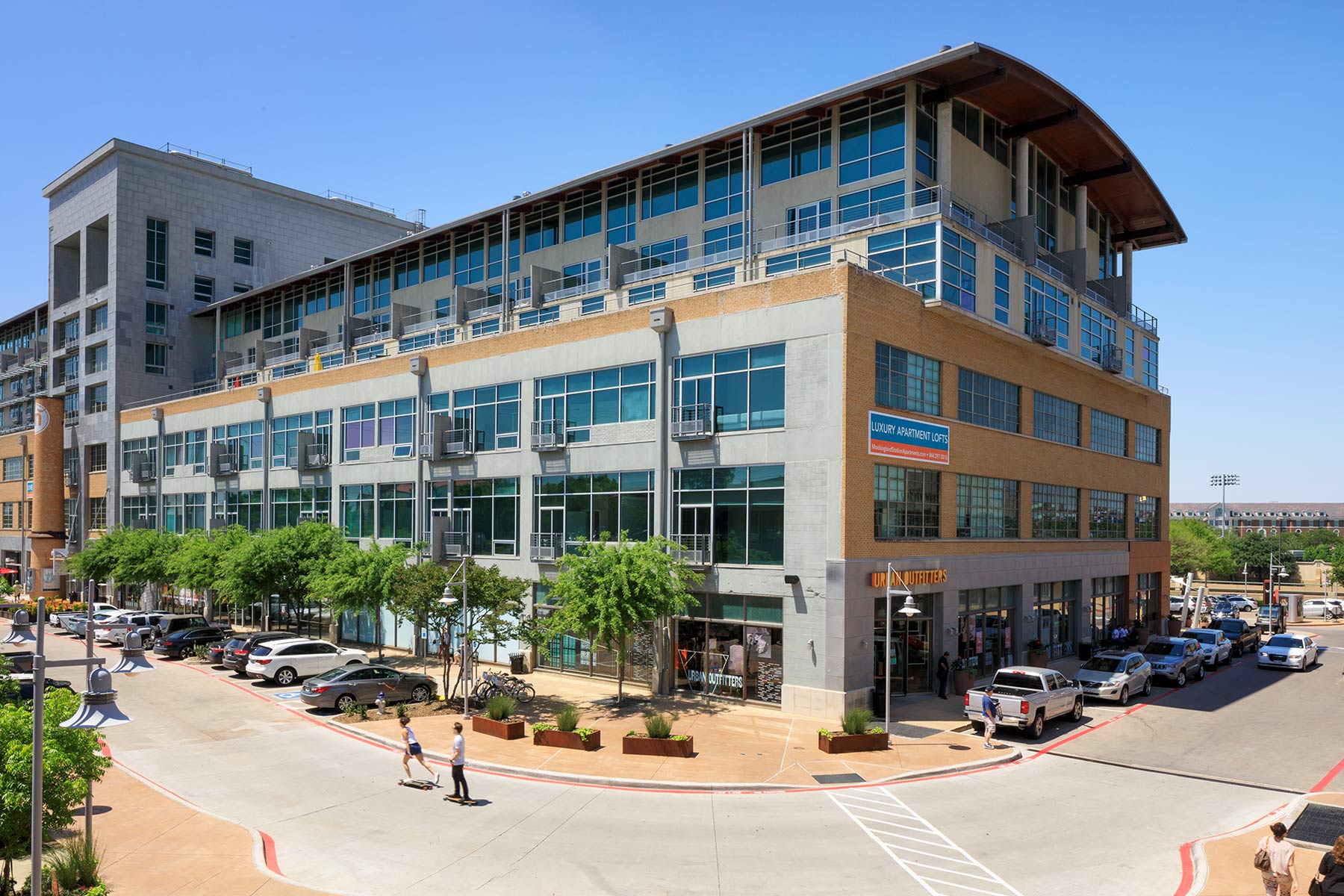 When Mockingbird Station opened, in 2000, it was Texas' first mixed-use, transit-oriented development, a type of project widely considered to generate lasting value for both public and private investment. Thus the late developer Ken Hughes deserves kudos for trying. But the project made too many compromises to car culture to be successful, becoming a single-purpose destination instead of a walkable neighborhood. It looks and feels more like a collection of strip shopping centers dominated by parking lots than a place. Its design is a warning to a newer generation of developers that the right elements by themselves do not magically produce a place where people enjoy interacting with each other and with its amenities.
The Shops at Park Lane, North Dallas
The development's main entrance on Northpark Boulevard is through a parking garage. The inward-facing, sprawling development wasn't constructed to connect to NorthPark Center or DART's Park Lane Station, or to the northern adjacent Caruth Plaza, or to Greenville Avenue. Demand for the project's office space has been strong lately, though, indicated by a planned 11-story office tower on the project's northern side, and the green space connecting Starbucks and Zoës Kitchen has done wonders to help the project feel less sterile. But if it's still more convenient to drive from Nordstrom Rack to Bowl & Barrel than it is to walk—and it is—there's still work to be done.
Fairview Town Center, Fairview
Fairview Town Center's completion in 2009, at the end of the Great Recession, exacerbated what would have been a tough project to prove regardless. The 5-million-square-foot mixed-use development, with shops, department stores, a Whole Foods, and residences, is an urbanist-inspired idea that couldn't make the leap out of suburbia. Even with a dedicated parking garage, the development is visually dominated by a surfeit of surface parking, an attempt to achieve the convenience of a strip center while pretending not to be. To attract major conventional retailers like big department stores, a developer has to do what those conventional retailers want. They want suburban parking, so an urbanist project becomes a suburban parking lot. Lincoln Property Co. bought the project in December 2016, with a commitment to reinvent the shopping center and replace some retail spaces with a central park.
DeSoto Town Center, DeSoto
The city financed the project led by Trammell Crow Co.'s High Street Residential, with the goal of using a mixed-use project to stitch together public buildings like City Hall with apartments and shops, activating all four corners of Pleasant Run and Hampton roads. For all the signage, the center is impenetrable to the driver and unwalkable for the pedestrian. Its stores look the same as other strips along both streets. The project's focal point is a secluded cul-de-sac, and the main visual for the casual driver is a seemingly abandoned T-Mobile store surrounded by blacktop on its major corner. More than a decade later, this project is still an unlit match, serving as an unpleasant reminder to cities that when money is on the table, they should approach a project with a phased master plan done right, rather than hustling for a one-off development done wrong.
---
Head to this link to buy a copy of the issue and learn more about our July 11 urbanism symposium at the Dallas Museum of Art.
Get the D Brief Newsletter
Dallas' most important news stories of the week, delivered to your inbox each Sunday.