Caleb Moore was the first up.
He waved to the crowd, squeezed the throttle, and off he went, the supercharged engine of his snowmobile roaring into the cold night. He hit the first ramp fast, rocketing 35 feet above the snow. Then, at the height of the jump, he put both feet under the handlebars, let go with his hands, and stood straight up on the snowmobile—lifting his gloved hands over his helmet, extending his 5-foot-10 body as far as it could go—floating back to his seat and taking control just in time for the slap landing at the bottom the hill.
With that, the 2013 Winter X Games snowmobile freestyle competition was under way. It's a made-for-ESPN event broadcast from Buttermilk Mountain in Aspen, full of bright lights, flamboyant outfits, thousands of spectators, and big-money sponsors, including Jeep and the U.S. Navy. The cameras followed Caleb as he turned his snowmobile around and set himself up for back-to-back jumps. On the first, he pushed himself off the machine until his chest was parallel with the seat, twisting his legs in the air behind him. On the second, he did a backflip that had him dangling from the handlebars mid-flip, then deftly swinging back into the seat just before landing. 
"He'd been stomping these incredible tricks in practice," Colten Moore, Caleb's younger brother by two years, would later explain. "We knew he had a ride that if he pulled it off would be unbeatable."
In snowmobile freestyle, each contestant has two runs of 75 seconds each to do as many tricks as possible for a panel of judges that often includes former riders. Every run is scored for creativity, amplitude, and precision—and showmanship helps. The result is two hours of audacious young daredevils flipping and twisting through the air on 450-pound sleds. 
The announcers that night introduced Caleb as one half of "the infamous Moore brothers." They told the television audience that Caleb and Colten grew up riding four-wheelers in Krum, Texas, about 50 miles north of Dallas. The brothers had shocked the world of competitive snowmobiling three years earlier when, after only a month of riding sleds, they entered the 2010 X Games and Caleb won a bronze medal in this event. Between them, the Moore brothers had taken home six medals in three years, and Caleb had been telling people that they finally felt like they belonged here.
As Caleb made his way around the course, his red and yellow shirt became a speeding blur. On his next jump, he spun his body all the way around on the snowmobile seat before landing on the other side of a hill 70 feet away—a trick he had missed twice in practice earlier that day. He had 30 seconds left on his run. He shot up the next ramp and into another backflip. This time, mid-flip, he put his boots on the handlebars and lifted his knees past his chest, holding what looked like a yoga pose over the hood of the sled as he flew through the air. He landed and headed straight to the next ramp. He started another backflip, with a leg kick under the sled, a trick riders call a "tsunami indy flip." This time, though, something went wrong.
The sled under-rotated. The skis at the front stuck in the top of the hill, sending Caleb over the handlebars head-first into the snow. The crowd gasped. He slid down the hill, and the snowmobile came tumbling after him. It bounced once on its back end and landed on his chest and head, driving his body into the side of the hill. As the machine flipped away, Caleb lifted his right arm and turned his head, like he was getting up. But he fell back, splayed in the snow.
Medical personnel were at his side in seconds. So was Colten. After a couple of minutes, Caleb stood up. He looked dazed. With help, he was able to walk to the medical tent. Colten thought his big brother was fine, like he always was. 
The medical crew said Caleb had a concussion and sent him to the hospital for further evaluation. The doctors in Aspen found bleeding around Caleb's heart, and soon his brain wasn't getting enough oxygen. He was flown to Grand Junction for emergency surgery, but in the days following, his condition didn't improve. 
A week later, on January 31, 2013, Caleb died, the first fatality in X Games history. He was 25.
• • •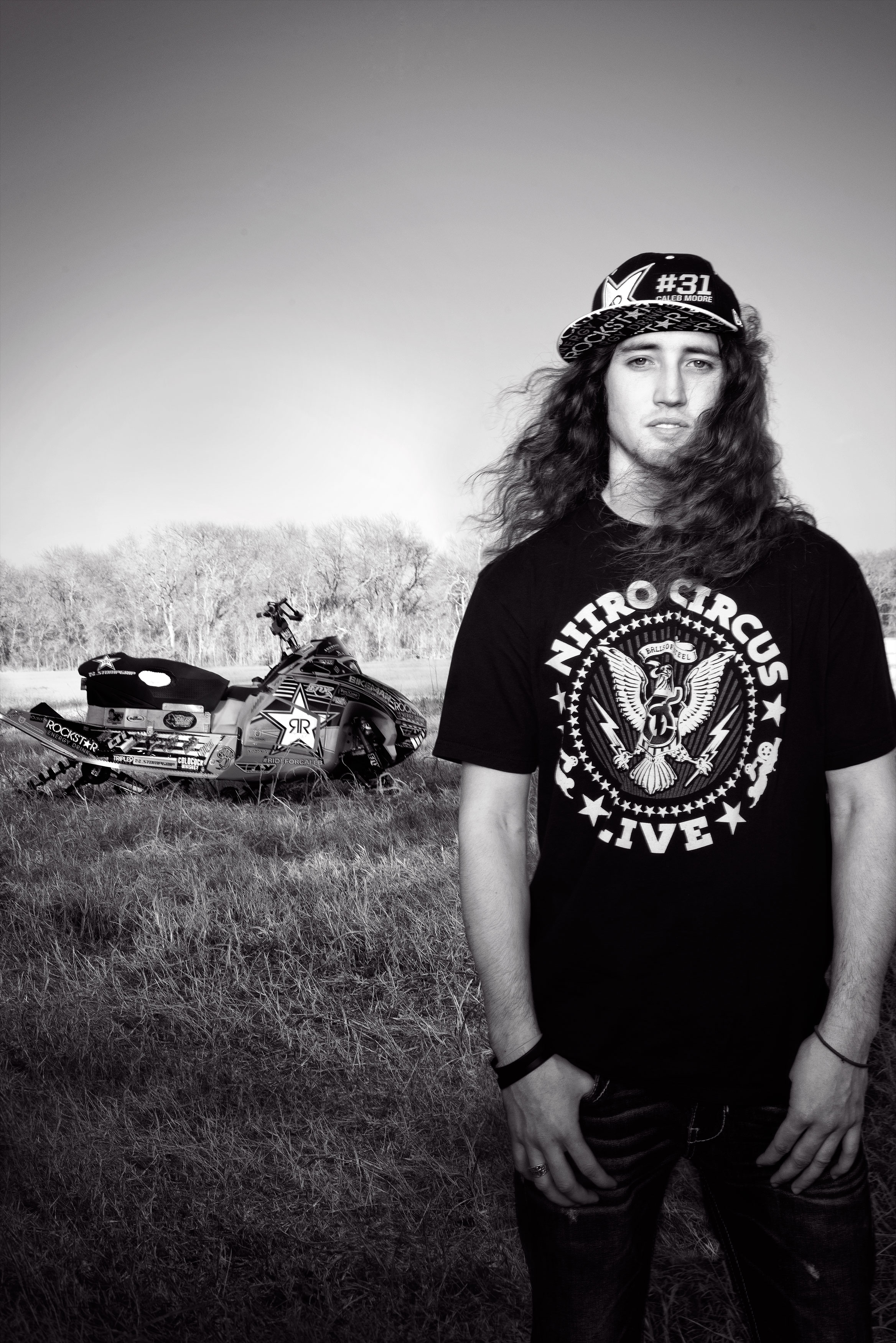 The house Caleb and Colten bought together in Corinth, just down I-35E from Krum, looks mostly as it did a year ago. There's a pool table that doesn't get much use. There are a few medals and helmets and jerseys on the walls, photos of family and of the brothers together. Caleb's room looks much the way he left it. His Ford F-150 Lightning and the blue Shelby Mustang GT he bought a few weeks before the crash both sit in the garage. Colten says that every so often he has to go out there and start them, to keep them running. He plans to do it later this afternoon. 

It seems so quiet around here these days. Colten is sitting in the living room they shared, telling the story about how, when they bought the house, the sweet couple selling it offered them all this nice furniture, too. He and Caleb walked around with a list, checking off everything they wanted, imagining the raucous parties they were going to throw. They had one big blowout here and decided one was probably enough.

Sometimes Colten gets tense as he's talking about his brother. His lips tighten, and his words slow. He has to stop. He shakes his hands and wiggles his shoulders a bit to stay loose, to keep from breaking down. 

In a lot of ways, Colten is like most 24-year-olds. He likes video games, burritos, going to chain restaurants with his longtime girlfriend, Ashley. He just happens to travel the world, performing incredible stunts for huge audiences, while getting paid enough to own a big house in the suburbs and have some left over to start a Charles Schwab account. When he was in school, he figured he would go to college and get "a normal job." He went this route because his brother did it first.

"Since they were little boys, if Caleb wanted to do it, then Colten wanted to do it," their father, Wade, says.

Colten has always been a bit more taciturn than his older brother. In interviews, Caleb used to do most of the talking. Caleb was charming, with broad shoulders and a wide, easy smile that had other riders (and at least one publicist) referring to him jokingly as Dreamboat. Colten would sit there, his hair popping out from under the flat brim of a hat, giving curt answers. Sometimes producers had to prod the bashful younger sibling to get him going. 

He still talks to Caleb every day. Sometimes it's out loud. Mostly it's not. It feels like his brother is still with him.

"We were closer than most brothers," Colten says. "Everything we did—riding, racing, anywhere we went—it was always me and him. He basically taught me everything I know."

Their parents settled in Krum when both boys were in elementary school. Wade is a truck driver. Their mother, Michele, is a school librarian. Sometimes the boys would go visit their mom in the library. They'd offer to clean up, shelve books, anything that needed to be done. "They were just looking for any excuse to get out of class and hang out together," she says.

"They were brothers first, above all things," Wade says. "They would always put each other ahead of anyone else. And if you messed with one of them, you better start turning your head, looking for the other one, because he was coming."

They grew up bouncing on trampolines, trying to impress each other with flips and tricks. They'd ride their bikes together, jumping off anything that looked like a ramp. Caleb was always first. Then he'd turn to Colten and goad him into trying it, too. 

"It was like he didn't have any fear," Colten says. "I'd want to sit there and figure out if I could do it, and he'd be there saying, 'Come on! If I did it, you can do it.' "

Caleb could deal with anything, adjust on the fly. He would reassure Colten. 

"We got this," Caleb would tell him. "Everything will be fine." 

To Colten, it seemed like his big brother was invincible. He remembers one afternoon when they were maybe 8 and 10. They were having fun fishtailing their bikes down a dirt road. They'd pedal fast, then pull the rear brake and slide through a cloud of dust. One time Caleb accidentally squeezed the front brake, sending himself over the front tire.

"But somehow he held on to the handlebars and did an entire front flip," Colten says. "He landed back on both wheels. I still to this day have no clue how he did it."

When the boys were around 10 and 12—Colten has a terrible memory, something he attributes to his roughly 10 concussions—Wade brought home three ATVs. The three of them would ride through the woods, sloshing through creeks, zipping across clearings. Soon it was the only thing the boys would talk about.

"I'd be sitting there in school, and the teacher would be talking," Colten remembers. "And all I could think about was going out and riding with my brother."

Caleb and Colten would push each other, going faster and faster, cutting tighter and tighter. It didn't take long for them to start entering organized races—and winning them. Caleb, especially, dominated. 

"It all comes back to being fearless," Colten explains. "If you don't have any fear, you're gonna do things the riders with fear won't do."
Get the ItList Newsletter
Be the first to know about Dallas' best events, contests, giveaways, and happenings each month.