Whether it was racing or jumping, Caleb seemed to have an innate understanding of the physics involved and a highly developed sense of proprioception, knowing what his body was doing even when it was flipping through a parabola, barely tethered to an ATV. He had what his father calls "an uncanny ability to know how fast to go without anyone doing it before him." Other riders compared him to a musician who can hear a song once and play it by ear. He could see a trick one time and understand how it worked. He booked a job promising to do a backflip on an ATV before he'd ever tried one. He had a month to figure it out. But that was Caleb. Wade and Michele were among the 50,000 people there in Montreal that night to see him pull it off.
Colten doesn't work that way. He has always wanted to sit down and consider each step in the process. He watches video over and over, and practices his tricks in a foam pit dozens of times before moving to dirt or snow. It took him a year and a half before he was confident enough to flip a four-wheeler on dirt. He had two tough crashes in the process—"I honestly didn't think I was ever going to do it," he says—but Caleb pushed him.
Showmanship also came much easier to Caleb. Even when they were only racing, he'd do spectacular tricks for the small crowds of family and friends camped out by the biggest jumps. "It really bothered some of the other riders," Wade says, laughing. Later, as Caleb's star grew, he never failed to sign autographs or to pose for photos with fans. When he was performing stunts on national television and in front of packed arenas, he'd always nod at the camera and wave to the crowd. And when he hit a big trick, he'd ride to the top of the tallest hill and park on the landing. He'd stand up and throw his hands in the air. 
"We used to talk about it," Colten says. "There's nothing like that moment after you pull a giant trick, and all your hard work has paid off, and you just ride up to the landing, and you're just like—" He shakes his head. "There's nothing that can describe that feeling."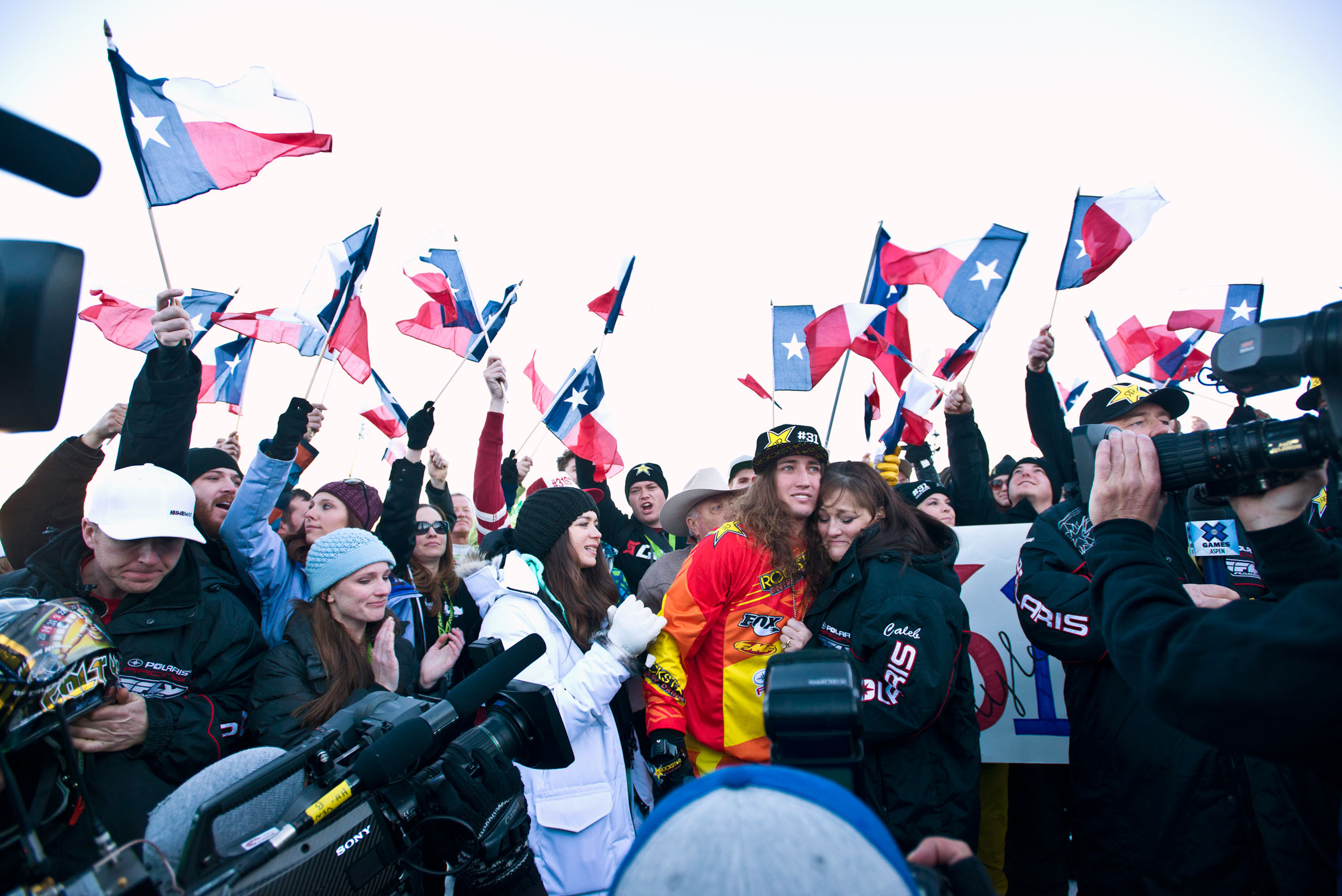 The brothers were there in Costa Rica when Jeremy Lusk died in a motocross competition in 2009. They saw the dangers early on. Every week, someone they knew crashed. Sometimes it was just broken bones. Sometimes it was worse. They knew people in wheelchairs. They knew people who never got up. 
Wade and Michele would talk about it with the boys. "You know anything can happen out there at any time," Wade would say.
Caleb would nod. "I know where I'm going if I die," he'd say. "And that's a better place anyway."
Both brothers had plenty of broken bones and concussions. Most of Colten's teeth have been knocked out. He had a bad wreck not long after they started racing. He remembers passing someone on the outside of a turn, on the muddiest track he'd ever seen, then waking up on the other side of a creek. He had two broken femurs and a cracked pelvis. He got pins in his thighs and had to wear giant braces on his legs for months. Stuck at home, he missed school and his friends. What he missed most, though, was riding. Before he could even walk, he begged—and begged and begged—his father to lift him onto an ATV. 
Wade thought about putting a stop to it all. He talked with his own father, a rancher who lives in West Texas and was concerned for the safety of the boys. Ultimately, Wade knew how much they loved racing—how much he loved it, too. "They grew up in the racing community," Wade says. "These are our close family friends. We know the other racing families better than we know any of our own neighbors." They also figured that even if they could stop their boys, soon enough Caleb would be 18 and able to make his own decisions. The parents worried, but they also didn't want to stand between their talented, driven sons and the thing they loved.
"Anytime you get on the highway to go somewhere, you're risking your life," Wade says. "And most of the time, we're not doing the thing we love doing in this world."
Within a few years of racing, Caleb qualified for a national circuit. Wade knows it must sound crazy now, but they let Caleb drive by himself to races all over the country, even while he was still in high school. He always made it home without trouble, though. He was earning a little bit of money, too, but he didn't like being away from his brother.
Colten took extra classes at school so he could graduate early and join his brother on the road. Soon they took the tricks they were doing in the middle of races and entered an ATV freestyle contest. They did better than anyone expected, and someone even offered them $200 to ride in a video. 
"We basically knew at that point what we wanted to do with our lives," Colten says.
Wade was not enthusiastic about their desire to ride freestyle. They'd already spent so much time and money on racing and some of those stunts seemed so crazy. But soon Caleb had an agent who wanted to pay him to perform in arenas all over the world. The shows were full of pyrotechnics and heavy metal and, on occasion, monster trucks. And at every opportunity, Caleb would tell his agent about his little brother and all the fantastic tricks he could do. When he finally convinced someone to give Colten a shot, he then had to convince Colten that he could do it. Colten actually crashed in his first show, but Caleb was relentless with both his little brother and the promoters, and Colten eventually got another shot. Every time her sons left home, Michele would remind them to take care of each other.
They needed a place to practice, so Wade and the boys built a ramp and a giant pit in the backyard. They collected thousands of pounds of scrap foam to fill it and a tarp to protect it from the sun and rain, and Wade constructed a crane big enough to lift out any number of vehicles. The boys would spend hours out there jumping, one after the other, perfecting tricks, pushing each other.
Each brother believed the other was superior. Caleb would talk about how natural and easy Colten's backflips looked. And nothing could ever convince Colten that he was better than his brother.
They performed in Africa, Asia, South America, and all across Europe. They liked traveling, but they came to realize that ATVs had a limited audience. They aren't a part of the X Games, and ATV events rarely get televised, which means they'd hit a ceiling when it came to sponsorships and prize money. 
The boys were in the living room one day with Wade watching the 2009 Winter X Games. The snowmobiles were on. 
"You know," Wade said as he watched the freestyle tricks, "y'all can do that. You're doing more than that on quads already." 
Colten could see Caleb's mind turning. "Once Caleb got something in his mind, it was going to happen. Like, book it. It's done."
• • •
After getting snowmobiles from a sponsor, the boys made a demo tape in their backyard in Krum to show the ESPN executives what they could do. They launched trick after trick into the foam—they found that the acceleration of a snowmobile made it easier to flip than an ATV. X Games organizers invited Caleb, but they weren't so sure about Colten. Again it was Caleb on the phone, explaining what a great addition his brother would make. 
The first time either of them actually rode a snowmobile in the snow was 44 days before the 2010 event. When they got to Aspen, they found out a few competitors—guys who had grown up in the North, riding snowmobiles to school—weren't happy with the way these newcomers from Texas were crashing the party. Colten, standing next to his brother on the cold mountain, told an interviewer, "We wanted to ride X Games, so we came here and did what we do best: wing it." 
Announcers on the night of the freestyle event poked fun at Caleb when he had trouble turning around his machine in the snow drifts. But once he hit the ramps and he was flying through the sky, Caleb looked comfortable. As he stood in front of the flashing lights later that night, bronze medal draped around his neck, Caleb grinned coyly, like he'd been expecting this all along.
Before the next year's games, the brothers told producers to expect something they'd never seen before. That year, Caleb won another bronze in the freestyle event and a silver in the best trick competition. During Colten's best trick run, he got off his sled, waved for his brother to come over, and hopped on the back of Caleb's sled. Colten wrapped his arms tight around his big brother's chest and the two of them rocketed toward the ramp and into the world's first-ever tandem snowmobile backflip—Colten dangled his feet off and clicked his heels for good measure before they landed smoothly on the other side. Then Caleb drove the sled to the top of the landing, and they both jumped off. They threw off their goggles and hugged. Caleb ran over to celebrate with the television camera, and Colten followed. The judges didn't know what to do. In the end, they decided it was an individual event and disqualified the run, but the crowd in Aspen had never been louder. The clip ran again and again on SportsCenter that night and all the next day. Strangers still come up to Colten in public and talk about that trick.
Colten says that is probably the best moment of his life. Standing up there with his brother, the crowd screaming, cameras flashing. It felt like they were on top of the world. 
"I had more trust in him than I do in myself," Colten says, looking back. "If he says we got it, we got it. And people don't realize, with both of us pulling, it's even easier to flip."
Not long after, they bought the house in Corinth. A quiet suburban neighborhood 15 minutes from their parents seemed about right. There's a big backyard with a pool and enough bedrooms to dedicate one to video games and another to Caleb's clothes.
By the time the 2012 X Games rolled around, Caleb got another freestyle bronze, even though he was hurt. So hurt, Colten remembers, that Caleb could barely get off the couch when they were practicing. Colten took gold that year in freestyle and silver in best trick, with a tsunami flip. It was the first time he'd bested Caleb in a competition. "The only reason I beat my brother is because he was injured," Colten says. "If he hadn't been hurt, he probably would've been beating my ass."
Caleb was excited for Colten, but the big brother also told him: "Dude, that's not happening next year. Next year I'm taking it."
They were born almost exactly two years apart, but two years can be a lot growing up. There's a big difference between 10 and 8, 12 and 10, 14 and 12. In Colten's experience, if Caleb didn't want Colten to win something, Colten wasn't going to win.
As the 2013 games approached, the Moore brothers were the favorites. 
"Caleb was already doing the biggest backflips in the game," Colten says. "And he was adding new things nobody could do."
Caleb had a small crash in practice a few weeks before the event and hurt his back. Nothing too serious—athletes at this level are accustomed to performing with a slew of injuries. Caleb asked his little brother to pop his back. Someone came in and asked Caleb if he needed to see a chiropractor. 
"He just looked at me and said—" As Colten recounts the story, his lip tightens. He shakes his hands to loosen up. "He looked at me and just said, 'Nah, I've got my brother.' "
• • •
When Caleb crashed, Colten was standing a few feet away, watching. He ran over to his brother and kneeled by his side as the medical staff went to work. Colten noticed that Caleb's eyes were closed, and he was making a gurgling noise that sounded almost like he was snoring. When Caleb finally woke up, he told his brother he felt like he'd just had "the longest dream."
A few minutes later, it was Colten's turn to ride. He was introduced as "one of the most exciting guys ever to throw his leg over a snowmobile." Clad in black and white, with his long red curls streaming beneath his helmet, he started with a big jump that had him flying above his sled, holding onto the seat with only his right hand. His third jump was a backflip on the same hill where his brother had just under-rotated and crashed. Colten hit the ramp too fast and over-rotated the flip. Hurtling past the landing, he let go of the sled and fell into the compacted snow. As he tried to move, he knew immediately that something was wrong with his right hip, and he cried out in pain.
When Colten was taken to the same hospital as his brother, most people thought Colten's injury—what would turn out to be a separated pelvis—was more serious than Caleb's. Colten certainly did.
"I expected to get to the hospital and see him and be like, 'Hey, bro, I couldn't leave you hanging here alone.' " 
Colten was discharged after a day, but the family stayed by Caleb's side, hoping that he'd wake up and open his eyes any second. But that never happened.
Thousands of people sent cards, flowers, notes from all over the world. Celebrities like Tim Tebow, Lil Wayne, and Travis Pastrana sent out tweets of condolences. The snowmobile and ATV communities came together to mourn and support the family.
Some people outside the community were cruel. They mocked Caleb's death. In the comments beneath news stories, people blamed the parents, the doctors, the event organizers, the sponsors.
Friends and family held a "celebration of life." They rejoiced in a life lived without fear, a young man who pursued joy in nearly every moment and died doing something he loved.
ESPN announced efforts to make the snowmobile events safer. Gone was the best trick competition, replaced with a long jump contest. Now, riders are required to wear protective vests, and the snowmobiles have additional springs that might prevent the ski tips from catching at the top of hills.
It took two months for Colten's pelvis to heal. During that time, his father sat him down and asked him if he still wanted to ride.
"Nobody would blame you if you didn't," Wade said.
"Of course I do," Colten said. He said he wanted to continue Caleb's dream, to bring glory to his brother's name. Being on the back of an ATV or a sled is what made him feel closest to Caleb. "Besides," Colten says. "If he knew I was quitting, Caleb would smack me. This is what he would want."
Before long, it seemed like Colten was riding better than ever. Fellow riders say Colten can do things now that Caleb never could. It probably has something to do with Colten's grueling practices, or his drive over the last year. Colten says it's something else. He says it's the same fearlessness Caleb had.
"It's like the part of him that wasn't afraid went into me." 
• • •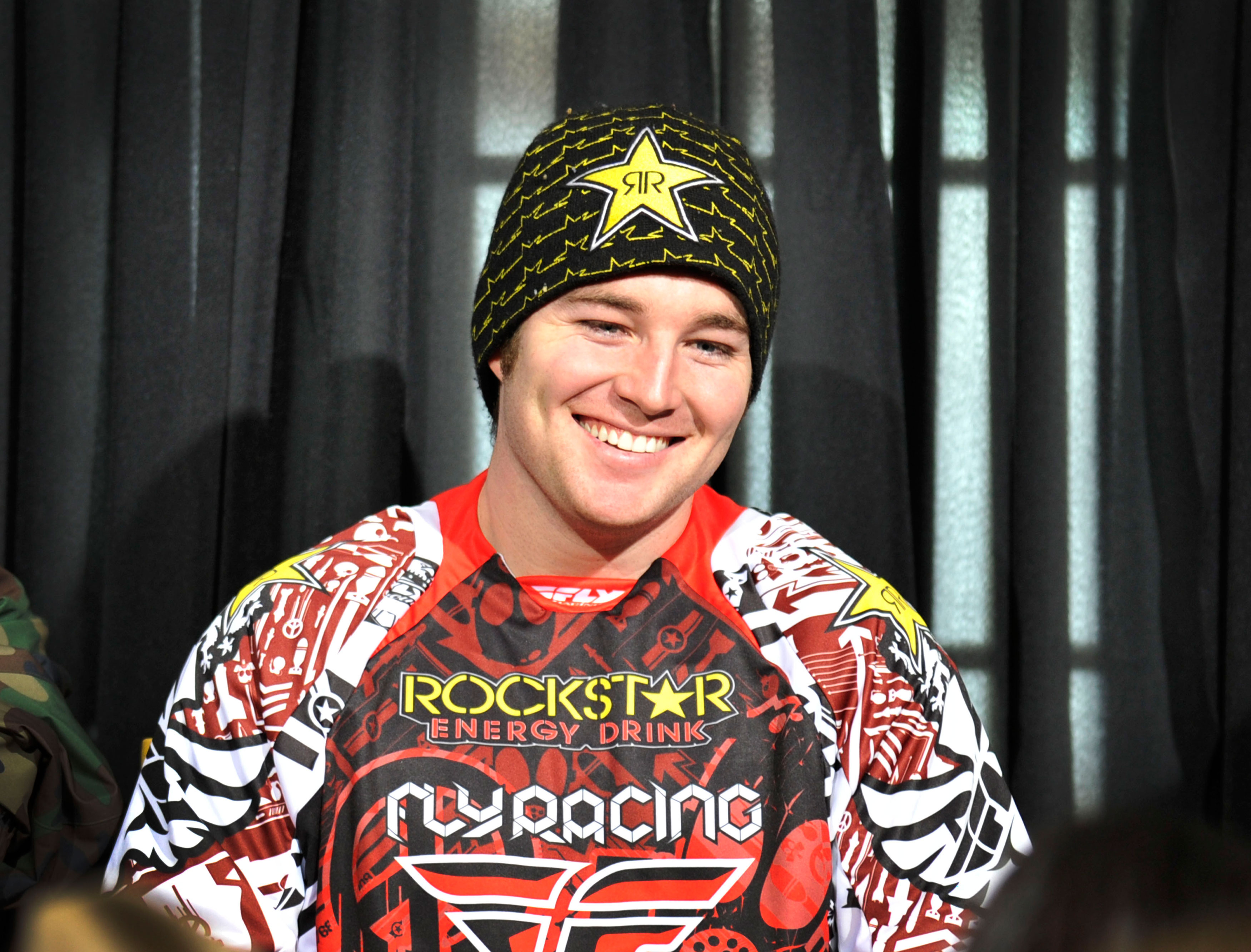 It's January, Colten's first trip back to Aspen since his brother's crash. The sun is bright in the Colorado sky, and Colten seems relaxed. He's outside, looking at the mountains in the distance as he warms his feet by a space heater. "You never really get used to the cold," he says. 

Soon he's back on the course, his snowmobile roaring as he flies through the air. This feels better. Yesterday's practice was tough. Colten was tense, quiet. His publicist has requested that reporters not ask him anything about his brother or what happened last year until after Colten has finished competing.

Wade spent most of the first practice watching from inside the tour bus Rockstar let the family use. He says he's just trying not to break down in front of Colten. It's hard. For years, it was always the two brothers out there. Michele didn't want to be at the mountain. She ensconced herself at a rented cabin a few miles away with some of the 60 or so extended family and friends who traveled from all over the country to be here. 

The course is much bigger in person than it appears on television. There are gunning, growling engines and high-flying action, but for large portions of each run, the rider disappears, until a flash of bright color pops out of the snowy hills on the horizon.

Today he's doing more backflips, piecing together his big tricks. He's talking with other riders, laughing and smiling like he used to out in the woods with his dad and brother. After hitting a few big maneuvers, he shakes his shoulders like he's dancing and gestures like he's hammering—his way of telling his friends he "nailed it." 

He's still smiling as he makes his way back to the bus. But a reporter, a freelance writer from Grand Junction, stops him. There's a recorder in his hand. For the most part, his family has kept Colten shielded from the press, especially in the hours before the big night. But here Colten is, trying to politely answer questions about his brother and being back and trying to win gold for Caleb. He used to tell people, "We don't wear no lucky socks or nothing. We just ride with each other." Now he has to explain that he's wearing Caleb's cross under his jersey. As he talks to the guy from Grand Junction, Colten's expression and body language change. He's not smiling anymore. And he's not dancing. He's quiet.

The final practice before the competition doesn't look as good as the morning run did. He hesitates over a few jumps. At one point, he falls off the sled entirely. The group of supporters, most of whom are waving Texas flags, gasps as they see him lying in the snow. He makes an exaggerated hand gesture that lets his team know he's all right—just frustrated. He gets back on the sled and makes his way over a few more jumps, then it's back to the bus.

The sky goes dark long before the final event. His family joins hands for a prayer circle next to the tour bus. They give thanks, then pray for Colten's safety. Then Colten and his father make their way into the contestants' area, where a camera crew focuses on them constantly.

Because the television producers know how to maximize drama, Colten is the last of the eight riders scheduled. That means he has to sit on his sled and watch as each rider takes his 75 seconds, but at the end, he'll know what he has to beat. Each rider will get two runs, and the best of the two is the one that counts in the final ranking. 

Most of the riders are pretty conservative in their trick selection, but one by one, everyone makes at least one big mistake. When it's his turn, Colten knows he could take the lead with a clean, conservative run. But he doesn't want to ride with fear. 

He starts his engine and points to the sky. He asks Caleb for help. And he can hear his brother's voice telling him everything will be fine. Then he races up the first ramp and into a hands-free backflip. On his next approach, he blasts full speed into a giant backflip over the 100-foot ramp. In the middle of the flip, he lifts his legs high enough to click his heels over the seat. Then he does a mid-air handstand, his hair floating behind his helmet. Then a full-body extension—gloves over his helmet—as he steers the handlebars with his feet. He does what's called a stripper flip, then a seat-grab flip. His time runs out, but Colten hits another jump anyway, turning a gigantic flip 50 feet in the air.

By the time he lands, he already knows. He can tell from the crowd's roar. He drives his sled over to his father, who has tears in his eyes. His mother is crying, too. And so is Colten's grandfather, who drove in from the ranch. And nearly all of the 60 people gathered beneath the Texas flags. 

When his score is finally posted, Colten finds himself in the lead, but there is one more round to go. Each rider has one more chance to best his score. There are some good runs, but again, each rider runs into problems. Colten's first-round score holds up, and he doesn't even need to take a second run. But he decides to take a glory run anyway. As he pulls away, an announcer declares: "There is no one happier on this earth tonight than that man."

Colten waves to the crowd. He speeds up the first ramp, his hair streaming, and turns another giant flip in front of his family. Then he turns around and does it again, even bigger, this time dangling under the handlebars, his snowmobile above him as he soars through the air. 

With 40 seconds left on his run, Colten throttles back, cruising past his father and the other riders, then heads for the tallest hill. He drives to the top and parks on the landing. Then he climbs off and points to the sky. Nothing can describe his feeling.
Get the ItList Newsletter
Be the first to know about Dallas' best events, contests, giveaways, and happenings each month.