North Texas' grocery retail sector has seen only a handful of disruptions over the years. There was a time when stores were clustered in downtown Dallas. Then came sprawl, and grocers found great success by following rooftops to the suburbs.
Another big change came when Walmart began opening supercenters in North Texas. Other retailers tried to follow, selling everything from clothing to outdoor umbrellas, with some tripling in size. Most ultimately found they couldn't compete against the industry giant, which forced several competitors out of business.
Convenience stores such as 7-Eleven gained popularity but never became real competition to traditional grocery retail. Then in 2017, Amazon acquired Whole Foods for $13.7 billion.
"That was the biggest disruption I've seen in my career and the most impactful around consumer patterns and how people were doing things," says Strive Managing Partner Jennifer Pierson, whose career dates to 1994 when she joined CBRE. "People just stayed away from doing anything as far as an investment for probably a year-and-a-half after that. It wasn't that cap rates widened out so much; it's that the institutions got out of the game completely, especially the publicly traded ones because their stock prices plummeted."
Many believed Amazon's e-commerce empire, sophisticated trucking distribution network, advanced technology, and deep pockets could all help Whole Foods run circles around its old-school rivals. With the rise of e-commerce, the lasting impacts of a global pandemic, and as Venture Partners Managing Principal Mike Geisler calls it, "the 1,000-pound gorilla" H-E-B entering DFW's $17.5 billion-per-year grocery market, insiders say there are reasons for some in the industry to feel threatened.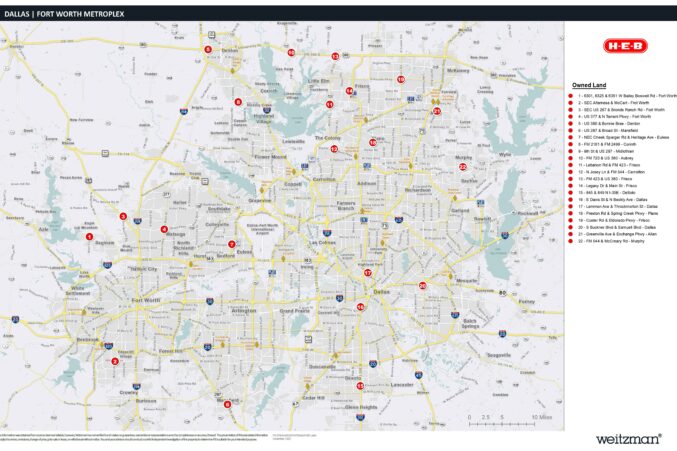 The Quest For Market Share
When H-E-B
expanded into North Texas earlier this year
by announcing new locations in Frisco, McKinney, and Plano, chatter quickly began about what the brand's presence would mean for the dozen or so grocers already doing business here. Market leader Walmart, which now holds just over 30 percent market share, has a lot of buying power and highly competitive pricing, likely won't be as impacted as other brands. Instead of shelves, the war with H-E-B might be over land. When Walmart tried to break into the core of San Antonio, H-E-B purchased property in key areas to deter it.
With H-E-B's Central Market and its other namesake brand in outlier locations such as Waxahachie, Burleson, Hudson Oaks, and Granbury, it already controls a 4.5 percent market share in North Texas. Experts say Tom Thumb and Albertsons may be among the most threatened. Together, the Albertsons Cos. brands have about 12 percent local market share, according to Metro Market Studies.
H-E-B has not yet confirmed plans for a store in Dallas proper and has been adamant about its plans to strengthen its Central Market presence. According to property records, there are three sites that could make for future locations within the city, though (Buckner and Samuel boulevards; sites near and on Lemmon Avenue; and on Beckley Avenue and Neeley Street). Former Dallas Councilmember Chad West
previously told D CEO
 that H-E-B was bringing a store to Oak Cliff. Weitzman Executive Managing Director Bob Young says it will be a waiting game to see how the grocer affects the market.
West said he was aware the company owned this property, which is in his district, and that it was also in H-E-B's future plans. He recalled H-E-B telling him that the North Oak Cliff store would follow the tornado-damaged Preston-Royal Central Market's reopening and after the new Uptown location was complete. West says he was told that H-E-B is "looking for a developer to help facilitate the project for them to turn it into more than just a grocery store, but a multi-use project."  The company declined to provide details about specific plans. In an email a company spokesperson wrote, "We often purchase land in anticipation of future needs. We look forward to serving more areas of DFW in the future."



The North Oak Cliff location would be a departure from the suburban areas H-E-B has targeted so far in North Texas. Data from the U.S. Census Bureau's American Community Survey says the ZIP code for that potential store is 35 percent Black, 54 percent Hispanic, and only 8 percent White. However, the area is quickly developing, so those numbers may change.
"H-E-B has a history of taking its time to get it right, so the biggest impact will be in everyone in the sector watching to see where they locate, what kind of store formats they open, and where they will land next," he says. "Like in other markets in Texas, they'll be seen as a benchmark."
Convenience vs. Experience
H-E-B's looming presence comes at a time when grocery brands are trying to catch up to home delivery and curbside pickup trends that accelerated during the pandemic. Young says when people think about ordering online, they still tend to think of the grocery store down the street. This is why he is bullish on the rise of curbside pickup among stores already in operation—including up-and-comers hyper-focused on specific trade, such as the relatively new Tom Thumbs at The Union and Live Oak Street.
Of DFW's 200 million-square-foot retail market, nearly 75 million square feet is grocery-anchored.
Grocery-anchored retail remains a sweetheart in the commercial real estate game. Combined, it accounts for 74.7 million square feet of DFW's total retail market of 200.2 million square feet, according to a Weitzman report that analyzes properties at least 25,000 square feet in size.
Across the industry, grocery stores are starting to swap out shelf space that once held groceries for curbside pickup storage. Experts we spoke with agree that stores that don't master curbside pickup or emphasize the growing trend of experiential retail (think Whole Foods, Central Market, and Trader Joe's) are going to lose out. Data shows that customers across several generations are valuing experience more and more.
"I know people who love the chocolate bar over at Whole Foods, but that just doesn't make as much money per square foot as cheese does," Geisler says. "Shoppers have evolved, and we expect experience. I think once you figure out how to do that, you're ahead of the pack."
Get the D CEO Real Estate Newsletter
Get weekly updates on breaking commercial real estate news and relevant industry reports.