From D CEO June 2019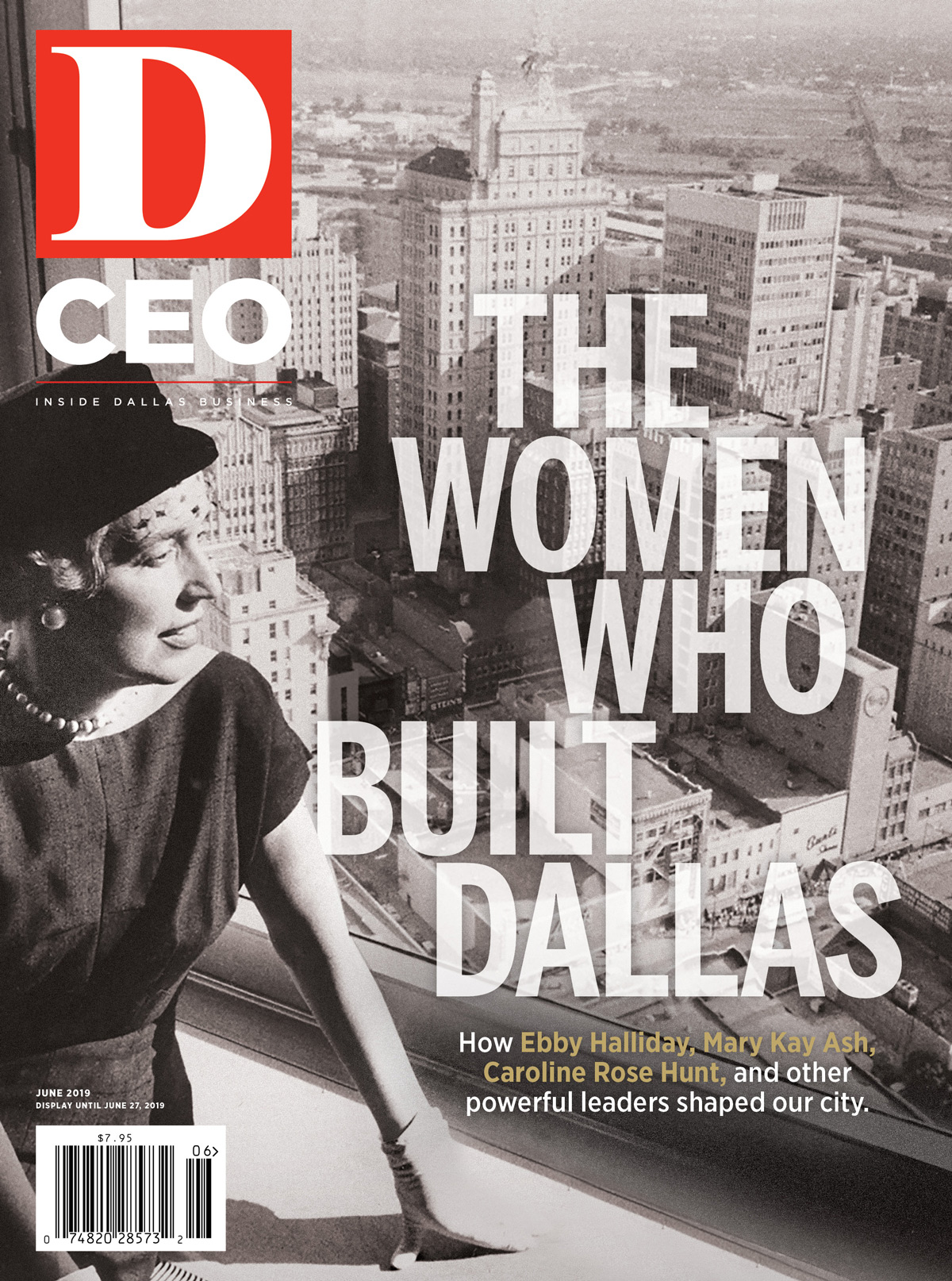 Subscribe
As America's economy shifted from factories and farms to offices and cyberspace, a widespread lament rang out: The country doesn't make things anymore. A careful researcher would protest the point, citing Census Bureau data that show U.S. manufacturing output continuing to rise, decade by decade. The United States still makes plenty of things; it just does it with a lot fewer workers, thanks to the miracles of technology.
Over the past two decades, the national trends of increasing output and declining employment in manufacturing played out differently across states. As with so many other aspects of the economy, Texas did better than most other places. From 1997 to 2017, its factory output rose more than 80 percent—fourth among the 20 largest states. Texas' share of overall U.S. factory output grew by 2 percentage points over the two decades, second only to California (see chart). Turning to jobs, Texas manufacturing employment fell just 3.4 percent since 1990, second lowest behind Arizona among the 20 biggest states.
Access to labor and transport make manufacturing a largely urban enterprise. It has been that way since the early days of American industrialization—and so it remains today in Texas. Metropolitan areas accounted for nearly 90 percent of the state's factory value added in 2017. Rarely portrayed as an industrial powerhouse, the Dallas-Fort Worth area had 24 percent of the state's total. North Texas led in the production of computers and electronics (Texas Instruments), transportation equipment (General Motors, Bell Helicopter, Lockheed Martin), and processed food.
The only Texas metropolitan area to eclipse DFW as a manufacturer was Houston, at 36.4 percent. Houston's dominance arises from being the state's biggest producer, by far, in four of the largest manufacturing categories: chemicals, petroleum and coal products, machinery, and fabricated metals. Beaumont stepped out of its weight class to rank No. 3, with 9.2 percent of Texas manufacturing value added; that's a result of the Gulf Coast city's refineries and petrochemical plants. Tech-savvy Austin came in at 4 percent and, below its weight, San Antonio at 3.2 percent.
Texas Gains Larger Share of U.S. Manufacturing
Texas vs. California
Texas produced 10 percent of U.S. manufacturing output in 2017, compared to 14.2 percent for California. Behind the two leaders, no other state chipped in with more than Ohio's 4.8 percent. So when it comes to manufacturing, we end up with another one-on-one faceoff between the nation's largest states—one politically left and the other leaning right, but both doing pretty well in making things.
From 1997 to 2017, California's factory output not only eclipsed Texas' in size, it also grew more than 156 percent and its share of overall U.S. manufacturing increased by more than 6 percentage points. Silicon Valley's fast-growing technology businesses no doubt help keep California's factories humming. But Texas can brag, too. Its manufacturing job losses since 1990 were just a fraction of the 32.6 percent lost in California, which ranked 12th among the 20 biggest states. In addition, Texas stood first in a broad gauge of productivity—with value added per worker of $292,000, well above ninth-ranked California's $203,000.
Texas workers produce so much more because of the state's deep capital stock (plant and machinery). Among the 20 largest states, Texas ranked No. 1, with a manufacturing capital stock of $308 billion—an average of $402,000 per worker (see chart). California ranked second with a total capital stock of $241 billion, but fell back to 16th in capital stock per worker.
What about workers? Shouldn't being more productive pay off for them? Turns out, it does. Among big cities in the 20 states, DFW's average annual income in manufacturing ($48,955) ranks third behind Seattle ($59,112) and Boston ($51,097), with Los Angeles ($48,781) coming in fourth. After adjusting for Texas' lower taxes and living costs, the average Dallas worker's purchasing power is $41,000 a year, while the typical worker gets the equivalent of $36,000 in Seattle, $32,000 in Boston, and $30,500 in Los Angeles.
Texas workers aren't cheap compared with other big states, but they live better and investment in plant and machinery has made them productive enough to keep the state's manufacturers globally competitive. Texas ranks No. 1 among states in merchandise exports.
Investment Propels Texas Factories
The Flexibility Factor
Texas offers manufacturers many advantages—a central location in the North American market; ready access to labor, energy, and other inputs; and well-developed road, rail, air, and sea connectivity. Pluses like these are relatively easy to identify, but Texas factories thrive because of a more subtle benefit: the flexibility factor.
Like all companies trying to stay competitive, manufacturers do better in an environment where they can quickly adapt to changing market conditions. They might need to expand or contract output, introduce technology for greater efficiency, cut costs, pivot to new product lines, hire or fire workers. When it's time to move, externally imposed red tape is the last thing a company needs.
Union contracts often include scheduling limits and other work rules that make production more inefficient. In Texas, a long-time right-to-work state, only 5.1 percent of manufacturing workers are union members, slightly below California's 7.6 percent and well below Washington's 26 percent.
The unionization rate is one of several dozen data points used to compile the Economic Freedom of North America report, a statistical comparison of the balance between the private sector and government intrusion in the economies of the 50 states. For decades, Texas has ranked among the most economically free states, finishing third in the most recent report. California was far down the list at No. 47.
With an Information Age lead established in the 1970s, California's tech-driven manufacturing thrives, despite the state's low economic freedom. New York, Illinois, Ohio, and New Jersey aren't so lucky. In the bottom third of the economic freedom rankings, they're seeing their manufacturing ebb away (see first chart). The Texas model of economic freedom should give its residents and companies a chance to keep making things for years to come.
Get the D CEO Newsletter
Stay up to speed on DFW's fast-moving business community with weekly news reports, interviews, and insights.