Like the frontman for a wildly successful musical group, funeral-home CEO John Beckwith Jr. is never out of his element or without a posse of family and loyal friends. Nor is he ever lacking for dash or passion. And so it is this Saturday morning in the studios of KHVN (970 AM), Dallas' top gospel radio station, that Beckwith's oldest sister, cousins, valets, and former teachers rock and smile as their leader pounds home a favorite topic with brimstone zeal.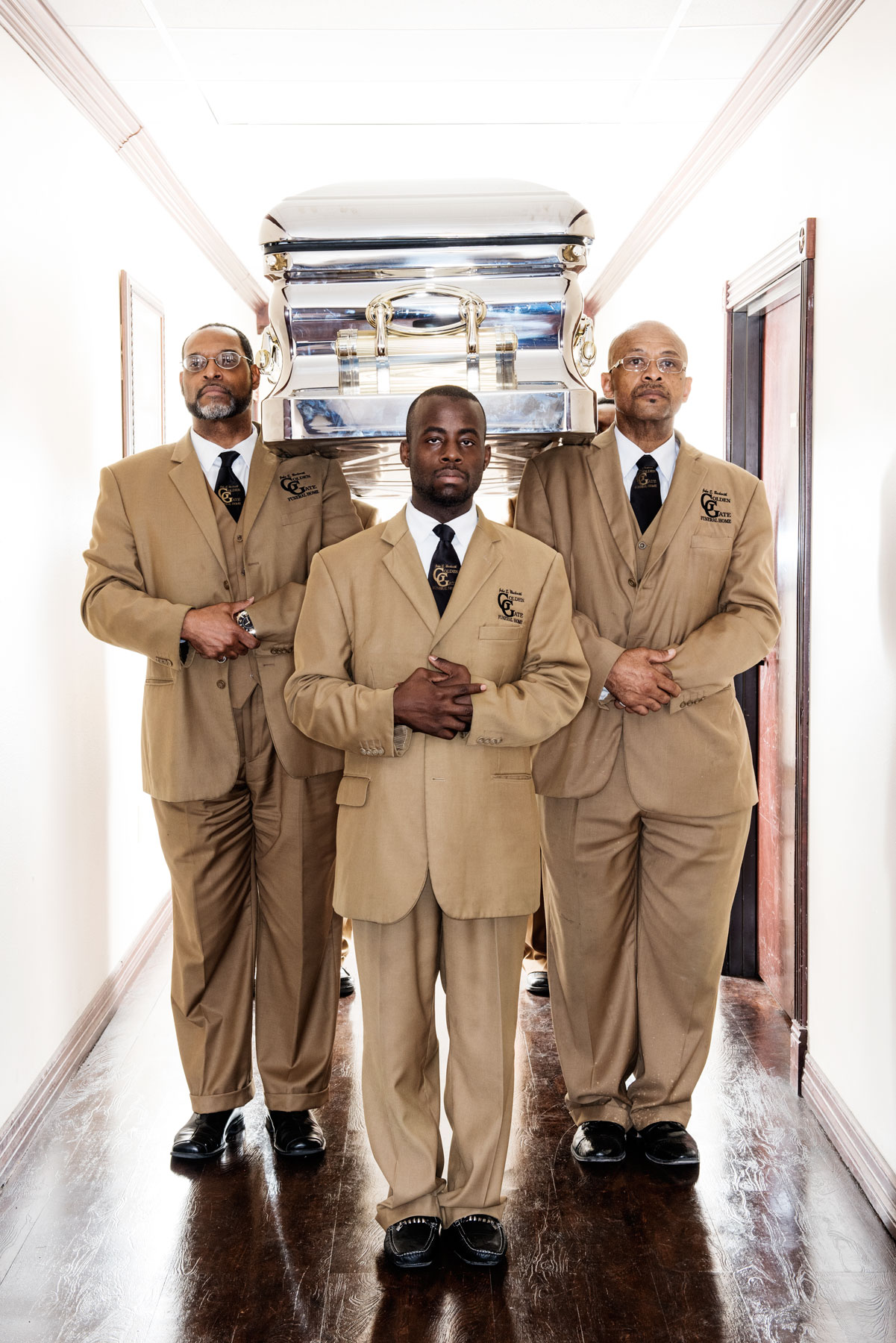 The program is the weekly edition of "Ask the Undertaker." The topic is the importance of pre-planning your own funeral service and putting your wishes in writing. "My sister here is very traditional," Beckwith says into the microphone, pointing playful eyes across the table at sister Carolyn. "She wants no gnashing of teeth or tearing of clothes. She wants a strictly traditional, nice, quiet funeral … 

"I have talked about this many times before," he continues. "Put me in a glass casket, put me there in my office—the first room when you enter the building—and people will come by and see me in the morning and then go and do their work. Now, I know you can do that, because I have been to the Vatican and have seen this done with the Pope."

Beckwith, the 48-year-old owner and CEO of the largely black Golden Gate Funeral Home off Dallas' South R. L. Thornton Freeway—one of the biggest funeral operations in North Texas—is rarely off the clock or out of character. A world traveler, he has brought back to his company certain elements of ceremony from around the globe. "From the Caribbean we brought back music, dance, and community unity," he explains. "From the Palace Guards in London, we developed the way SWAAT teams carry the caskets on their shoulders." (At Golden Gate, "SWAAT" is the team of professional pallbearers who Step With An Anointed Touch.)

On this Saturday, three-and-a-half hours before Beckwith's 10 a.m. radio performance, the debonair SWAAT squad had meet with Beckwith at the funeral home to practice their signature steps and protocols for that day, which would include no fewer than 17 funerals.

Their performance is something of a combination of the Four Tops and the guards at the Tomb of the Unknown Soldier at Arlington National Cemetery. "The whole vibe of the funeral changes when they [hoist] that casket and begin their exit to 'I Shall Wear A Crown,' " Beckwith says. The six-person SWAAT team—often dressed in tails—was sent to Alabama in 2012 to participate in the ceremony marking the death of Ada Sharpton, mother of Al Sharpton, the noted civil rights leader.

After the radio show, Beckwith—who is also a licensed peace officer and shooting instructor for the Dallas County constables—will face a long day. Several times he'll make his way down the main aisle to guide caskets to the hearse and even follow them to the cemetery. Outside one church, before climbing back into his Bentley, Beckwith dons a crocodile fedora adorned with the same gold that's in his bowtie. He prefers suits made in Italy (this one is a Gianni Manzoni) with one rare customized fashion accessory: the right pocket has a holster sewn in that is a perfect fit for his .45 Glock.


Dealt with Hate And Violence
Before Beckwith became part Don, part preacher, part peace officer, and all business, he was the son of Golden Gate founder John Beckwith Sr., now 72, a man who barely escaped to Dallas from the clutches of Ku Klux Klan marauders in Louisiana.
The Beckwiths, Junior and Senior, have long been known for soft, almost velvety mannerisms and a peacefulness that imbues both their personal and professional dealings. Yet, fiendish violence seems to have stalked them at many critical turns.
Let's start with the KKK business. In 1964, Beckwith Sr. held fast to an unusual dream. He didn't want to play professional baseball or play in a band, like many young men. He wanted to own his own funeral home. 
"I am down with the crying and hollering," Beckwith Jr. says. "Those emotions need to come out."
A practical man, even at the tender age of 22, Beckwith Sr. reasoned he should start by working at the funeral parlor near his home in Ferriday, Louisiana. A short distance from the funeral home was a shoe shop owned and operated by Frank Morris, a black man who hosted an hour-long gospel music program at the local radio station. The local Klan had been on a violent tear and had recently dropped off hate leaflets at both the radio station and the funeral home.
As Morris slept in his shop one night, he heard glass breaking in the front of the store and saw a man frantically pouring gasoline on the alley side. Shortly before his agonizing death, Morris told the FBI that a man at the front door holding a shotgun had said, "Get back in, nigger." The store was set on fire with Morris trapped inside.
The FBI later reported that witnesses generally described Morris that night "as a human torch." He died four days after the fire. Afterward, the phone rang at the funeral home. When Beckwith Sr. answered, the caller said, "You're next." Beckwith Sr. told police that the caller repeated it three times. That night, he hid in the tire room of a gas station. The funeral home owner snuck him out in the back of a hearse and headed for the bus station, where Beckwith Sr. bought a ticket to Dallas to start a new life. 
It's no surprise that his new life began with working and living in a funeral parlor. By 1977, Beckwith Sr. was working at the Cedar Crest Funeral Home, and his wife, Allene, was managing a convenience store. On June 27 of that year, Allene and the couple's daughter Charlotte were attacked while opening the store. The robbers shot both of them and nearly killed Allene. Despite injuries that would plague her for the rest of her life, Allene would became the CFO of the family funeral company, overseeing back-of-the-store business until her death in 2000. "Mom was the brains, and Dad was the heart of the business," says Beckwith Jr., who is obviously its soul.
"The business" started in 1980, when the elder Beckwith purchased the James Funeral Home in Waxahachie. In 1985, he opened his first Dallas location. Following graduation from mortuary college in 1987, Beckwith Jr. became the acting CEO at the company, now called Golden Gate. "My dad told me, 'I can't [point out your mistakes] from the grave. If you are gonna run it, you need to run it now,'" Beckwith Jr. recalls. 
Today, with three locations in Dallas, Fort Worth, and Tallulah, Louisiana, he oversees as many as 30 funerals a day. The company has 120 full- or part-time employees, ranging from an in-house florist to the occasional paid mourners.
Paid mourners? Yes, very simply, they are employees, volunteers, or graduates from the Golden Gate Ride Along Program (more about that later) who are compensated to mourn at funerals. Before they can do so, they must first attend a class taught by Beckwith. There, they're graded on their mourning abilities.
The paid mourners were featured for a season in 2013 on a TLC network show called "Best Funeral Ever," filmed mostly at the Golden Gate Funeral Home. As a result, Beckwith says, "We now seem to get lots of requests" for the mourners. The television show featured over-the-top funeral ceremonies, including the likes of a barbecue sauce fountain, a casket decorated as a yuletide sleigh, and a coffin lined with chocolate. The Golden Gate CEO insists that these customized services are cathartic for families and friends of the departed. "We are not celebrating anyone's death," he has preached many times. "We are celebrating their life."
Golden Gate and TLC eventually parted ways over what Beckwith calls "creative differences." Translation: the CEO didn't like being told what to do. "What they wanted to film is less than 2 percent of what we do, and they had no interest in the more traditional plans," he says.
Golden Gate produces all of its local media—website, funeral programs, radio, and television— in-house. Calls from as far away as France, Russia, and Honduras asking to film ceremonies are rigidly vetted to correctly portray "our image to the public," Beckwith says.
"We are trying to make these families extremely happy at the worst moments of their lives," he continues, before being interrupted by Cassandra Coleman, who oversees all the funeral and cremation scheduling. It's a big job at a company that handled 2,000 bodies and grossed more than $10 million last year.
Coleman hands Beckwith the day's color-coded agenda and timetable. Silver and blue tags are high-profile ceremonies. They require two motorcycles, family limousines, and a flower car, in addition to the hearse. (Golden Gate has more than 65 funeral cars at its main site. All of them are white.)
A yellow tag indicates controversy. Normally, the trouble revolves around domestic arguments when family members are mad at each other or feel slighted. Occasionally, Beckwith says, things can escalate, "like when a brother has threatened a sister or a [deceased] man is discovered to have had two wives. There are times when I have to identify myself as a police officer. … You never know what is going to happen."


Busiest Months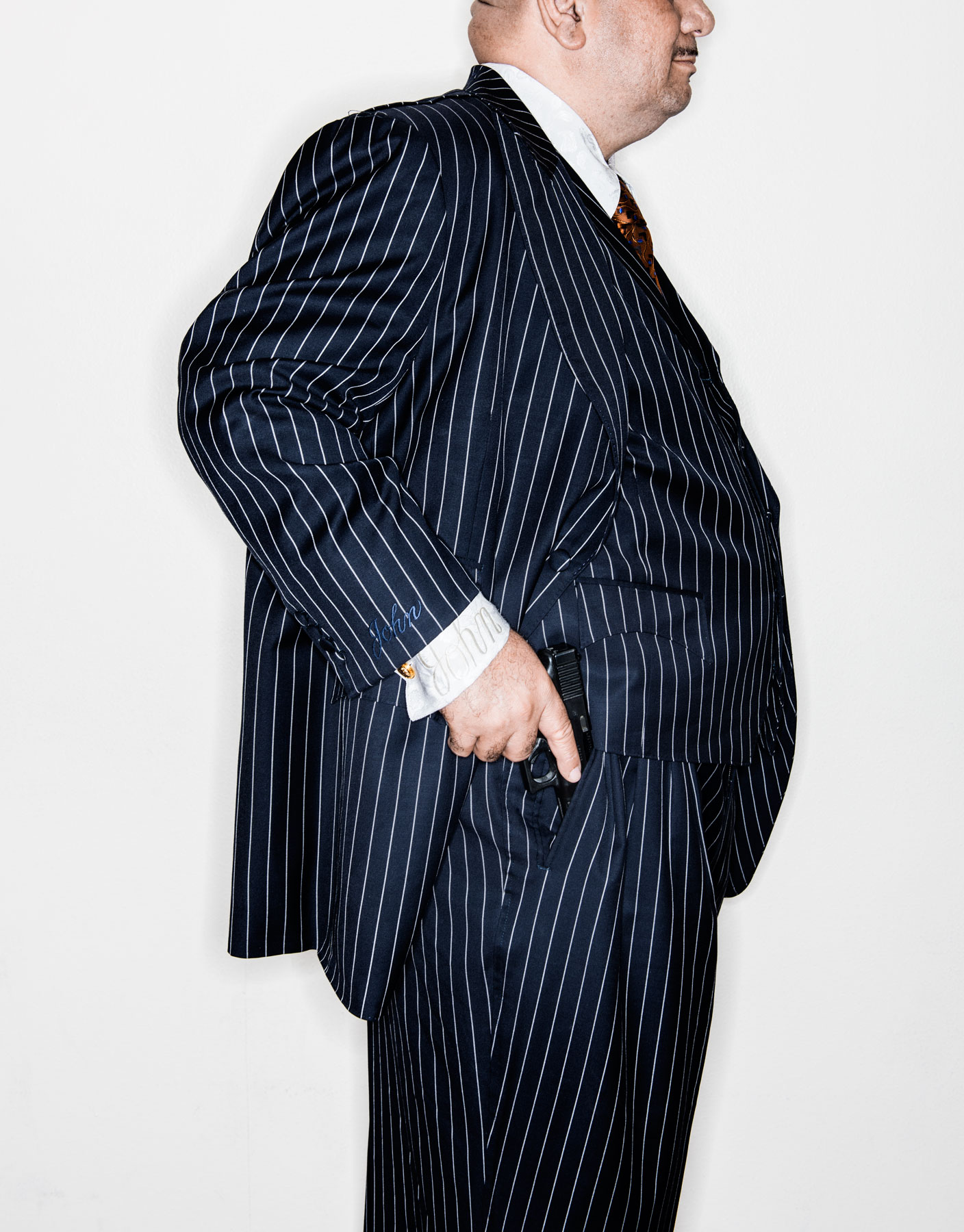 The schedule is not all that is color-coded at Golden Gate. Uniforms change from black and gold one day to white the next—all emblazoned with the GG logo. On this day, Beckwith is outfitted in a pink polka-dotted signature bowtie above a crisp white shirt and dark suit pants with dark Italian-made loafers. "I always dress like this, because I am the face of the funeral home," he says.

December and January are the busiest months for both Beckwith and the funeral home. He says there are 30 percent more deaths in those two months. But the single biggest increase in Golden Gate business came in the mid-1980s, when his father began advertising that "high-priced funerals are over."

Beckwith was dumbstruck at this, because his father had always insisted on slashing prices while invoking the same high level of service. Even so, the "cases" rocketed to three times previous years. Then came the "Jamaican drug dealers and crack cocaine," Beckwith says, and business really took off. In 1990, 200 black males in the community were murdered.

Homicide victims are a sticky problem at Golden Gate. Often, the funeral home will get calls promising retaliation for the killing of a loved one. "We have been threatened many times," Beckwith says. "We have had the real SWAT team here. It can get ugly if somebody is not supposed to be at a funeral. We have had police remove family members."

The state has a crime victim reimbursement fund that sometimes pays funeral expenses up to $4,500. But that is well below Golden Gate's average charge, which runs about $8,500. Still, Beckwith says he feels a duty to perform a proper service.

Family friend and Dallas City Council member Dwaine Caraway says Beckwith and his dad have always been there for the less fortunate. "Their contributions are out of this world," Caraway says. "John Beckwith Jr. gets my vote for Beyond Texan of the Year."


Celebrating Lives
Beckwith wants the business to stay fresh, so he's continually on the lookout for ways to change and improve. He attends as many conferences and joins as many funeral associations as he can.
"There is no real profit in merchandising anymore," Beckwith insists. "Casket sales used to be the biggest room in the old funeral homes. Now it's one of the smallest. We saw that coming, and it's why we celebrate not the body but the life."
In the last 30 years, cremation in the black community has gone from about 5 percent to 40 percent, he says, and fewer people are going to the cemetery to visit family members. To attract business, Beckwith figured he must change the culture and the ritual—both of planning funerals and the air of the ceremony itself. At the same time, fewer of the employees are graduates of mortuary college; more than 80 percent of his new hires are graduates of the Golden Gate Ride Along Program. 
Beckwith Jr. says he wants to expand the company's reach, especially into the white community.
The Ride Along Program is a recruiting tool that Beckwith adapted from police training. The candidate signs a waiver and then attends funeral services and other observances. If they like the Golden Gate family atmosphere and the funeral home likes them, they will likely find a position.
A local DJ drives cars. An air-traffic controller works on the weekends as an undertaker. "Other employees are musicians and dancers," Beckwith says. "Some of them know nothing about what we call a 'traditional service.' They come from all walks of life and start out as unpaid interns. There are certain places, positions, and procedures where they are prohibited, and, to tell the truth, my family first thought I was crazy for the Ride Along proposal, but it is working."
Given even the slightest of pretexts, Beckwith will start talking about the need for everyone to pre-plan their funeral. "You need to put all of your wishes in writing, and we can freeze the cost of a funeral with a pre-pay plan," he says. "The same funeral that cost $600 in 1986 now costs $3,500." An entire department at Golden Gate, run by Beckwith's sister Charlotte, is now devoted strictly to "Pre-Need Planning." 
There's no denying that Golden Gate services are worlds away from services in the white community. Certainly more passion resonates at Golden Gate, and the message is often considerably more uplifting. Even the most mundane Golden Gate service packs in more showmanship and celebration than you will ever see at the typical white-bread service.
Golden Gate is a lucrative business now, Beckwith says, "covering all of our needs and most of our wants." He says that no one in the family ever dreamed of having so much financial success. But, he's not content with that. He wants to expand the company's reach, especially into the white community.
Beckwith cups his hands, hunches his shoulders forward, and smiles. "I want to bury everybody."   
Get the D CEO Newsletter
Stay up to speed on DFW's fast-moving business community with weekly news reports, interviews, and insights.