North Texas may soon be home to a new Harry Potter, Jurassic Park, or Minions-themed amusement park.
"I'm going to be advocating for Mario Brothers, that's my favorite, and Minions," Frisco Mayor Jeff Cheney said at a press conference on Wednesday announcing the groundbreaking of a new theme park by NBCUniversal that will occupy 97 acres of land along the Dallas North Tollway at Panther Creek Parkway in Frisco.
The "one-of-a-kind" project is located inside the 2,500-acre, $10 billion Fields development with the new PGA headquarters, Omni's new $530 million resort, and some 14,000 homes under construction.
Although costs, an opening date, and a construction timeline were not announced for the project, representatives from Universal Parks and Resorts said it will be designed to appeal to families and include a 300-room hotel and four or five Universal-themed interactive experiences.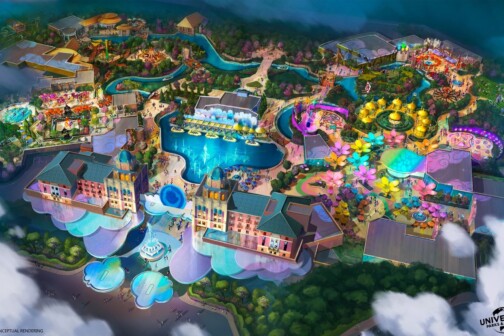 "The park is roughly a quarter of the size of our big parks in Orlando," said Page Thompson, Universal Parks and Resorts' president of new ventures. "That gives us plenty of room to build a park, this themed hotel featuring Universal characters, parking areas, and still have lots of room for a really lush landscape buffer, as well as a lot of space for a thoughtful exit and entrance plan."
Universal Parks and Resorts, a subsidiary of NBCUniversal, owns the rights to popular movie franchises like Fast and the Furious, E.T., Men in Black, The Mummy, Spider-Man, Marvel, and more. All will be considered for potential themes for the new park, according to the company's global chairman and CEO Mark Woodbury.
"We're known for creating one-of-a-kind, innovative, interactive experiences for the whole family," Woodbury said. "We're also known for being a company that really treasures its involvement in the communities in which it participates and operates."
The Orlando-based theme park operator owns attractions in Los Angeles and Orlando, Florida, stateside, as well Osaka, Japan, and its newest property—Universal Studios Beijing—which opened in September 2021. Its Universal Studios Singapore property is owned by The Genting Group but is licensed from NBCUniversal.
The company also announced on Wednesday a new year-round horror-themed attraction coming soon to the Las Vegas strip, which was first reported by Bloomberg.
In total, Universal Parks Orlando attracted 8.99 million visitors in 2021, according to the latest data available. Globally, Universal Studios attracted approximately 49.5 million guests to its theme parks in 2017, making it the third-largest amusement park operator in the world.
Universal Parks and Resorts employs more than 28,000 people worldwide.
"[Universal] was looking not just anywhere in the country, but someplace in the world to launch this," Cheney said. "They decided North Texas would be a good fit. And you can see why they chose Frisco—Frisco is known for being family-friendly."
Get the D CEO Real Estate Newsletter
Get weekly updates on breaking commercial real estate news and relevant industry reports.
Author
Brandon J. Call is the former executive editor for D CEO magazine. An award-winning business and data journalist, Call previously…