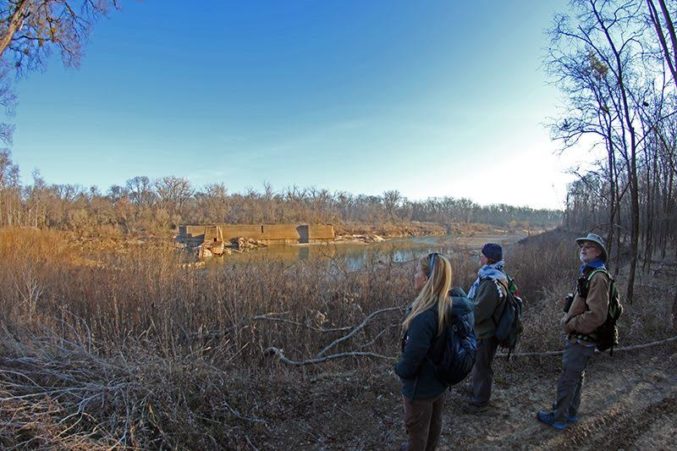 Law Man Walking: Nature Treks With Bill Holston
A trip to Goat Island, this time without whiskey.
I got up early Saturday. It was a beautiful, cold, clear morning, the sort of mornings I love. I sat on my deck, glancing up to Jupiter and Mars, which were almost aligned. Looking at the stars is a great reminder of where I fit in the universe. It always leads me to a sense of awe. My favorite part of going to Big Bend each year is sitting and just staring up at the stars overhead.
So I got in my car and headed south to meet Ben, Carrie, and Scott, our core hiking group. As I entered I-30 to head west, I was listening to Keb Mo and Taj Mahal sing "Diving Duck Blues," the blues song originally penned by Sleepy John Estes, the Tennessee bluesman.
Now, If the river was whiskey
And I was a divin' duck
Now, If the river was whiskey
I was a divin' duck
I would dive underwater
Never come up
Profound words to start the day.
We met at the parking lot at Goat Island. It was Scott's idea to hike here, because we knew we could get a nice long walk. This is truly one of my favorite hikes. The trails are well marked, straight, and with a minimum of Greenbriar or other things designed to pierce my aging skin. I got there early and sat finishing my coffee and watching a Kestrel take off and land close by. These are really beautiful birds, one of our native falcons.
Pretty soon, Ben and Carrie drove up, and we sat chatting about our weeks. When Scott arrived, we headed down the trail. The trail is clear on and immediately goes along the top of an old levee. We followed that levee all the way to Beltline Road. It's a nice walk, as it gives us clear views of the fields and woods. Some of the wetlands we pass were covered in ice from the recent deep freeze. The only real distraction is the gun range on Beltline from which a steady stream of gunfire emanates. That's nothing to an old East Dallas native like me, though.
At Beltline, we followed the DORBA trail over to Lock and Dam No. 2. I love this spot. There are huge bluffs that provide great views up and down the river, and it's interesting to see the over 100-year-old efforts to dam and tame the Trinity. We hung out at the dam for a bit and then walked back. The entire walk was a little over 7 miles. This is one of the most accessible trails to see the Trinity. It's a clear trail and all on dirt. It is flood prone and if there is a large flood event, the mud will lead you to understand Pete Seeger's "Waist Deep in the Big Muddy," even if you don't share its anti-war message.
We saw Phoebes and assorted Winter Sparrows, but nothing too dramatic. We did hear our favorite Pileated Woodpecker call in the distance.
This was a great hike, and I was completely relaxed when it ended. Good thing because this is the week that the Trump administration announced the intention to end TPS (Temporary Protected Status) for Salvadorans. I have been working with Salvadorans since the 1980s, when they were fleeing the civil war. I have a picture of Archbishop Oscar Romero in my office with the quote "Love must win out," a particularly poignant idea given his assassination by the death squads. According to a 1993 United Nations Truth Commission Report on El Salvador, Romero's assassins were members of Salvadoran death squads, including two graduates of the U.S.-run School of the Americas. So we have some responsibility as a country for the chaos that continues to grip that country. We have a large Salvadoran community here. When I first started doing this work, I'd have organization meetings at the original Gloria's in Oak Cliff, where they would treat us to papusas. Good memories.
I often speak to people who say they enjoy these accounts of our Trinity rambles. I take the time to write them because I enjoy celebrating the nature we have here. I also get told often, "I'd like to go with you." Well, just shout. We go most Saturdays. We have a short exchange of emails and then decide where to go based on weather, trail conditions, and if there's some trail work we need to do. If I know you, just drop me a note and we're happy for you to join us. Maybe sometime we'll have an open call for hikers, perhaps when the Trout Lilies bloom in Garland or the Buckeyes bloom on the Buckeye Trail. Until then, happy trails and try not to emulate the diving duck pattern of whiskey consumption.