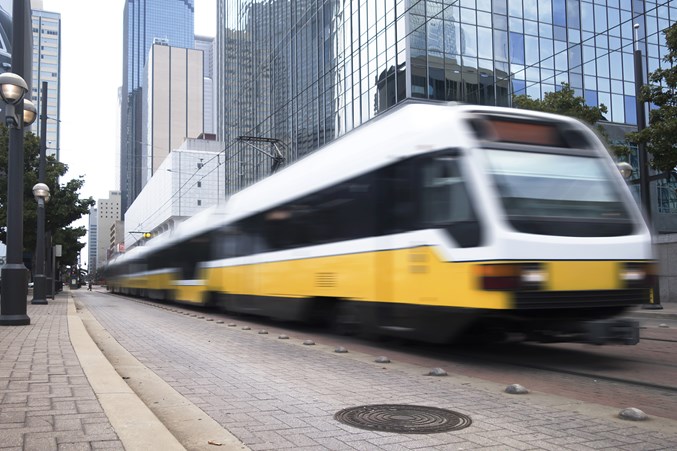 Why DART May Cost Dallas Its Chance at Landing Amazon's HQ2
Competitive cities offer mobility options. Dallas' useless public transit system doesn't fit the bill.
The New York Times played a little game over the weekend. Looking at the criteria Amazon laid out for cities competing to be the home of its new second headquarters, the paper broke down the data and made a prediction as to which city most fit the bill.
The good news is Dallas does pretty darn well in the analysis. The bad news is a glaring shortcoming — transit and mobility — that takes it out of the final round.
Let's break it down: 
The Times began by looking at all the metro areas that have at least one million people and strong job growth. Dallas easily made that cut, but so did 25 other metros, including Austin, San Antonio, and Houston. The next cut: the right kind of large and growing labor pool, namely software programmers and designers. Dallas also made this cut, along with 14 other metros.
Next up: Amazon wants its new HQ in a metro that offers a high quality of life. What that means, according to the company, is a good balance between housing costs and amenities. The cities that lose in this round are expensive places like New York and San Francisco. This is also the point in the hypothetical process when I thought of Boeing's relocation back in 2001. At the time, it was believed the company said it passed up Dallas for Chicago because there was much more to do in Chicago (though it may also have had to do with North Texas regionalism working against its best interests, again). Dallas used that scorning as a justification to double-down on its investments in arts and culture. The good news is that today, at least according to the Times piece, Dallas makes the cut in the quality of life round with nine other metros.
At this point, Dallas should feel good about itself. It is in the running in the Times handicapping alongside Portland, Denver, Austin, Atlanta, Raleigh, Miami, Boston, and Washington D.C. Now, what's the next criteria to work through?
Oh, mobility.
In its request for HQ bids, Amazon made it clear that access to mass transit is a priority in any new home for its employees. To which you might say, well, cool, because the Dallas area boasts the longest light rail system in the nation. That surely scores a few points.
Except I can't imagine Amazon is dumb enough to be fooled by those kind of booster stats that don't mean anything when it comes down to the messy business of actually moving people around a city. And as anyone who has ever dealt with DART knows, Dallas-area public transit is terrible at moving people around the city efficiently.
To make the cut, the Times authors looked to statistics pulled together by the company INRIX and found that most of the remaining metros rank poorly when it comes to congestion. That makes sense—they are all thriving cities. Dallas ranks 16th in the world for congestion, according to the INRIX report, just behind Washington D.C. and ahead of Istanbul.
To figure out which cities have good transit, the authors didn't look at length of rail miles, the amount of Transit Oriented Development-related growth a system has generated, total system area coverage, or any of the more-or-less meaningless criteria DART often uses to tout its own successes. They didn't even use the ridership number cited by the agency — passenger trips — which tallies up one trip every time one person gets on a bus or train (meaning one person can rack up multiple trips making transfers during a single ride from A to B). Rather, they simply looked at census data to determine if people actually use the transit system in the given city.
According to the American Communities Survey, just 1.5 percent of the DFW workforce uses transit. The numbers look a little better when you drill down by county and city. Three-percent of the workforce in Dallas County use public transit, and 4 percent of the workforce in the city of Dallas use DART. Still, all those numbers — metro, county, and city — put Dallas at the bottom of the list of its Amazon competitors.
At the top are the cities you would expect. In Boston, 40 percent of workers use public transit, and in Washington D.C., 36 percent of the workforce use the metro. In the city of Portland, 13 percent of workers use some kind of public transit.
In the traditionally car-centric cities, the numbers are predictably lower. Atlanta and Denver lead the pack, with 9 and 8 percent of their respective workforces relying on public transit to get to work.  Miami edges out the city of Dallas, with 5 percent of the workers using transit. Dallas is on tier with Austin and Raleigh, in which less than 4 percent of workers rely on transit. And since all indications are that Dallas will join with its neighbors to make a regional bid for the Amazon HQ, the wider you expand the area for a potential location, the worse the Dallas area ranks in terms of usable mass transit.
It is a comparison that should sound alarm bells for boosters, just as the Boeing relocation sounded alarms a decade-and-a-half ago. At the time, not having vibrant cultural amenities put Dallas at a competitive disadvantage. This city's leadership responded by reinvesting in the culture and rethinking its attitude toward supporting the arts (though we could argue until we are blue in the face about the pros and cons of how Dallas decided to direct that reinvestment).
Not having usable public transit also puts Dallas at a competitive disadvantage. This should spur city leadership to completely rethink the assumptions and criteria of success that have driven the region's three-decade experiment with DART.
So who does make the transit round cut in the Times Amazon HQ handicapping experiment? Portland, Denver, Washington D.C., and Boston. And the authors of the article finally settle on Denver as the ideal location for Amazon's second home. Unlike its last three competitors, they argue, Denver has the land space, a healthy tech sector, and a willingness to throw incentives at a relocation.
That conclusion should frustrate Dallas even more than if the authors picked a coastal city. Dallas competes well against Denver in every other criteria but mass transit. Dallas has the space, the willingness to leverage incentives, the workforce, the growth, and the population. Furthermore, Denver isn't a dense east coast city with a 100-year head start on building-out mass transit. Rather, the Colorado city has simply made smart choices about how to implement transit into a car-centric city with ridership and mobility in mind.
Who knows where Amazon will ultimately locate its headquarters. But the point is this: this city and region needs to wake up to the failure of its public transit experiment. The Times writers, Amazon officials, and others who are evaluating this city from afar don't need to visit this city and ride DART to experience what a headache it is to get around the city — or even to and from work — that anyone who uses the public transit system is all too familiar with. They simply have to look at the fact that, according to Census data, people who actually live here opt against using it.
In the coming months, DART is going to be asking its board to raise its fares. Its board — and the leaders of its member cities who are competing for Amazon and other relocations — should instead ask DART staff why they haven't invested the billions in sales tax they have already received in a system that more residents would be willing to pay to ride.