As someone who is accustomed to the temperature actually abating in a significant way after the sun goes down during the summer months, may I just say: WHEW! Texas heat ain't nothin' to mess with. Good thing, then, Shaved Balls of Ice has opened in Deep Ellum to the gratitude of heat-beaten revelers in the neighborhood.
Operating out of the backside window of Glazed Donut Works, Shaved Balls—if you are like me and have the sense of humor of a 13-year-old, brace yourself, I will be dropping Shaved Balls throughout this post—opened this weekend next to Radiator Alley and across the way from Jeni's Splendid Ice Cream. It's a cold treat corridor! (We just need a paleta vendor to complete the trifecta of treats.)
As Eater Dallas reported last week, Shaved Balls comes from dessert-minded Glazed Donut owner Darren Cameron. Cameron's icy balls take cues from the fluffy, snowy cones found in New Orleans, a hot-and-humid city known for its shaved ice offerings.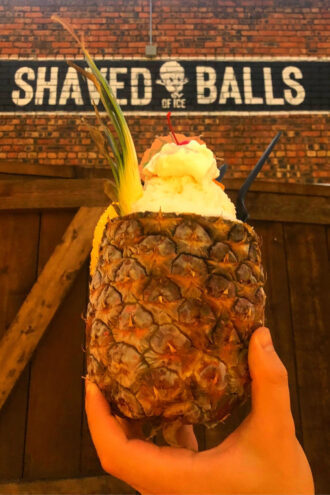 Tucked behind a fence, find a little takeout window with instructions on how to get your hands on the sweetened mounds of fluffy ice balls. Scan a QR code (it's huge, you can't miss it), then order and pay from your phone. After a short wait, you should get a text notification to pick up at the window. Easy peasy, in 10 minutes or less, you might be cradling a Piña Alotta which bears a vanilla ice cream foundation, fruit-studded shaved ice covered with pineapple and coconut syrup, and topped with whipped cream and a maraschino cherry. Oh, and it comes in a hallowed-out pineapple.
Other flavors follow the old-school classics: dreamsicle (do add a scoop of vanilla ice cream), tiger blood (watermelon, strawberry, coconut), piña colada (but you should probably like getting caught in the rain and making love at midnight), and many more. New-school options include tres leches, s'mores, and dill pickle made with Best Maid's brine, which honestly sounds weirdly good. There's what's called a Bender Ender, too: per the website, "A sweet way to end a hard night! Made with real oranges for vitamin C, cream to coat the stomach, Pedialyte to replenish hydration and topped with a B12 gummy to help your body recover. Only served after 10 p.m." I hope the Deep Ellum go-hards see this.
Shaved Balls is currently open on Friday from 6 to 10 p.m., Saturday from noon to 10 p.m., and Sunday from noon until 6 p.m.
Get the SideDish Newsletter
Dallas' hottest dining news, recipes, and reviews served up fresh to your inbox each week.