The cookies and cream has a raft of homemade Oreos nestled into every scoop, and the salted caramel is devastating in its salty richness. A scoop of the seasonal apple pie yields a lush, cinnamon ice cream studded with thickets of crust and filling. Take a lick. Silky and dreamy, the mound melts—the way the best homemade ice cream does.
This may be the closest you get. Served from a cart,
Parlor's Handcrafted Ice Creams
is the most nostalgic and beautifully sourced ice cream in the city.
Kellie Conant and Brandon Stoll are the young, entrepreneurial faces behind the business. Conant hails from Southern California; Stoll from Atlanta, Georgia. They met at Southern Methodist University, from which they both graduated in 2016. Both worked for an automotive development firm—he in data analytics, she in marketing—but life behind a desk grated. And so on a road trip to the Florida panhandle, they talked about the dream and desire to sell ice cream—old-timey flavors, done right, with local ingredients and respect for the seasons.
Done right would mean grass-fed milk and cream, pasture-laid eggs. It would mean making their own Oreos and seeking high-quality local products, which they swirled or folded in.
Conant and Stoll quit their jobs two years ago, heeding the pull toward sweeter pursuits, and started scooping last October at the Dallas Farmers Market. Just over one year after their founding, they're celebrating a birthday, but also a cycle of seasons. They have, in that year, softened our hearts and proven there's depth to their sweet spot.
Call them the new-ish kids on the block. Parlor's has held pop-ups at places that share their philosophy, flying a similar banner, like the organic and natural-wine bottle shop Bar & Garden, the multifaceted Davis Street Espresso, and Burgundy's Local, a butcher shop for grass-fed meat. More often you'll find them behind their masks at the Dallas Farmers Market where you can delight in hyperlocal-ingredient-packed scoops (you can also
order online
). By doing so, you're doubly championing local businesses. You're supporting a sweet microcosm.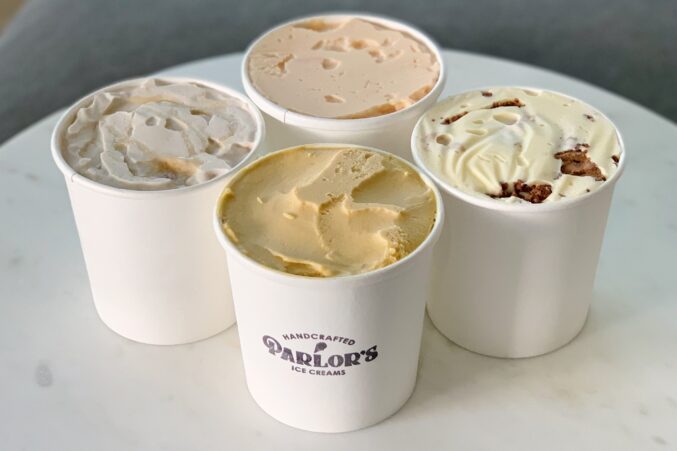 From the start, sourcing was the first priority. For Conant, from California, this was obvious. (And in this, the duo has precursors, like trend-setters Seattle's Molly Moon's Homemade Ice Cream, which might whorl blueberries into bright ice cream made from local pasture-raised goat's milk or Jeni's Splendid Ice Creams,with its cream from a hundred-year-old Ohio dairy nearby.) "It's really hard to find a grass-fed milk company in Dallas," Conant says, but word of mouth led them to P&E Farms, owned by a Mennonite family in Emory, Texas, for grass-fed milk and cream.
They toured a few farms and got to know the families. For eggs, Bois d'Arc in Windom. "We were already using them personally for our own consumption," Conant says. "So we already trust him and know what he's about." They prioritized knowing not merely the ingredients, but the animals that produce them.
It took them six months to nail down the base—milk, cream, eggs, sugar—they churn into their sumptuous frozen custard. From there, the flavors stay simple, though the development process is less so. All through 2019, they were testing—up to 20 iterations per flavor. The goal: classic flavors that are nostalgic.
Local 5 Mile Chocolate acts as a foundation upon which they layer, in offerings of chocolate, mint chip, chocolate chunk, and double chocolate chunk. Chocolate chip cookies from Davis Street Espresso make a beguiling "milk and cookies," big chunks nestled in with their flakes of Maldon sea salt. The coffee shop's brew goes into a rich, silky "cold brew and nibs."
For most fold-ins, Conant is the primary baker. She crafts the one long, rectangular black-cradling-white sandwich cookie that makes its appearance in cookies and cream. Churned into the base, more cookies make for a delicious, full-bodied double-dose of cookie. (Flavors done this way—not simply laced with cookie bits—are infinitely more transcendent.)
She'll do things like throw in a whole pie: the tart that gives the apple pie ice cream its name comes from a local baker, who uses organic ingredients, and its bits of flaky, buttery crust throw you for a wonderful flavor-loop.
Stoll, meanwhile, makes a ravishing salted caramel, which in turn makes for a smooth, salty-sweet scoop—one of the best salted caramels you've ever licked: rich, creamy, and rather devastating.
The scoops are generous with their inclusions—the nuggets of cookie or brownie or shards of White Rock granola that stud the velvety base.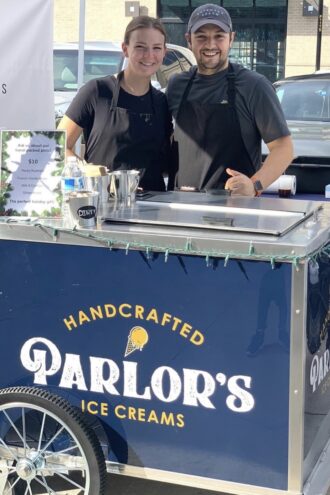 And while they may not be into coriander or fig-leaf as reach-for-me flavors, seasonal iterations have included sweet peach—they went through 25 to 30 batches of what they were calling peaches and cream to get the ribbons of peach right, not icy. Then, "we would make as much for a day as we would of another flavor for a whole weekend, and it would sell out in 20 minutes," Stoll says. They sourced the stone fruit from nearby Winona Orchards.
Other seasonal flavors have included autumn pumpkin (currently available and stunning as a snuggly scoop full of house-blended spice) or vegan chocolate-covered strawberry, featuring 5 Mile Chocolate and organic strawberries. This was similar in spirit to the strawberry preserves that formed the fey swirls in a seasonal strawberries and cream.
"The seasonal ones are the hardest," Conant says, because the duo is often working with different fruits and their infinitely varied water content.
And while Conant and Stoll may be new-ish, they've been through four seasons: a spring-summer-fall-winter carousel of creations. All the R&D went into that first year of seasonal flavors.
If you caught them last weekend, you sampled one of the treats they make for one day only. (Fun for consumers, if labor-intensive for them.) For the farmers market's annual pecan day last Saturday, a limited-edition scoop flaunted crumbles of craggy, sugary homemade pecan pralines strewn into salted caramel ice cream—the beautiful, tawny-colored base as backdrop. Some of the one-offs sell out in hours. It may be work, but this is the new life, and it's worth it.
Soon they'll be rolling out winter holiday flavors: Rocky Rudolph (chocolate peppermint ice cream with homemade Oreos and homemade marshmallow). When they asked Instagram followers for input, the answer came back: eggnog. They only needed one test batch.
Eventually, acquiring a brick-and-mortar scoop shop would allow the duo to start selling the goodies and extras they make that go in the ice cream. Imagine those homemade Oreos; maybe that ravishing salted caramel. While Stoll works part-time doing strategy for a film production company in Atlanta, Conant has jumped into full-time ice cream. They've been talking with commercial brokers, seeking a spot easily accessible for all types of customers, with feelers out in East Dallas, Lovers/Inwood, Oak Lawn, and downtown neighborhoods near the Dallas Farmers Market. "It does take all our waking hours already," says Stoll. Such is the pursuit of life, liberty, and ice cream. 
Get the SideDish Newsletter
Dallas' hottest dining news, recipes, and reviews served up fresh to your inbox each week.