Kevin Top has traced a long and circuitous journey. The U.S. Army veteran whose résumé includes working as a chef at the Fairmount's Pyramid Room, the Second Floor with J Chastain, and the Cowboys team's private dining club, among others, became our mainstay and trailblazer of Cambodian food with Kamp Fire last year.
He opened a fleeting brick and mortar downtown last August, in a long, narrow corridor of a counter-order restaurant across from the West End DART station. But it shuttered before the pandemic.
Now, he's back, with street food–inspired meal kits he's calling pick-up pops that allow him to push his Cambodian food forward in a model that works in the new coronavirus reality. He's making and selling them several times a month for outdoor weekend pick-up.

Count Top among other second-generation Asian American chefs who want to promote the food they grew up with—his grandmother was his greatest influence, he says, on his representing himself "as a Cambodian." Top holds Donny Sirisavath as a source of motivation, too. About the same time that Sirisavath rooted down with his Khao Noodle Shop, Kamp Fire had come blazing onto the scene, with dishes, flavors, and a vision from a sorely underrepresented culinary tradition.
"A lot of that Cambodian culture hasn't implanted itself into American culture the way other Asian cuisines have, like Vietnamese, Korean, like Thai and even Laos," he laments. To see chefs like Sirisavath "doing [their] thing: it's incredible, it's inspiring," he says.
Top says now he wants "to take all that experience" amassed over the years in kitchens "to highlight my culture and my heritage."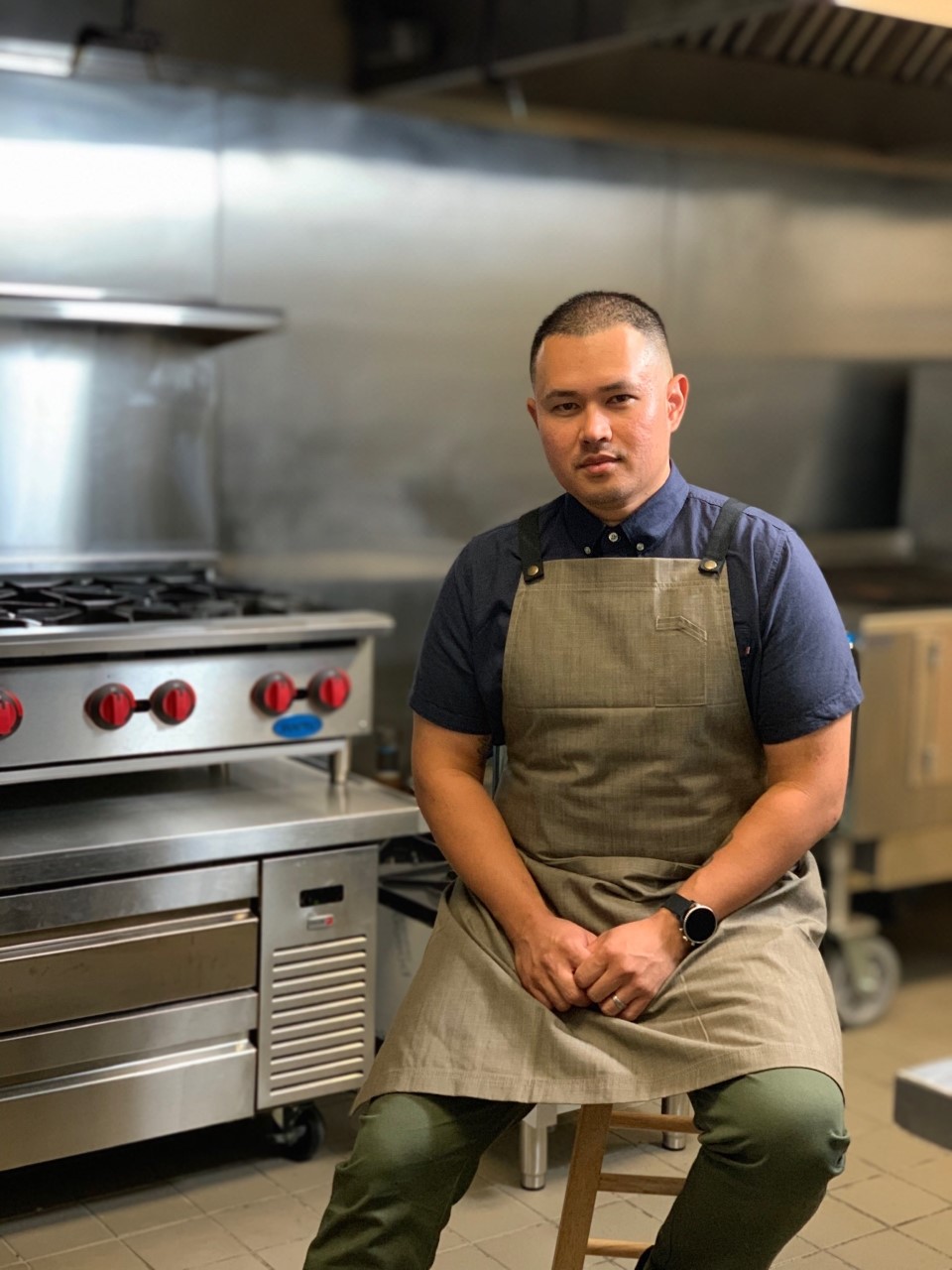 Top's snack kits function as an education: think of them as a delicious primer in Cambodian food. He does.
It's a cuisine based around the distinctive, essential paste kroeung—a mixture, pounded in a mortar and pestle, of aromatic lemongrass, galangal, shallots, garlic, chiles, keffir lime leaf, and turmeric. It nods to the overlaps with culinary influences that are reminiscent of India, Vietnam, and Thailand, but still distinct from these. "Pretty much everything in Cambodian cuisine has a little bit of kroeung in it," Top says. Of the three main kinds of kroeung—red, green, yellow—he uses lemongrass-dominant green for beef skewers and the turmeric-dominant yellow for stuffed chicken wings.
His snacks might include, as they did in the inaugural pickup on July 11, a four-day fermented sausage for which he used Rosewood Ranches wagyu laced with juicy Chubby Dog pork backfat for umami-carrying pops of outrageous fattiness and flavor.
A minced pork dip (prahok khtiss), eaten with rice or Thai eggplant crudités, introduces you to prahok, the Cambodian fermented fish paste. Pork fat added a milky, rich consistency with coconut milk and flavorings.
While corn on the cobb, a ubiquitous street food in Cambodia, made a nod to Texas with local corn drenched in butter fired up with Kampot black pepper—Cambodia's treasure.
Always, the goal is to highlight the balance of sweet, the salty, the umami, the spicy notes, not in a full meal, but in street snacks that work together to satisfy your palate.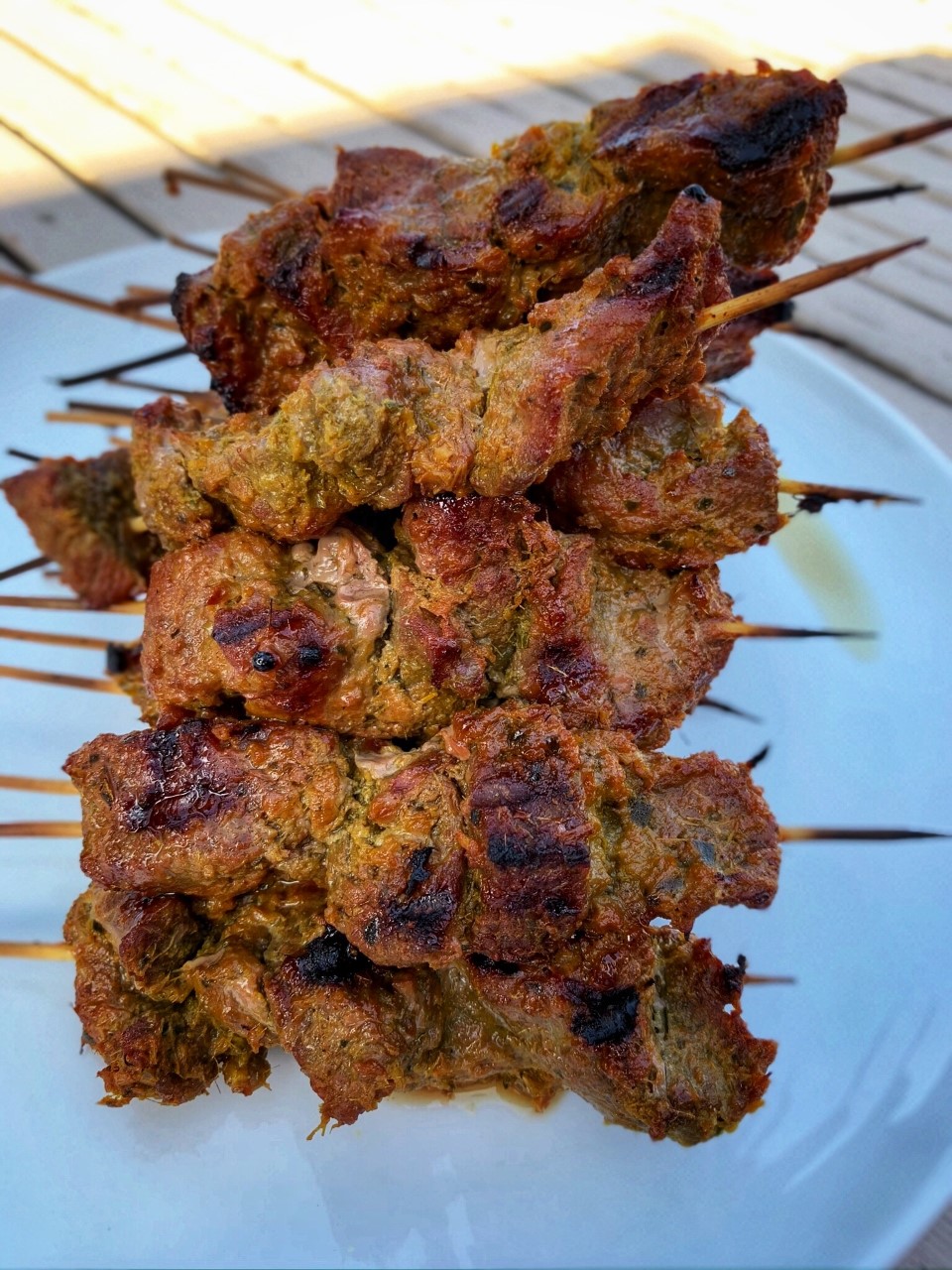 "Cambodian food has been there for thousands of years; it's just been buried in the shadows," he points out. He traces it back to its Khmer empire roots and brings it reverently forward. "The Khmer empire was just as big as the Aztec empire. We ruled the bottom half of Myanmar down to [the tip of] southeast Asia. But our history of the killing fields has just broken our history and our heritage," he says.
A memory stands out from his time in Iraq. In the chaos of war, at a time when he was unsure about his future endeavors, the comfort he took in the mess hall was fundamental. "Sitting down and eating a hot meal. At that very moment, nothing else mattered. It was your peace in the day." This, he thought, was what he wanted to do with his life.
We are not in combat, but also, we are: with a virus. We are at a similar point of turmoil, questioning. One very obvious answer can be simple and complex: Get a meal kit. Eat Cambodian food. Be part of the momentum that continues to push our dining landscape forward.

Like so many, Top says, "We're waiting and seeing. I want to generate more exposure, but also gauge the market." The future is unclear. Funds he had set aside for relocating and reopening have been tapped into during the pandemic.
Kamp Fire Details:
The next "pick-up pop" is July 25 and will be vegan; orders close today.
Stay tuned for another on August 9 centered on seafood (a la carte, as seafood is pricier), and featuring the mesmerizing fish amok—fish steamed in a banana leaf—that's the Cambodian national dish.
Top works out of The Cookline commercial kitchen in Plano; he's joined by his general manager Carissa Rolland, who was his line cook about 7 years ago.
Follow Kamp Fire on their website or Instagram for the next pop-up and beyond. Be nimble. Order early. The last pop-up sold out quickly, and sourcing from small producers sometimes means limited quantities.
Get the SideDish Newsletter
Dallas' hottest dining news, recipes, and reviews served up fresh to your inbox each week.