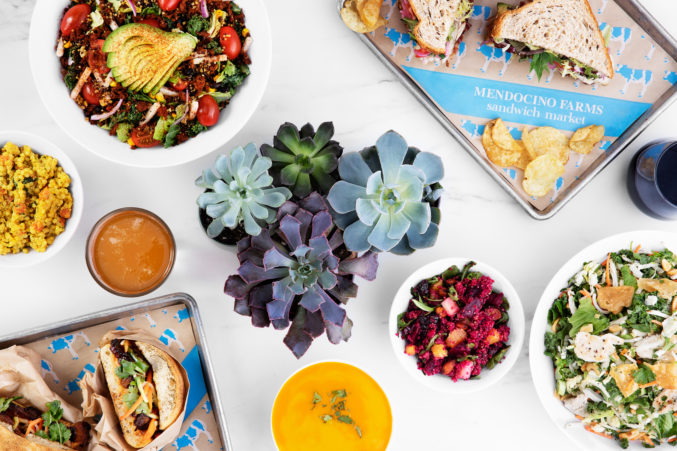 The Statler Hotel Announces Two Food Concepts and Mendocino Farms Opens Today
SideDish's weekly digest of need-to-know dining happenings in Dallas.
Each week, SideDish will dispatch a round-up of need-to-know News Bites, from quiet closures to opening updates and everything in between.
Hotel Do-Overs
It seems that the Statler Hotel is pivoting from perhaps overly ambitious to overly safe. Fine China, where Peking-style ducks hung in the window and a rare (in Dallas) specialty tea program lived, is closed. ("Fancified" Chinese is unfortunately—pauses to curse sky—a hard sell in many cities.) Its adjacent Ramen and Bao sibling is also done. In their places: Primo's MX Kitchen and Lounge and Sfereco, an Italian American restaurant (think red sauce meatballs) with cocktails and a breezy takeout/delivery option. 
What hotels have been doing in the last few years—installing interesting restaurants helmed by talented chefs—has been interesting to watch. No shots at Tex-Mex or meatballs, but it's a little disappointing to see the Statler Hotel swerve in the other direction. 
Lunch California Style
Fast and casual, with a decidedly California farm-to-table philosophy, Mendocino Farms opens today in downtown Dallas at 2000 Ross Avenue. The chain's slate of sandwiches (light fried chicken, pork belly banh mi, "elevated" turkey club) and healthful salads are sure to attract the downtown lunch set. Even the meat averse can go for a taco salad made with Impossible plant-based chorizo.
Testing the Luck of the Irish
As of March 11, the beer-and-food-fueled Dallas St. Patrick's Day Parade says on Facebook that the event will go on as planned. The city might spike those hopes later this afternoon, though. A post with an image that says "Keep Calm Parade On" has garnered both praise and criticism from the community. A small but growing Change.org petition is asking the group to cancel it.
Bartaco Out
The Preston Center restaurant shuttered this week on March 10 after a little over a year of serving its "innovative, upscale take on street food and craft cocktails," says a release. The Fort Worth location remains.
Food Truck Food Fights
When The Great Food Truck Race: Gold Coast premieres on March 19th on the Food Network, you can watch Dallas contestants from Mystikka Masala food truck take on six other teams in LA for a $50,000 prize and perpetual bragging rights.
New Corn on the Block
There's a new elote-focused tenant inside Trompo's former West Dallas location. Dallas Morning News reports that Locura, owned by Laura Carrizales and Mel Arizpe (two karaoke world champs, by the way), is a takeout type joint with punched-up elotes made with truffle oil mayo and pesto parmesan, as well as other snacks like Frito pie and pork belly bites.
Changing of the Restaurant Group Guard
Local Favorite Restaurants (formerly known as Firebird Restaurant Group), which is behind familiar names like Snuffer's and El Fenix, has acquired Jalisco Norte. The Oak Lawn restaurant's current executive chef, José Meza, will remain at the helm, says DMN.
Meanwhile, on SideDish…
Everything at Del Sur Tacos in Oak Cliff is better than it has to be, simple and hard-to-find food elevated to high art.
Brown Bag Provisions, the Design District's latest yogurt-bread-eveyrthing-artisanal deli, is now open.
Okay, we love burgers. And Ellie's has a pretty dang good one…
Looking for some superb Thai in Dallas? Good. Because we have some thoughts.
In Dallas, Columbian restaurants can be scarce. But Sabor Latino's Old East Dallas location provides that rare, tasty glimpse of the cuisine.
You know and love pho. But this is the Vietnamese soup you're missing from your brothy repertoire. You're welcome.
How to order from Tofu Tuyet when you're just not sure which sweet or savory morsel to get.