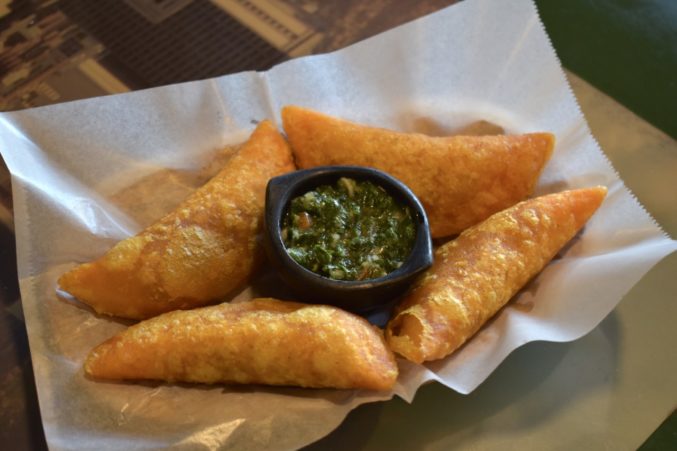 Sabor Latino Is Dallas' Rare Glimpse of Colombian Cuisine
Everything at this Old East Dallas restaurant is made from scratch.
By Trace Miller
Published in Food & Drink
March 5, 2020
12:35 pm
Fernando Castro Sanchez opened Sabor Latino in a squat brick building on East Grand Avenue about three months back. "It was going to be something new to the city," the chef-owner says. Indeed, it's the first Colombian restaurant in Dallas proper.
That's not to say there aren't any Colombian restaurants already in the area. Garland's Mi Pueblito Colombiano dishes up delicious arepas and Carrollton's Casa Vieja is a Dallas-Fort Worth institution. There's also an Arlington location of Sabor Latino, which Sanchez opened in 2011. But that's about it. DFW's Colombian food scene has long mirrored its Colombian community: very, very small.
Come to Sabor Latino for the sobrebarriga, a beef dish stewed with tomato, red onion, and served with yucca, and you'll soon stay for anything, from the fresh passionfruit juice to the delightfully crunchy yucca fries. The pandebonos—fluffy warm popovers made with corn flour and filled with cheese—are baked in house.
Most of the dishes Sanchez serves stem from the Valle del Cauca department—think of a department like a state—of southwestern Colombia on the Pacific coast. That's what he grew up eating. But Sabor Latino also offers pan-Colombian favorites like bandeja paisa, a whopping platter of chicharrón, steak, sausage, creamy kidney beans, refreshingly acidic coleslaw, sliced avocado, caramelized plantains, and a fried egg. And don't forget the ajiaco, a creamy chicken soup spiked with capers, sweet corn, and avocado.
It's fitting that Sanchez opened his first Colombian restaurant in Arlington, having lived there since he was four. (His family fled from Colombia in 1984 to escape the drug wars and their brutality.) Born in Cali, Colombia but raised in Arlington, Sanchez is a North Texan who never lost touch with his roots.
In a city where it's assumed that any food south of the border comes in a tortilla, Sanchez finds himself teaching customers about Colombian food. "I always have them try empanadas—it's our taco," he says, heading toward the kitchen to smash fresh corn for the empanada shells.