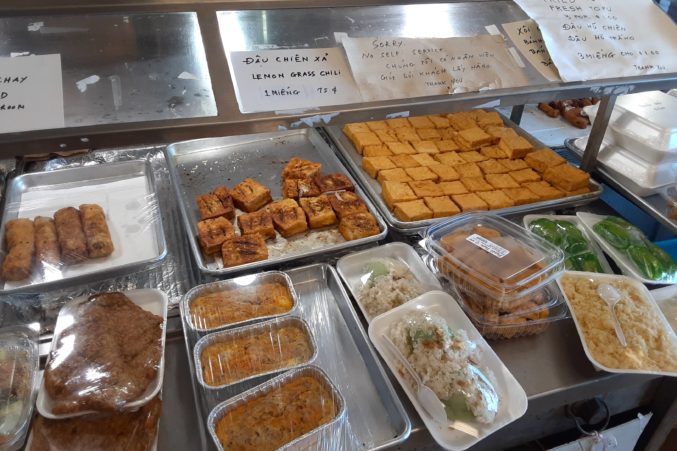 Tuyet Tofu Is the Dallas Destination for Fresh Tofu
This tiny mom-and-pop deli in North Dallas is the best in town. (Psst, we'll help you order.)
Like many places that deserve more attention, our best destination for fresh tofu is discreet and nondescript. It's a lovely place, Tuyet Tofu, in a strip mall off Audelia Road in North Dallas, near the Vietnamese bastions of La Me and Bistro B. One of the owners, a woman, is behind the counter. Behind her stand refrigerators. In front of her is a display, steam table style, of trays of tofu preparations and simple Vietnamese deli food. A man sits off to the side, doing something like accounting, while near him, a hodge-podge betrays the gentle pile-up of a family business. Behind you, when you stand at the register, is a mirror and more items on tables. In the back room, beyond, a woman is making tofu, surrounded by steel kettles and tall containers. As you watch, she ladles steaming streams of soybean milk.
The tofu—the pure, fresh variety—itself is soft and gentle. It comes in bricks, the light impress of cloth on its square form. We don't have many places where you can find it this good, made fresh daily (KoMart in Old Koreatown is one chain-store spot). I'm not the only one to wager this mom-and-pop is the best in town.
Here's what to know about ordering at Tuyet Tofu.
What you get, aside from the plump fresh tofu and soybean milk: Metal surfaces, angled away from you, have signs indicating fried tofu, fresh tofu, three for $1.50 (and requesting please, no self-service). Here, you can find plain fried tofu, its surface wrinkly. Or fried tofu with lemongrass. It's been scored, so the lemongrass and chiles are deep in the seams, adding their flavor, as though it has gills. Fried tofu has been stuffed like a hot pocket with pork sausage, so it looks like a double-decker sandwich cookie: two layers of wrinkly fried tofu and a plump bulge of sausage.
Customers may dither over the bean curd skin log: bean curd (very thin sheets) wrapped around a mixture of tofu and mushrooms, seasoned heavily with sesame oil. The question is not if, but how many.
Then street-food snacks: cassava-chile egg rolls; fried sesame balls filled with mung bean paste; pucks of sour pork—all two or three for $1. A limited amount of hot food is made daily, along with fresh summer rolls and things you would find at Lunar New Year, banh tet and banh chung, the rolls boiled in banana leaves and filled with mung bean or pork.
End with sweetness. In the refrigerator, alongside half-gallons of fresh soy milk, is a pretty lovely, special thing: soft tofu in a tub, with a side of fresh-grated ginger in honey syrup. The ginger is bracing, bright, and fresh. It's wonderful drizzled over the creamy tofu. Such a treat.
It's cash only. You hand over your modest number of dollars. Then you leave this world of white.