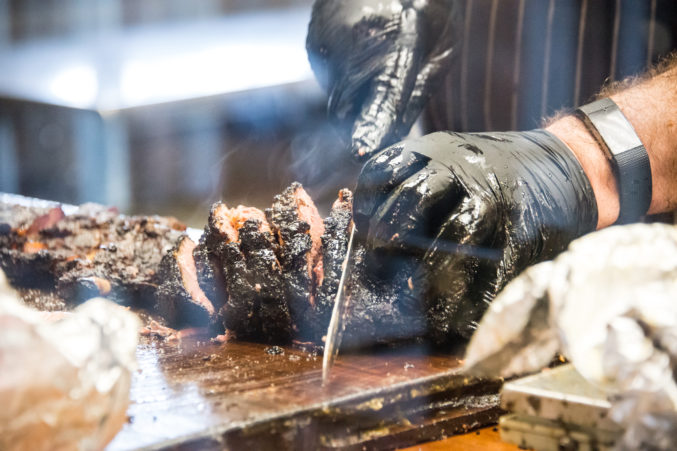 Head to the Inaugural Low & Slow BBQ and Music Festival
Enjoy barbecue vendors, brewers, and bands this Saturday.
Low & Slow North Texas BBQ and Music Festival is the inaugural go at what its planners are hoping will be an annual event. In a sweltering summer, when shade has been precious and outdoor festivals trying, the one this Saturday (with barbecue masters like Lakewood Smokehouse, One90 Smoked Meats, and Smoky Rose), is blissfully covered, in the Longhorn Ballroom.
We wrote about the 1950 Longhorn Ballroom last year on FrontRow as a place that has history: "The club was managed by Jack Ruby before he killed Lee Harvey Oswald, Sid Vicious bled all over himself on stage at one of the Sex Pistols' last concerts…" And then it went quiet for a decade, before it was bought by new owners, father and daughter Jay and Amber LaFrance, hoping to revive it.
Saturday's get-out-and-eat-barbecue romp, then, promises to be both savory and storied. New murals adorn the place (you'll recognize the look from the Fort Worth stockyards walls by Stylle Read).
The 'cue: 407 BBQ, Bone Daddy's, Cousin's, Lakewood Smokehouse, One 90 Smoked Meats, Panther City BBQ, Smoke Rose, Winner's BBQ, and a dozen others.
The brews: 3 Nations, 903 Brewing, Bitter Sisters, Hop Fusion Ale Works, Noble Rey, Rabbit Hole Brewing, Texas Ale Project, WoodCreek Brewing, and others.
The bands: Bryce Bangs, Simon Flory Trio, Zane Williams, Bri Bagwell, The King Bucks, and more.
The event runs from 3 p.m. until 11 p.m. Buy tickets here ($25 general admission or $50 VIP). VIP Tickets include entry at 3 p.m. and two hours of unlimited complimentary barbecue samples from vendors. General Admission ticket holders enter at 5 p.m. and must purchase food and drinks.